Squirrly SEO plugin is one of the most downloaded SEO plugins for WordPress. Why do people love it? It's because it's easy to use. But it's also a result of the approach we have for it. That approach is called 'never stop bettering the product'.
So, people have grown to expect new and exciting updates to pop up constantly.
They're also looking for ways to get a Squirrly coupon – and a discount.
If you're one of them, if you can't wait to find out how it feels like to always be featured on search engine result pages, you're about to get a sneak peek of what awaits you if you snatch this offer for the Squirrly Business Plan.
We're giving you a 25% discount on the best plan we offer. And you can claim it here:
What Do You Get with This Squirrly Coupon?
Before I describing all the functionalities the Squirrly Briefcase update brings (especially in the Business Plan). Let me give you a list of all the benefits the Squirrly Coupon grants you:
7 sites
300 keyword researches per month
Unlimited optimizations per month
Audit Suite for 300 pages
Advanced analytics for 300 pages
All API features.
Squirrly Briefcase – Here to Become Your Best Content Marketing Asset
I will start by highlighting the Briefcase feature and what it can do to up a marketing strategy. Although it's a feature all users (Free, PRO, Business) have access to, it's essential that I treat it first because when you look at the whole picture (Briefcase + Advanced Analytics) you'll see what a difference it can make.
What I have to make clear right off the bat is that everyone can use the Briefcase feature in the Web version (find it in the Squirrly Cloud from my.squirrly.co).
You may have a Shopify, Squarespace, or WIX store. No problem here; non-WordPress sites can now keep ranking like the WordPress ones do because the Briefcase feature is available in the Squirrly Cloud once you sign up for an account in my.squirrly.co.
You'll be able to create pieces of content that are:
optimized for multiple keywords
100% optimized for each keyword
based on semantic keywords
To give you an example, here's how you can optimize for a second keyword:
Paste the text into the Squirrly editor;
Introduce the 2nd keyword in the keyword tab;
Start optimizing it with the aid of the Live Assistant;
Your 2nd keyword will appear above the Inspiration Box, and you'll be able to see the optimization percentage changing in real time.
Briefcase + Keyword Research Tool → The SEO Boost Any Site Needs
The first step towards upping the game with your website optimization is selecting the suitable keywords for your platform (here's a more detailed account of how Squirrly's Keyword Research Tool works).
The exciting part comes after you press 'Use Keyword'. Your pick will go straight to Briefcase where it will be stored for as long as you wish. What's best, in the Briefcase interface, you will also be able to see keyword-related information, so that it is always at hand.
This information covers the following data about the keyword:
ranking potential (easy/hard)
search volume
recent discussions
current dynamic (it tells you the trend for that keyword)
For those who have already used the Keyword Research feature, the four categories above are familiar because they are the results shown once a keyword research has been completed.
So what happens to those keywords for which research has not been done? Well, for them, there's the 'Do a research' button which allows you to get insights on that keyword without getting back to your WordPress Dashboard.
If the data you get for a keyword indicates you could use it for your marketing strategy, then you can go on to the 'Use the Keyword' button and add it to one of your pages.
If you're considering getting the Squirrly coupon and becoming a better marketer as a result, you'll see you'll master this workflow really soon.
Now, moving forward, one of the easiest- yet most effective – elements on the Briefcase interface is the 'Used' column right next to the keywords one. As soon as you look at it, you'll have a quick view of the keyword frequency on your pages. The figure appearing in this column tells you how many pages have been optimized for a certain key phrase.
What does it mean?
It means you'll be immediately able to identify those pages you can tweak so that you get their maximum SEO potential. This is a significant step forward in terms of workflow – especially if you have an active Blog section.
Just click on the small arrow right next to the number and you'll get a separate menu listing all the articles which have been optimized for that key phrase. By clicking on the title, you'll be redirected towards each post so that you can take immediate actions like:
adding more words
inspecting a piece of content
optimizing for other keywords as well
analyzing whether there are too many/too few pieces of content on a particular topic
updating the content.
Sure, you can do all the above manually, by browsing from your dashboard. But along the process, you'll lose time and focus – something you can avoid while using Squirrly Briefcase.
You design a marketing/blogging strategy, set a few keywords you're focusing on, and then never lose sight of them; ever again.
Plus, every owner of a WordPress account within your site will have unlimited access to all the keywords and all the data associated with it, so that they know exactly which the focus of the editorial strategy is, and how to revisit the data they need, whenever they need it, right before they start creating new content.
We're very excited about the prospects of this feature because it really makes a difference in large teams managing lots of different types of content.
Practically, Briefcase adds more to the SEO skills of your team, without the need of separate SEO training.
Ready to Step It Up?
Then the Squirrly revamped Advanced Analytics should be your go-to resource as well.
If the Squirrly Briefcase feature sounds great, wait until you see how the Advanced Analytics section looks like. You'll be able to access them both as soon as you start using the Squirrly Coupon.
Usually, any Squirrly user will have a section called Performance Analytics, which is of great use when you need to check how your website content ranks. This is valid for articles that have been optimized with Squirrly for a certain keyword.
But search engines could index and rank an article or a page for another keyword than you had previously intended.
This could happen without you being aware of it. Except if you can consult a feature like the Squirrly Advanced Analytics, available within the Business Plan for WordPress users.
Essentially, the advanced insights you get this way will give you an upper hand when you are set on outranking your competition by providing:
social media signals data
optimization level
ranking information
These will all be gathered in the same place. No need to look for them individually, no need to use other analytics tools.
The best thing about the Squirrly Advanced Analytics is that it grants you the opportunity to actually act immediately on the info you get for your content. Using them alongside the Briefcase feature makes the Squirrly Business plan a powerful SEO tool that's just within reach if you use this Squirrly Coupon.
Business Plan is available for 7 sites.
You can provide proof of your work.
You can better validate your work.
As soon as you see an intended keyword does not perform as expected, you can quickly have a look at the Squirrly Advanced Analytics and discover other ranking opportunities for other key phrases.
You can effectively adjust the strategy according to keywords that show better ranking potential.
An even cooler thing about the Squirrly Advanced Analytics is that all the ranking information is retrieved for keywords across all your site. You'll see each one of them has a toggle that you can switch off in case you don't want Squirrly to show you insights based on it.
Hovering over the number of social shares will reveal which are the social platforms where the engagement comes from.
Click on the average rank for articles and pages on your site or hover over the graph and you'll get the exact numbers.
Changes to your rankings overall will be visible immediately.
The red arrow icon indicates a page/article that has lost SERP positions, while the blue one shows a ranking boost.
From Settings, choose the country to rank for.
First, SEO Value. Then, eCommerce Value
A new and exciting update Squirrly added to the Briefcase feature allows users to label the keywords so that they improve their workflow even more.
For non-WordPress sites that cannot use the Squirrly Analytics, Squirrly designed an alternative solution.
Using the Briefcase labels will let you have an updated, visual representation of how your pages behave on those keywords.
Go to the Briefcase dashboard, scroll down the list of keywords you saved, then choose one that you want to label for further actions by clicking on the '+' icon right next to it.
A popup window will appear where you'll be able to attach a previously defined label to each keyword you want to include in your marketing strategy.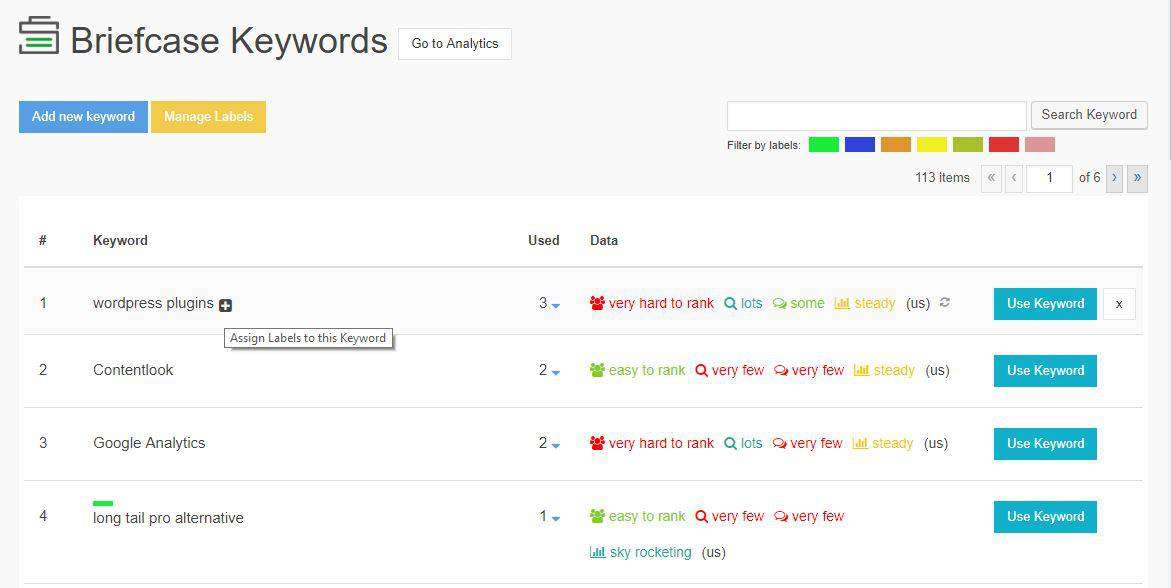 This is especially beneficial to eCommerces (for instance, Shopify stores) because their teams will be able to see the evolution of the online store and its product pages in real time, at a glance, and with the potential of acting immediately on SEO issues inside problematic pages.
The labels work like filters so that every member of an SEO/marketing team can:
identify what focus each keyword has (in case one keyword is used for different purposes).
click on a label and see all the keywords associated with a particular focus within a strategy.
If what you want is to keep ranking (while outranking competitors) with your store, blog, content agency, media outlet, then the coupon is yours for the taking.