These days, it's all about giving back. We wouldn't have made it here without all of you. For the past 4 years, you've put your trust in us, you've asked questions, you gave us your feedback, and we've all managed to learn from each other.
The Squirrly SEO plugin has come a long way and we won't stop here.
The giveaway we've put together represents only a small thank you, but will hopefully be of value to you because we want you to become a better marketer. We want to help you improve your skills, develop new ones and ultimately become fearless and conquer the world.
The Prizes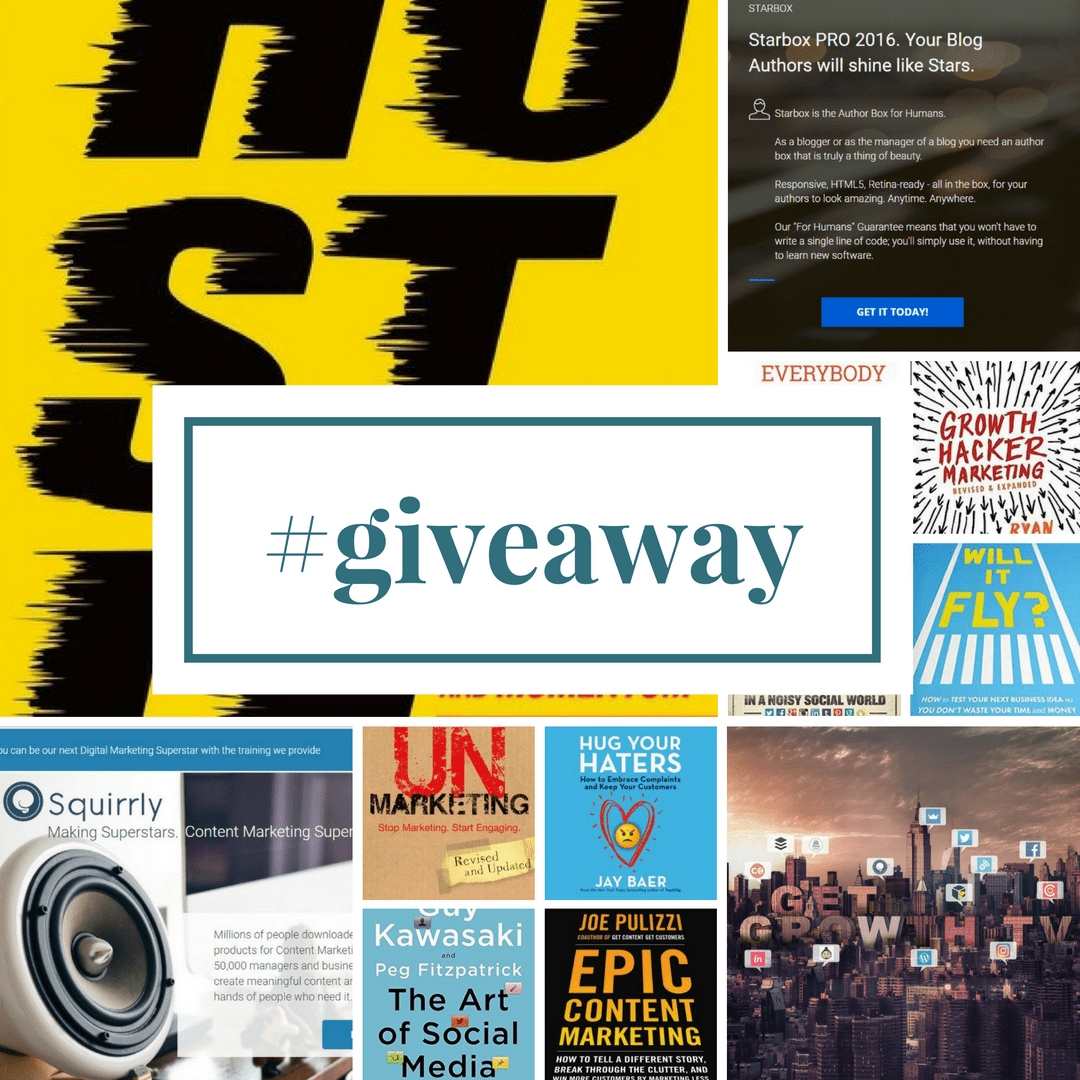 If you follow us on Twitter (I hope you are), then perhaps you already now about the giveaway and you've already entered.
In this post, I want to walk you through the awesome prizes we've picked for you.
Did you know that there are 125 prizes in total? Yes, 125. So basically you have the biggest percentage of chances to win a prize than for any other giveaway out there. Just a thought.
Now, let me break down the prizes for you.
1. Squirrly SEO Plugin PRO
Perhaps winning a Squirrly PRO is not that exciting. But what if I told you that you would win the plugin for an entire year? Yep, that's right. And we do not only have one yearly license as a prize, but we will also give 5 of them!
We've improved the plugin massively in the last few months, and we've only recently realised how many features it offers. Because of that, we've decided to a list of all the differences between the features offered by Squirrly SEO plugin and other WordPress SEO plugins.
You can find the comparison here.
2. Starbox PRO
How many of you are using an author box on your WordPress website? And what if I told you that an author box can help your personal branding and it can also add credibility to your website?
I don't even remember how many times I've stumbled upon websites where the author is "admin" and there are simply no other details about who that person is.
You don't want to own a website that ends up being forgotten or that people don't trust.
Studies show that people trust other people more than companies so take advantage of this. Show your face, write a short description about who you are and what you do and be social.
Starbox PRO can help you with that. We have 10 Starbox PRO plugins to give away. The great thing is that you will be able to use them for a lifetime.
3. Marketing eBooks
We've carefully hand picked (well, virtually picked) and selected one of the best books out there that will help you become better marketers.
Even though you can now find any piece of information online and for free, it's still worth it to spend money on some books. In this category there are of course included the books we're giving away.
Here's the list:
Ann Handley – Everybody Writes. A best seller from which you'll learn how to write good content for your audience. Because, as the title says, everybody writes, but you don't have to be everyone, you have to be THAT SOMEONE.
Guy Kawasaki, Peg Fitzpatrick – The Art Of Social Media. Are you a social media manager or marketer? Then this book is a great resource for you. Even if you're not in charge of managing business social accounts or your own, you can still learn a lot of things from this book.
Gary Vaynerchuk – Jab, Jab, Jab, Right Hook: How to Tell Your Story in a Noisy Social World. You're probably experiencing the noise in the online world as well. It's becoming harder and harder to attract your audience's attention and to make them convert or even come back. This book is all about going back to the roots. It will teach you how to stand out in this noisy world by telling the right story.
Neil Patel – Hustle. We've mentioned Neil Patel so many times in our articles that it would make sense to include his most recent book in our giveaway. Hustle was just released in September. I have to admit that I really like the title of this book. However, if I didn't know who Neil Patel was, I wouldn't even think it was worth it. The title managed to comprise the content of the book in a bold manner. It's a book that will teach you how to get the most out of life and your passions.
Andy Crestodina – Content Chemistry: An Illustrated Handbook for Content Marketing. You can't put something into practice without knowing a little bit of theory first, right? This book starts with the theory and ends with practical tips. Being successful on the web can be tricky, but it's not impossible, can basically be the tagline for this book.
Scott Stratten – Unmarketing. The title and the concept of this book are seriously right up my alley. "Stop marketing. Start engaging". He couldn't have said it better. If you're sick of automated marketing and auto-replies sent in bulk on social media, then you'll love this book.
Pat Flynn – Will It Fly. You've probably come up with several business ideas until now. We've all done that. It's inevitable. But how do you know if your business is actually sustainable and whether it will actually work? Pat Flynn will make you ask yourself some good questions that will help you determine whether your business idea will work or not.
Ryan Holiday – Growth Hacker Marketing: A Primer on the Future of PR, Marketing, and Advertising. You probably remember that "growth hacking" was such a popular word a couple of years back. If you want to leave traditional marketing behind, then this is the book for you.
Joe Pulizzi – Epic Content Marketing. I think the title says it all. Mediocre content has to die. It's time for all of us to understand that you can't grow if you write content just for the sake of it. If you want to learn how to engage your audience and turn them into a fan base, Joe Pulizzi is just the man to tell you how.
Jay Baer – Hug Your Haters. Would you do that? Hug your haters? Probably not. But you should. Nowadays, people are more careful when they choose a company to do business with. And how you handle customer service can make a big difference. Understanding haters is the first step towards providing excellent customer service. Don't neglect this.
4. ContentLook Business Licenses
We've been working on ContentLook like crazy. Well, Calin and Sorel have. And Florin. And the rest of us occasionally helped them test it out.
The good thing is that we'll soon be ready to launch the beta version and we'll give away 40 business licenses. Bottom line, you will be the first ones that will test it out.
OK, you may wonder what ContentLook is. It's an analytics platform where you'll be able to track the success of your content and how it performs over time. It's like Google Analytics, but simpler, more visual and easier to use.
5. Post Plugin
Do you want to know what is happening with your current posts and how they're performing?
Posts plugin shows you social media analytics, you'll see how they rank on Google search based on the country of your choice, and you'll also receive educational materials on every aspect.
6. Webinar About Video Marketing
Aside from all these amazing tools we've been working on, we've also been busy live streaming on our YouTube GetGrowthTV channel, where we have all kinds of videos about different marketing tools we use and recommend.
We've learned so many things since we started this channel and since it's different than creating content, we thought that it was an amazing opportunity to teach some of you as well what we've discovered along the way and what's the process behind creating video content.
Don't Lose The Chance To Become A Better Marketer And Win Awesome Tools
That's it for the prizes.
I hope that you're just as excited about them as we are and that we'll have a lot of interesting entries. Sadly, we can't enter the giveaway, but you can. As many times as you want, even.
It's really easy to participate as well. It won't take you more than a couple of minutes.
If you want to find out more about each of the prizes I mentioned, feel free to check out the links I posted for each one.
In the end, I just want to say A BIG THANK YOU once again for all of you that used, use or will use our Squirrly SEO plugin. We're only able to move forward because of YOU.
I won't keep you any longer on this page. Head over to the giveaway and enter for a chance to win one of the prizes I mentioned in this article.
GOOD LUCK! 
Latest posts by Ana Darstaru
(see all)