Let's start with a little history lesson. On May 29th 2013 Google revamped their Gmail. More specifically they introduced tabs. You grew to love them and their sorting wizardry that kept your email account tidy and clean.
Your email got split in three with the option to add two more. Now you had your Primary Tab, your Social Tab and your Promotion Tab. Optionally there is a Forums Tab and a Updates Tab. No one knows exactly how these tabs do all the hard work to filter your emails out but what is certain is that sometimes they don't work as intended.
It's perfectly reasonable that you don't get your personal inbox filled with all sort of e-mails from all sorts of companies, hotels, airlines, stores and what not. But it is important to you, as well as some of the products you hold dear, to get the right emails in your Primary Tab.
Yahoo is a lot stricter when it comes to keeping your inbox clean. Here there are no tabs but instead you have folders. Some created by you while some are provided by Yahoo. The noticeable ones are Bulk and Spam. Spam usually keeps all the truly spam-full content while bulk will store newsletters, advertising, promotional mail and everything else company related.
Same thing goes for Yahoo that goes for Gmail. It's reasonable to not have your inbox filled with irrelevant e-mails but you ought to be able to have a say as to which of them are truly irrelevant and which are important to you.
A happy Squirrly is a Squirrly that goes through
If you're a Squirrly user, you've already entrusted us with your e-mail. And you know we're keeping it safe and more than anything else we're not abusing it. We don't like being intrusive and thus we're not, but when it comes to important updates and news we'd like you, as our customer, to know about them, if you so wish to, and not be limited by your e-mail platforms sorting abilities.
If you are interested in the development of our product, enjoy receiving our newsletters, free coaching e-mails and promotions then why not allow our squirrel to be where you can see her?
Before showing you how to whitelist let me tell you why you should. This weekend we've had a Squirrly promotion that lasted until Sunday at midnight. Our intention was not to sell, but to offer a one-time deal for those who so wish. But since some of the e-mails sent got put in the gutter commonly known as "Promotions Tab" or "Bulk mail" we weren't able to reach to everyone with this one time deal.
How to WhiteList
An e-mail whitelist is a method by which a user tells the e-mail server what he deems acceptable. Bluntly put it's the ability of a user to set certain privileges to certain e-mail addresses.
Gmail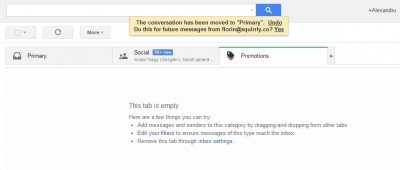 The simplest way to do this is to drag the e-mail you want in your Primary Tab from your Promotions Tab. It will ask you if you wish to do this for all future e-mails from that sender. You accept and easy presto it's done.
If you get your e-mails from multiple sources belonging to the same brand, company and you don't want to go through the hustle of doing it manually for each of them you can just apply a filter.
To do this you go into your gmail account, go to settings-filters-create a new filter. You type in the domain, say @squirrly.co, and thus the filter will apply the preferences you set to all the emails ending in @squirrly.co.
When inputting your preferences make sure you check the " Never send to Spam" box and "Categorize as: Personal". And all your future emails from Squirrly will show exactly where you want them to show.
And just like that we're done with Gmail.
Yahoo Mail
It's similar to how you do it in Gmail. You've got 2 options.
1. If you find an email in your bulk mail that you'd rather have it in your inbox you just highlight it and select Not Spam.
2. You create a filter, similar to how you do in Gmail. You go to Settings-Filters and Add. You name your Filter Name and in your Sender box you insert the domain you wish to filter. Make sure to check which folder you want your emails ending in @domainyoudefined to be displayed in.
And that's all. Now you can get all the delicious emails from Squirrly and the rest of the companies you hold dear right in your inbox for you to see and never miss a deal again.
Latest posts by Alexandru Coroiu
(see all)