If you look through most of the marketing guides and articles on how to improve your SEO, you'll inevitably see "link building" somewhere at the top of the list.
And one of the ways to get other websites to link back to yours is by guest posting.
Sure, there have been tons of changes to search engine ranking algorithms over the years – including Google cracking down on spammy guest posting as a link-building practice.
Trust me, though, guest posting as a link-building strategy? Still gold, especially in the B2B arena.
But… and it's a big BUT, doing it effectively is very different than what it used to be.
Here's what works today:
Craft VALUABLE content that's not just good, but "tell-your-friends" great.
Post it on RELEVANT domains and add links to your site in a natural (not spammy) way.
This hack I'm about to share in a second will help you with the finding relevant sites part.
Here's how to discover websites that accept guest posts in your niche using advanced Google search operators (special commands and characters that filter search results).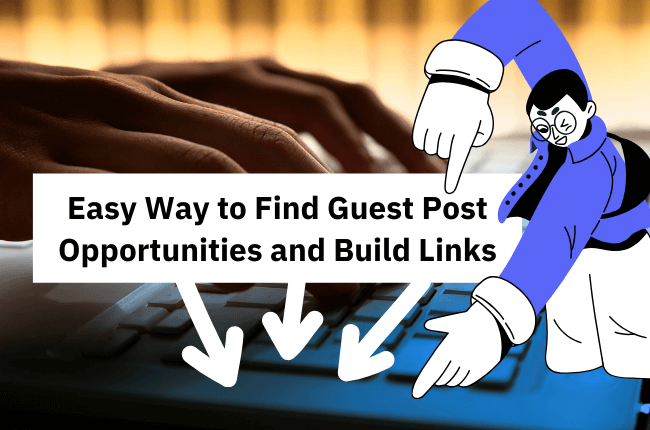 Step 1: Go to Google and Try these Searches for Your Target Keyword
When using these search strings, remember to replace [keyword] with your actual target keyword.
This ensures the results are relevant to your area of expertise.
"[keyword]" "write for us"
"[keyword]" "become a contributor"
"[keyword]" "submit guest post"
"[keyword]" "guest post by"
[keyword] intitle:"write for us" inurl:write-for-us
"[keyword]" inurl:blog "contributor guidelines"
"[keyword]" inurl:blog "write for"
➡️ Here's an example:
Say you run a content marketing agency; one of the keywords you could use is "content marketing."
Now let's try one of the searches from the list above.
👀 See what I'm seeing? These guest post opportunities are kinda awesome, right?
Step 2: Contact the Websites or Blogs that Make Sense in Your Case
After you've executed these searches, review the results carefully.
Make sure the sites align with your brand's tone and values.
Once you've curated a solid list, do a little homework on their do's and don'ts before sending over a list of post pitches.
Oh, and a little pro tip?
If you've already penned some articles on other sites, it wouldn't hurt to include some examples of your prior work.
Anything that can help you build credibility increases your chances of getting accepted as a guest blogger by major sites.
So, are you ready to build links and boost your site's visibility through guest posting?
Give this method a try!