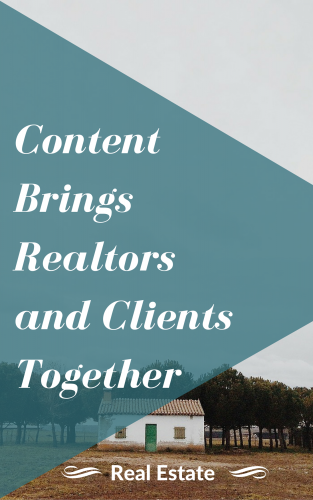 When it comes to buying property, people are understandably skeptical and slow to trust. After all, it's a big decision, and people can't afford to make a bad call.
For the everyday people, real estate companies are just companies. At first, a company doesn't have a face or voice, so that's where content marketing comes in. It helps the customer connect with the seller and builds trust between them.
The National Association of Realtor's study has concluded that 90% of property buyers use the internet when searching for homes and that 70% believe that a real estate company that produces custom content is interested in building a relationship with the buyer.
90% of property buyers use the internet when searching for homes. Take advantage of this.
Click To Tweet
Content Marketing brings traffic to your site
A company without any content marketing strategy might as well just have a site with contact information, a list of what one can buy and probably an empty social media page. People would stumble into these sites only when already interested in a deal. They'd probably end up there instead of some other company's page out of luck too.
Content marketing doesn't bring leads overnight like add campaigns, which work only as long as the ads are up. Instead, it creates a community, a bond between the realtor and the potential buyer. The content doesn't have to be about a particular house or plot of land either.
Someone who might not even be considering moving could see a company's blog or Facebook page, become interested and start following it. Then, when it is time to buy, they'll come to that company.
An excellent medium for real estate is video.
73% of homeowners prefer realtors who use videos for promotion purposes. What are you going to do?
Click To Tweet
It makes sense, after all, that people would want to see the home as much as possible before having to go there in person.
Add a fun element to the videos and you've got a great way to promote yourself not just to people interested right now but to many other as well. And those other people will recommend you to their friends and know where to look when they feel like they need a change of scenery.
Another important part of any content marketing campaign is search engine optimization (SEO).
Pretty much any agency worth their salt will optimize the content they create for their clients. Generally, SEO isn't something the real estate company has to think about, but there are a number of easy-to-use SEO plugins that a company can easily learn to use itself.
Content marketing doesn't have to be some magic spell that you cast and then wonder if it worked or not. Agencies will normally have a case analysis or two from a previous client to show the leads they generated. There are also a few programs that can track traffic and determine the effectiveness of an agency.
The strategy is as important as the content
Just having an agency represent you doesn't make you any more special than other companies, at least not anymore. At the very least, most real estate companies have already included content marketing in their overall strategy.
What will differentiate your company from others is your brand and message.

The general public sees you and judges you based on how you present your brand, so you have to have a unique perspective.
A content marketing agency should first understand what your company is all about – what it has that no one else has. An agency can't hope to deliver the message just right if they don't understand it either.
After that, the agency makes a plan to distribute the content. They, together with the company they're representing, have to think about what the content should be about, how and where to put it, how often to distribute something, etc.
The idea isn't to spam uninterested people with ineffective calls to action.
The goal is to build a trusting community and to achieve that, a lot has to go into planning.
Take HootSuite for example, a social media management system. The people at HootSuite released a video called "A Game of Social Thrones," which was both a parody of Game of Thrones' intro and a promotional video for the company. The result was huge, as the video received close to one million views in just a few months.
Think of the impact of the video. Not only has HootSuite become better known but the video also says that they like Game of Thrones. The consumer can relate to that. If they also like the show, they'll immediately like the company more and be more likely to become their customer.
The video is very well done, but the content can be anything. You too could have such content. You could do it yourself, get an in-house team or outsource the project to an agency. Just pick something you're passionate about, and let the magic happen.
Rochester's real estate blog is an excellent example of content marketing done right.
Their site is beautiful, easy to navigate and full of effective calls to action, and the blog is quite active as well. Kyle Hiscock, the guy managing the blog, creates content that people want to see, not just drawn-out ads.
Through this website, you see that these people are just that, people, not sell-bots, not heartless businessmen. They're just a bunch of guys like you and me that have created a blog to help their audience make better decisions.
Kyle has even written his own guide on how to use content marketing. His closing thoughts on the matter were a reminder that content should always be top notch in order to succeed.
I think that many more real estate companies will follow their example and actually commit to original content. If you don't have the time for that, get an agency to do it for you.
You'll be surprised what a big difference a blog with quality content or a little more interaction on social media can make.
Kinleigh Folkard & Hayward (KFH) is another excellent example. They survived the housing recession and came out as one of the top 10 Brands in the UK with their brilliant marketing decision.
In 2009, while the competition was going belly up, they launched the high-end magazine, Completely London.
You might be asking yourself "so what?". The thing is that the magazine was actually a big deal. It showcased houses and educated people on the market of the time. In such volatile times, people remembered who was looking out for them. This way, KFH flourished, while others had to close up shop.
A magazine might seem a bit outdated by today's standards, but it's still a great medium. Still, KFH has all their issues of Completely London on their site, so people from all over the globe can view them for free. This further cements the fact that they're not just another company – they're the good guys.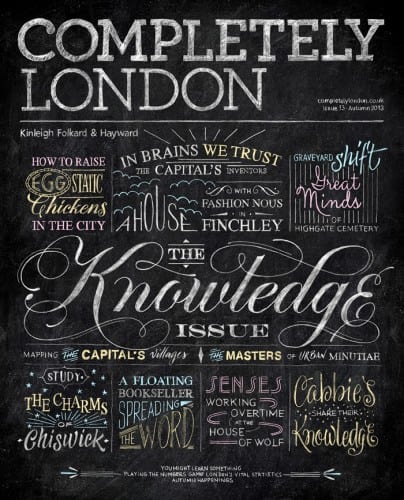 [Image Credits: Completely London #13]
They have become a true thought leader when it comes to real estate. Your company can become just as respected by also providing real, useful information.
When you post tips and guides that help people make better decisions, both the clients, and other companies will look up to you.
In conclusion, content marketing has been and continues to be, a great tool for real estate companies. There is still room to grow, and who knows what outlandish and wildly successful idea someone will come up with next. If you're a marketing director for such a company and still haven't tried this type of marketing, I'd say you're missing out big time.
Luckily for you, we wrote an article in which we present three content marketing agencies that you can consider and the benefits of working with each one. If you want to give it a good read, click here.
Also, if you're interested in having a quick chat with one of our content strategists to find out more about what you can do with content marketing, feel free to check out this link.

Latest posts by Alex Iftode
(see all)