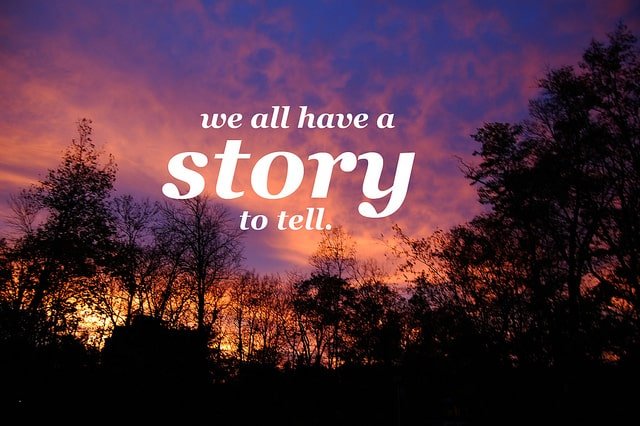 [ Credits: 09BushK's flicker]
Since we were kids, we were drawn to stories. Storytelling is a great way to connect with your public. As adults, we need something to remind us of our childhood, and the best way to do that is by using your product or service and create an awesome story around it.
Stories often bring out some kind of emotional reaction in us. If your company provides its audience with dull information about its products or services, then the public won't feel any connection with your brand. Websites that have a blog which is constantly updated, and also provide relevant articles, are more likely to be trusted by consumers.
Find the right person to tell your story
The truth is, not everyone of us is a great storyteller. Most of the time, you will need to buy articles from a person that knows content marketing and does that for a living. This practice has many advantages. Think about your business and what is the best option for you.
Say who you are
Picture this as being the moment you first meet someone. After you shake hands, you immediately say what is your name, and depending on the case, what you do for a living. From now on, the discussion can evolve into more in depth information about each other. You need to capture your receiver's attention right from the very beginning.
Convey information in an attractive way
First of all, storytelling is about learning something new. You can tell a story by relating to an event you or your company went through. Emphasize on how you want to sell, the message, the brand, not the product. Stories trigger imagination, so use images (including infographics) and videos also make a great impact, and they can help you activate the 5 senses.
I found this awesome saying on Pinterest, and it goes like this: "I've learned that people will forget what you said, people will forget what you did, but people will never forget how you made them feel. – Maya Angelou". This should be your motto when creating content for your company.
Know your audience and speak their language
Do you know who is interested in what you have to offer? what are their interests, what is their demographic profile? Answer this questions first, before writing anything. If your audience uses some kind of specific jargon, use it. This will make them feel like they can relate to you. But don't use words that you just don't know what they mean just to look cool.
Starbucks is just one example of many brands that knows how to engage with its public.
Storytelling goes both ways
Have a conversation with your audience. Don't just tell, tell, tell. Ask them questions, let them know you are interested in knowing what they think about a particular subject. Also, a good idea would be to make a special section on your website with testimonials received from your customers.
I am sure that your company has a great story that needs to be shared with the world. How many of you have actually used storytelling? Have many of you are now considering it?
Latest posts by Ana Darstaru
(see all)