It's great to see you in class today, thanks for joining and we'll get started with real-time intelligence right away 🙂
So far, I showed you the mindset you need to have in order to provide better, more engaging content for your Human Readers. Since we talked a lot about the mindset, I think you're ready to go to the next step, which is:
The Tools of the Trade for Harnessing Real-Time Intelligence That Will Make Humans Love Your Content
So far, I've shown you how to research your topic terms, so that it will make Humans feel a high level of connection to the content you plan to write.
This right here is the next thing you have to do, because it can help you find that hidden ingredient (think of the KFC secret sauce here) that will just get everyone Squirrly for what you're writing or providing.

Just so you know, this isn't just talk, I also took action and "went out of the building" to test this and get feedback from real people. It worked wonders, but more on that at the end.
There is a hard way to do this, by NOT using Squirrly, and there is the part in which you use Squirrly, which is really easy, because you do everything without ever leaving your Add New Post interface in WordPress.
Chapter 1: The Long Song
1
Catching Up with the News
You're writing about one of the topics that you've found after doing your homework from Lessons 2 and 3.
Now this is no simple task, right?
You may at the top of your head have some ideas that you could type on your keyboard or iPad screen, but that would be just trying some random thing out.
You're optimizing here, so you need to make sure that you'll get the best results you can get with your content, by optimizing for Humans the right way.
The first thing to do is to look at news sites and find out what they've recently written about your desired topic. Something you read there may help you give your story an interesting angle, that will make people love what you write and want to share it with others.
Also, it can help you find ideas of personalities or influential people to mention from that area (so it will show your audience that indeed, you've done your homework).
Go to Google. Search for your topic terms (or keywords, if you want, e.g. cooking recipes for kids). In the menu with "Images| Videos| ,etc.", click on "News".
Boom! Now you have some articles that you can click through and read, then push the Back button, come back for more, etc.
Leave the search tab for News open, so that you may return later in the process. You may find this useful.
2
Catching Up With the Blogs
Go to Google. Search for your topic terms (or keywords, if you want, e.g. cooking recipes for kids).
In the menu with "Images| Videos| News, etc.", click "News", then click on "Tools". You'll see an "All News" option. From the drop-down, select "Blogs." 
You should see something like this: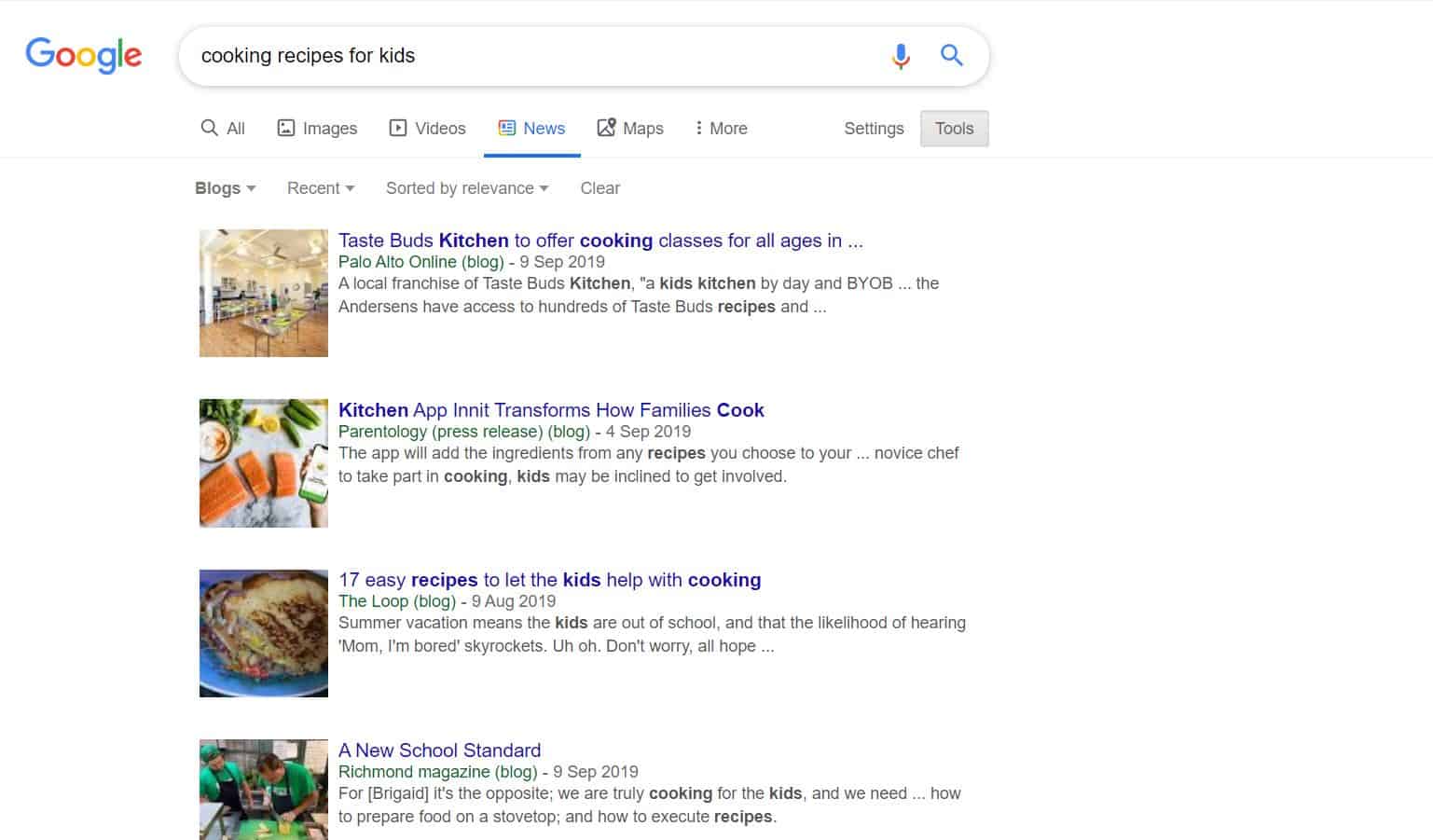 The personal feeling you can get from the articles you read from blogs may help you figure out how to better write about this topic.
The only real thing to worry about while doing this is not to waste too much time in all of the new tabs that you will open. It's going to be a real challenge the first few times you'll do this, but it's gonna be worth it.
3
Catch up with Influential Twitter Users and feel the real-time vibe related to your Topic
One of the best things since the web became amazingly social, is to get people's faces and names into your content, because it looks like you've done real research and offers you credibility in the eyes of your readers.
Open a Twitter tab in your browser.
Use the search bar and search for your desired topic.
You can see what people actually tweet about your topic, but that's not what's important here. Identify the way in which they tweet about the topic. This will help you unlock that special something that makes your content just "click" for your readers.
Also, you can choose some of the most relevant or interesting tweets and embed them into your article (here's a short video that shows you the easiest way to do this). 
You'll see below that by using the Blogging Assistant from Squirrly, you'll be able to insert tweets with just one click, and not be afraid about destroying your layout.
4
Find Validated Documentation with Wikipedia (Optional)
This is optional because it usually helps if you're going to write about a topic that requires some explanation. In that case, sending people to relevant articles on Wikipedia will make them happy, because you took your time to really show them what you meant.
5
Get the Right Image to Fit Your Content
Get an image that is relevant to the topic you plan to write about, or relevant to what you've already written.
Search on Flickr.com for copyright-free images. Some require attribution by the image authors, so be careful when using them.
Chapter 2: Simplify getting Real-Time Intelligence with Squirrly
With Squirrly, it becomes much easier to do all of what was written above, and all from your WordPress Dashboard, in the Add New Post section.
You will be able to get everything you need to make Humans fall in love with what you've written and the way you wrote it with just a few clicks.
Go to WordPress -> Add New Post. Very important step. Even with the Free Version, you can do this part, so check it out.
Place your topic idea in the "Optimize for Keyword" box. Hit <Enter>
You will see that you get images related to your topic, which you can just drag and drop into your article.
If the little box is checked, you only get images which are copyright-free. Some of them are 100% free to use, the rest require that you Attribute the Author, but it still doesn't cost a dime. And we show you where to go, in order to make the attribution and find the author's name.
Then, click on the Tweet button, and you'll see a stream of tweets related to your topic.
You can insert those that you find relevant to your article. And the coding will be right so that if you switch the editor from "Text" to "Visual" it will still work right and look good.
Then, click on the Wiki button, to find Wikipedia articles about your topic.
Next stop, the News button. Click it. A stream of news articles about your topic will appear.
Click Read It. Boom! The news article opens just right in your WordPress interface so that you can read it fast, find the paragraphs you want (which you can also insert) and then move on to the next one.
Also, there is a Blogs button, that works similar to the News button, and it also helps you catch up with blogs amazingly fast, straight from your WordPress.
You have the power of sourcing real-time intelligence in a very simple and fast way, all without having to leave your article and run off to other tabs.
How We Used Real-Time Intelligence to Build the Copywriting for Starbox (our Author Box plugin) and Get 139 Downloads in the first Day, with no pre-sale whatsoever
Since all of the stuff you learn from our Lessons are things that we tested out, here's something cool:
I've used the exact same principles of optimizing content for Humans to create Starbox – the Author Box for Humans, and write the text that presents it. And guess what? Humans love reading it and it persuades them to really try out the plugin, from the WordPress Directory.
In the first day, we had 139 Downloads! We didn't send any emails about what we'd just launched, we didn't even post content about it. And people found it there and just gave it a try.
We've (obviously) launched plugins before, and none have worked as well as this one. The difference was that this time, we really optimized it for Humans, which already got people to share it.
I've used the exact same principles I've described to you in this lesson and the real-time intelligence helped me figure out the wording and the features that would make Starbox a big thing!
Please try out this process of gathering real-time intelligence from the social web until next time (2 days from now). You may find just what you were missing.
If you want to see how I wrote the copy of Starbox, the Author Box for Humans, here's the link: http://wordpress.org/plugins/starbox/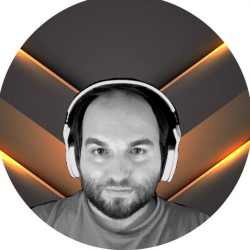 Latest posts by Florin Muresan
(see all)