It's great to have you in class today. Thanks for joining in.
Last time, in the 7th lesson of our Idea Generation Course, I showed you how to be on Alert for generating creative ideas. Great tactics were presented in this course that you can take away and integrate into your content strategy.
The most successful bloggers in different niches use those methods all the time. 
Right, so let's continue this idea generation course with some new resources that will really help you get more ideas and improve your content strategy.
Being in the Top with Mashable.com
Mashable.com is an amazing site for content creators. That's because the site aggregates top news and information across a variety of topics. Based on a topic, you can learn what's happening from trusted sources.
So you can use the site when writing about new topics or when trying to write something new about the topics you tackle with your posts.
Let's say your usual topics involve "connected cars". Naturally, you're taking this idea generation course from Squirrly because you need to generate more ideas.
Oh, yes, and from time to time you need extra help in order to be able to publish and do everything faster.
That's where Mashable.com comes into play!
Why Will Mashable be an Important Part of Your Content Strategy?
It will be an important part of your strategy because it will help you with lowering the time it takes to produce new content.
When you plan out your content in the Editorial Calendar, you see that sometimes it's hard to fill one of those days with ideas of what kind of thing you'll publish on that given day.
Well here's the thing: you can do something as simple as writing in the cell for that given day: "Mashable article". Bam!
Now I don't mean that you should just go to Mashable.com and steal an article regarding your topics. No way. Here's what you should do:
1) Go to Mashable.com > Search for your kind of topics
Let's say you want to write about "connected cars", you'd just have to go to the website, and write down connected cars in the Search BOX.
There, you will start seeing a lot of articles from a lot of blogs that write about this topic.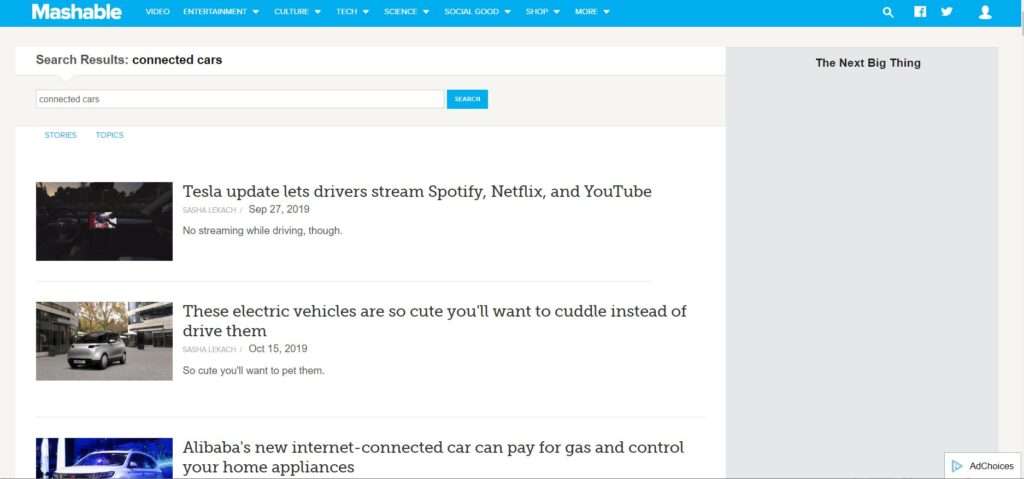 2) Find the articles about your topics that are hot this week.
As I said before, lots of articles. Lots of blogs. Make sure to look at the publishing date of the articles to find the latest information written on that topic that you're interested in writing about as well. 
Alternatively, you can also go to Popurls.com.
There, you'll see some of the most popular, recent content published across the web (including publications such as The New York Times, YouTube, Google News or The Verge).
It's worth checking out to see if there's anything you like or think would be interesting for your audience.
3) You're the expert in that field. Find the ones that are worthy of your site
Or you can skim through the whole list and pick those that you think are interesting for your audience. It's not always the ones which Mashable or Popurls say are "hot" that are always the best you can pick.
Remember: you know your audience the best and you also know what you'd like to write about better than anyone else.
4) Give a new angle on the story you read about, or write your own thoughts about what's written there
Great! You now have an idea regarding which articles you found interesting for your audience. Don't just copy+paste them into your WordPress site: find an awesome angle for those stories.
If you remember, in the first course I gave you some blogging template files. You can find some more on Smart Passive Income. There are 17 templates to help you out.
Now, the general idea is that you can:
– make an article that recommends some amazing articles that you found for your audience (curation work)
– Top 5 (your topic) this week (and you write bits of text from the articles + link to those articles)
– Why I wouldn't (your topic) like X (and X is the name of someone who did something in relation to your topic. You can offer a new perspective or disagree that something should be done some other way. It has to be authentic, though).
– One (your topic) That was Recommended by X (X being some big brand in your industry or a thought-leader).
Okay, I think you get the point. You can find a lot of ideas on how to change things there.
5) And, you have a new article 🙂 Easy, right?
Yup, you now have a new article that keeps your audience engaged and makes them see that you are consistent with your writing. And also, since you found it on Mashable or Popurls, it means that your article is:
– up to date
– current
– researched by someone else
So you cut about 1/2 of the work you were supposed to do. You can start using this method once / week and see how it goes from there.
It's an easy way to fill in a new spot in your editorial calendar, while also bringing something cool and valuable for your audience.
More ideas to add to your Content Strategy 
If you're looking for something that's similar, but which is MUCH MORE integrated into your WordPress experience, you can always use the Blogging Assistant from Squirrly.
Your content strategy will certainly benefit from using Google Alerts, Mashable.com, and Popurls. Next time, I'll also show you an integrated work method, straight from your WordPress.
Stay tuned 🙂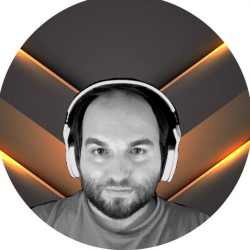 Latest posts by Florin Muresan
(see all)