It's been a long way. You've come a long way with these lessons and by now you have the right knowledge you'll need to get 300 readers for every single article.
If you take a look at your Analytics before you started implementing ideas from these lessons, you'll most probably see that your traffic used to be about 70 unique visitors/article.
All the methods that we've shown will get that up by 300 unique visitors. Which is huge, considering that it will go from 70 to 370.
Imagine doing that for more of your articles: you could even get to 10,000 visits in a month.
Of course, if you'd start to scale your operations of producing content and promoting content with the methods we've shown in this course, you'll need much better processes.
[bctt tweet="You need great processes for your #socialmedia activities. Here's how to get them"]
I've asked Andreea, our VP of Marketing, to create a lesson for you.
This 8th lesson includes amazing insights and ideas on how you can promote your articles via social media. If you'd do it your way, you'd spend huge amounts of time every single day, getting your content out there.
Andreea managed to create some methods that will lower your time to just a few hours each day. And if you have more people on your marketing team, you can assign tasks to them, so it will take each of them about 2 hours/day, and you'd have huge amounts of traffic coming in.
This is part of our secret sauce @ Squirrly.
Read carefully:
How Do You Promote Blog Posts on Social Media Communities, Without Losing Your Head?
Every day you sketch out ideas that later on become amazing pieces of writing.
Whether you're a pro writer yourself or you simply like writing, you hope that one day people will start finding your blog posts. And when you write for your own blog, you want your articles to be seen, especially if you have a professional blog with a high number of blog posts.
In this latter case, you'll need to start taking something important into consideration: Posting to social media groups and communities.
You need distribution.
When saying "distribution" we mean: getting your articles (blog posts) into the hands of your target audience.
How will you attract the right people to the blog posts? If you just hit Publish on your site, you will have ZERO  unique visitors. And you would have simply wasted time and talent to write the article.
That's where distribution comes into play, and you need to take great care of how you ensure that people will constantly arrive on your site to engage with your content.
Even though it's easy to post to social media groups, most people fail at it
This happens because it's very hard to keep up with all the necessary activities you have to perform in order to reach performance with your distribution strategy.
At Squirrly, we had a lot of people opting in for the content marketing services, where we also provided distribution for the articles we wrote. That in turn, has placed me, the VP of Marketing in a pretty difficult position.
It sounded all fun and games in the beginning, we thought that we could easily bring hordes of traffic to those websites. However, we got blocked in our own activities, so I was in charge of finding ways through which we could actually deliver on our promise.
I've tried all sorts of ideas and solutions for making the distribution process better and faster, but nothing I did was ever enough.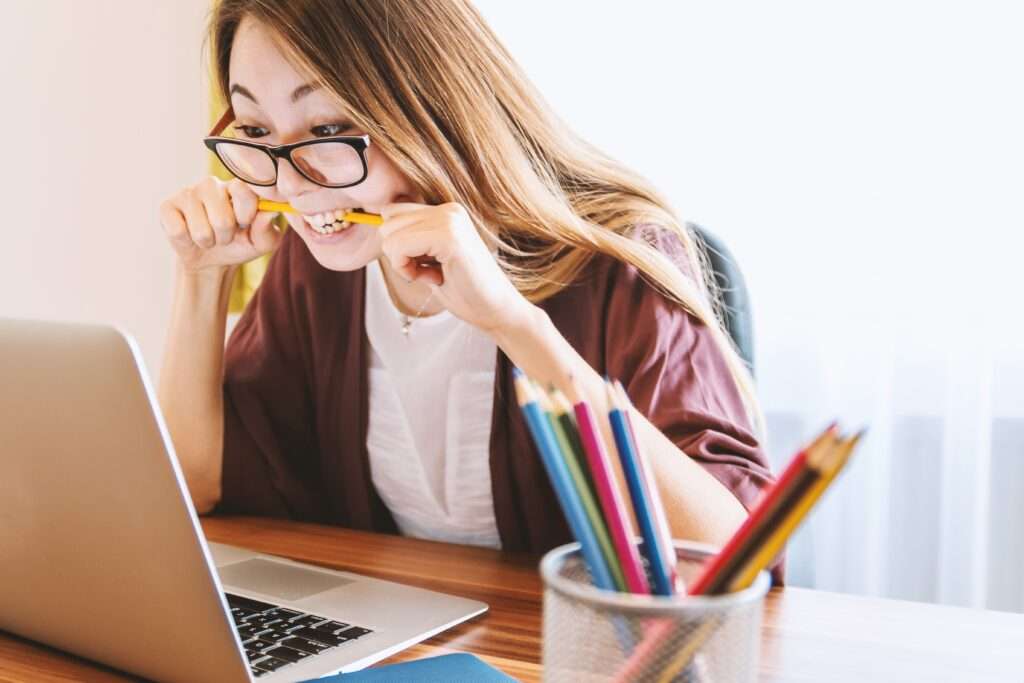 At one point, I've tried to write down in a notebook each article on which social media accounts and on what groups it had to go out. It was easy in the beginning, but when I stopped being able to remember where I had already distributed that article, it all started falling on my head.
I was losing a lot of time, with checking and re-checking my notebook, and sometimes it simply so happened that I lost track of the article. Which meant that I ended up promoting it two times in the same Community. (in two different days, of course, at some time apart from one another).
This wasn't working out.
So one day I decided to create a system to simplify the process even more.
This is what I'm showing you today:
We'll need the following files:
– An Editorial Calendar (a complete editorial calendar with all the blog posts that were supposed to be promoted on social media: with Title, URL, keywords, the type of community, message)
If you want to learn more about Editorial Calendars, Ana shows you in an article how we do it at Squirrly.
– Social Media Report (a file in which we will keep track of social media engagements and different levels of engagement for the articles: like, share, comment)
– Hashtag Research (a file in which you've done hashtag researches for the articles, and found the best communities related to those hashtags. Ideas for this have been presented in the previous lessons)
These articles have been prepared for some time before we started. I also suggest that you take your time to create them, if you already haven't, because they will be very useful for the following steps.
They are necessary if we want to survive in this crazy game of groups and communities.
Therefore, in the Social Media Report file, I've added the social media channels that I use for the Squirrly blog:
For each channel, I've written the type of community, the communities on which it has already been distributed, the keyword that was used, and also the likes, shares, and comments it received.
The Hashtag research file had just 4 columns initially
keyword,
name of the group/community,
link to that group/community,
the social media profile (personal NOT business page) that it's connected to.
I chose to color the SM profile column. I figured that it helps me a lot to have it colored. Now I know that each color represents one of the accounts.
To make it even easier to keep track, use a different sheet (in the spreadsheet) for every single month.
After doing all this, place in all the articles, according to the month when the publishing took place (the date of the blog post).
Also, for each article in the sheet, write the types of groups/communities you'll distribute it on, as well as the name (title) of the article.
Now I'll show you how I'm handling this:
1) I open the 3 files as different tabs in my browser.
2) I choose the article that I want to promote on groups/communities. Let's take: "Be Less Busy – Zapier Success Story". I'll also choose the message that I'll use in order to distribute it.
3) I now open the Hashtag Research File and I look at the column of the article to see on which groups/communities this has to go out on. And also, I'll check to see with which social media profile I'll distribute this article.
4) I am now logged in with MY account, so I will look at the groups/communities that are for me to publish on: The ones colored ORANGE.
We have 2 communities there: Startup London and Startup Australia. I see that in Startup Australia I've already published this article, so I will choose just Startup London.
I now copy the message and publish it.
In order to NOT lose my social media post made on the community, I choose to copy the permalink to the post I've made.
Click on the hour (or date) of publishing to get it.
5) I've copied the link, so now all I have to do is paste it into the Social Media Report file.
In this file, we will have all the articles that are promoted.
I'll look for the article that I've just promoted, and we go to the Facebook column, where we paste the link we got at number 4).
PRO Tip: I prefer to make the links custom (easier to track), so I'll write the name of the community on which I posted -> select the text -> add link to [pasted link].
So when I'll click on the name of the community, it will show me the social media post that promotes that Article on that Community.
6) I now come back to the Hashtag Research File, where I copy the title of the article into the cell of the required community (in this case: Startups London)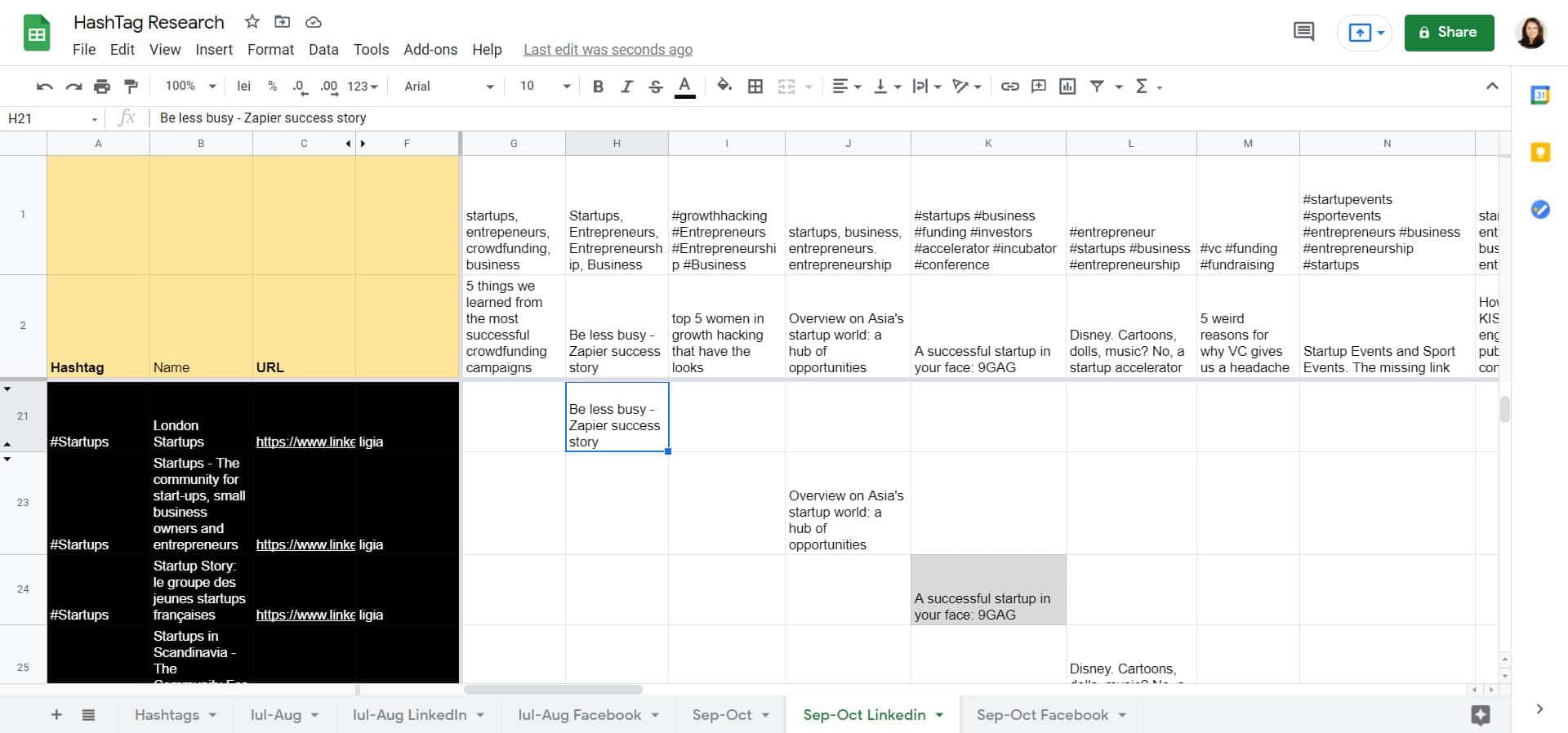 Now, all that I have to do is see where I still have blank cells in this file for this article. Kind of easy, right?
If you follow the 6 steps from above, you'll be a real rock star in no time.
These are the best methods for posting to social media groups without losing your head. And we've done a lot of research to come up with this system. It's pretty squirrly of us to show our research free of charge. It took a lot of hours to develop this system, and it simply works.
But what happens with the articles that need approval by group moderators? Or the ones that'll be rejected?
Luckily for you, I'll also show you the system I've created for these particular cases.
Let's be honest: You won't be able to succeed 100% of the time, so this will also be useful for you.
Plus, with this system, you'll be able to figure out which communities are rejecting your posts.
For the articles that still need approval by a moderator, we will use the color light grey. Once they are approved, we will turn them back to white.
The ones that get rejected will be marked with RED.
Now, in order to NOT get banned by the communities for posting the same article everywhere, we will keep alternating the articles that we promote.
You'll see that it will be a lot easier to track articles and communities in this way.
Oh, yeah. And once we're done promoting ONE article on ALL its related communities, we'll mark it GREEN.
These are the things that help me keep sane in a crazy world of social media publishing and I hope it will help you as well.
Thanks for following through.