Who would have thought that Snpachat would become such a popular social media platform in 2016, given that it was released almost six years ago? This shows Snapchat is one of those tools that was launched at the wrong time.
Or what about the fact that Vine has been shut down?
Year after year, social media trends come and go. Some become long forgotten, some settle for a couple of years before others take their place.
New year, new trends, so you know what that means. We'll have to talk about the trends that will change how you do social media in 2017.
Social Media Trends And The Channel Mix
Up until now, acquisition wasn't a priority for social media marketers. Social media platforms were mainly used to build brand loyalty and keep people engaged with the brand. Then, business owners realized that they weren't getting any results.
This idea right here will change the rest of 2017 for your business.
Click To Tweet
Instead of focusing on vanity metrics like impressions, followers, likes, RTs, etc., start focusing on the conversions that result from your social media marketing efforts. Bring visitors from social media to your site, and then convert them by using tools like Sumome.com (developed by the folks of AppSumo).
Use a mix of "Perfect Hours" (the best hours at which you can publish your posts), Hashtags, Quora Questions of types A and B, Communities, Groups, CrowdFire and Circloscope.
If you want to learn about this mix that will help you get 300 unique visitors to every single piece of content you'll publish, join our FREE course here.
What makes content viral? Emotion. What kind of emotion you're asking? Well, positive AND negative.
Mark Zuckerberg realized that not every post can be liked and that people truly have a lot of feelings they want to express, even on social media. That's why Facebook launched in 2016 reactions to posts. Users can now choose between the following reactions: love, haha, wow, sad, angry. Just recently, the social media platform revealed that reactions are weighed in over likes to determine what type of content you'll see in your news feed.
"Love" and even the negative ones such as "angry" will send a stronger signal to Facebook.
If your posts trigger an emotion, then your followers will be more likely to interact with your content.
2
Think About Relevant Content
What is important to notice about this year's social media trends is that you need to be innovative. Besides awakening an emotion, you need to come up with fresh content, otherwise, you'll bore your audience. You can say bye-bye to any potential future customers as well. It doesn't necessarily have to be evergreen, but tasteful at the very least. A couple of days old is OK, but anything older than that won't fare well.
Change Your 2017 Strategy for Social Media: Focus on Fresh Content. It's not too late
Click To Tweet
3
Storytelling: Another Must
This one is a critical part of the social media trends nowadays, and it goes hand-in-hand with emotion. Don't be concise and don't be cold or rigid. Create a scene and try to use at least two senses (visual and hearing) and if you can evoke the other three as well, then you just won the jackpot.
Now that visual content trumps written content, it's even easier to create important stories for your audience, even if they are only 30 seconds long.
4
Real-time Social Media Marketing
What does this real-time thing mean? Bottom line, you'll have to stay up to date with everything that's happening in the world, the trends that escalate overnight and to adapt these trending topics to what your brand does.
For instance, remember the "white and gold" and "black and blue" dress debate? Or the hysteria caused by the fact that the iPhone 6 could bend? Well, there are some brands that saw the opportunity and took it. Here are a couple of examples.
Salvation Army:
And KitKat:
Of course, nobody asks for a full marketing plan, but it's good to be aware of what is trending at the moment and be able to post something about it. After all, you never know when your interpretation will become viral.
Facebook was the first social media platform that came out with the live video feature. Then, shortly after that, other platforms have started implementing it as well, such as Instagram.
It seems that users want to see more and more what brands or other people are doing in that exact moment. That's also one of the reasons why Snapchat experienced such a sudden growth.
Videos get many more views and reach on social media platforms and much more attention from users so it's worth looking into it.
6
Blogs Won't Stay Too Far Behind Either
Content is important for SEO but not only. By publishing fresh content, your chances of getting more customers will increase, especially if you're in B2C business.
The importance of blogging will continue to grow in 2017, so if the idea of a blog makes you cringe, you might be left behind. However, don't worry. It seems that nowadays it's not about publishing 3-4 times per week as it was the case a few years ago. In 2017, you should focus more on creating long-form content, as opposed to short articles. Long articles rank better and they also provide much more value to your audience.
7
Social Media Demands More Money
Aw, snap, this is a shot through the heart. With all the algorithms Facebook changed the past year, I bet we all hoped it was going to end. But no, unfortunately, you will have to pay more in order to get more exposure. Not only on Facebook but on Twitter and LinkedIn as well. That being said, Google+ anyone?
But there is a bright side as well: Investing money will offer you access to more metrics. You will be able to measure the impact and the reach of your marketing efforts. However, keep in mind it's important to choose the right social media platforms when doing this.
8
Influencers Marketing Is Now A Thing
A slight trend started to take form in 2014, a trend called influencers. What are they? We already wrote on this subject. Why are they important? Because with the fall of the social media reach, influencers will be the best way of spreading the word in a friendly, fashionable manner.
9
Everyone's Mobile Nowadays

And the smartphones seemed to be glued to people's hands.
Even though the market is full of smart wearable accessories, most people still prefer their mobile devices when it comes to getting their daily dose of social media, entertainment, and news.
Why?
Because they're always handy, small, have amazing performances, and are easy to use. So what should you do? Optimizing your social media marketing campaigns for mobile users as well.
10
The Rise of The Social Shopping Age
Or year, for that matter.
Companies can now sell their products directly from their Facebook posts, which is a pretty amazing feature. Users will now see call to action buttons which they can press and buy the product directly from the platform.
Instagram stated in a blog post that more than 80% of US mobile users use their phone to compare prices. 4 months ago, Instagram starting testing the mobile shopping experience on the platform. A handful of brands such as Abercrombie & Fitch, BaubleBar, Chubbies, Coach, Hollister, J.Crew, JackThreads, or kate spade new york will be testing this feature and will be sharing their insights.
So it's only a matter of time until we'll be able to shop directly from Instagram.
11
Photography Remains Important
Aside from video, photography remains one important topic that cannot be ignored.
In other words, platforms like Instagram and Pinterest will rise even more than before. FYI, if you have a physical store and you do the shipping too, you can aim for these two platforms to promote your stuff. Upload some awesome photos and you'll be set for life.
New Social Media Platforms Rise, But Will They Stay?
From Ello, a platform launched in March with promises to never sell user data (yeah right), to Yik Yak, which allows users to exchange anonymous posts with those who are physically nearby, and tsu, which promised to share ad revenue with their users based on the popularity of their posts, social media platforms continue to rise.
But how long will they be around?
Will they be able to beat Facebook's popularity? G+ encounters the same problem right now. Well, maybe they will, maybe they won't, but there's one thing we can't deny: these social media trends.
What trends will you be following in 2017? Let us know in the comments what would you add to this list.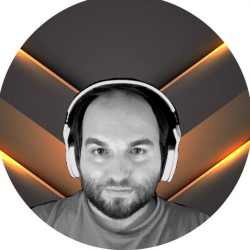 Latest posts by Florin Muresan
(see all)