Last Friday was International Happiness Day. It was also Solar Eclipse Day. We waited for the eclipse, and really tried to see it, but we never did. So what else is there to do on International Happiness Day? We decided to have an office party and play Crokinole! Well said, well done.
All of us stopped working for 2-3 hours to have our small party.  It's too bad the entire team couldn't all be at the office for this, but we'll have another 'Squirrly' party soon, I'm sure of that.
Anyways, Florin and I discovered a new game a few months ago and we decided to buy it for the office. It's fun, fast, just perfect for a team building break at the office.
Allow Me To Introduce To You the Game of Crokinole!
Crokinole is a board game similar to sport of curling (in track and field) but reduced to table-top size. Players have to shoot their discs in the higher-scoring regions of the board, while also attempting to knock the opponent's discs.  If your disc lands in the center, you'll get 20 points. In the next area you'll get 15 points. Then, 10 points and in the final area 5 points. You can play it with two players or with four players as two teams. Sounds easy and fun, right?
 Let the Crokinole Tournament Begin!
There were 7 of us, so it was a little hard to make a real competition, but we improvised. The first round was between Florin and Cristina. Next, it was Ana and me, and the final team was Calin, Vlad and Teo. It's interesting to how playing a game together for a few hours encouraged us to bond and utilize teamwork.
The game between Florin (the red discs) and Cristina (the blue discs) was intense. They were shooting hard to get out the opponent's discs. But in the end, the winner was Florin. That's only because he's played this game a few times before. Here is a photo of their game:
My game with Teo was challenging. Teo shot in the center at the beginning so that gave her 20 points right away. I lost in a big way! I could barely shoot any of her discs, but it was still a fun time.
I think the game between Ana and Calin was the most competitive one. They were really engaged in the game. They shot after each other, never giving up. Of course, sometimes they'd miss but this only made the game more intense. As it turned out, Ana was the winner. All the girls in the office were very proud of her because she was a finalist.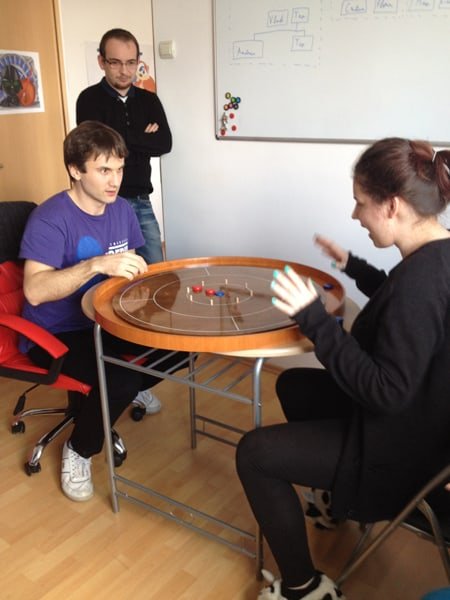 Next, it was time for Teo to compete with Vlad. This was such a fun game, but Vlad won very easily.
So the finalists were Vlad, Florin and Ana.
Florin and Ana might have been smiling at each other, but this was a ruthless match.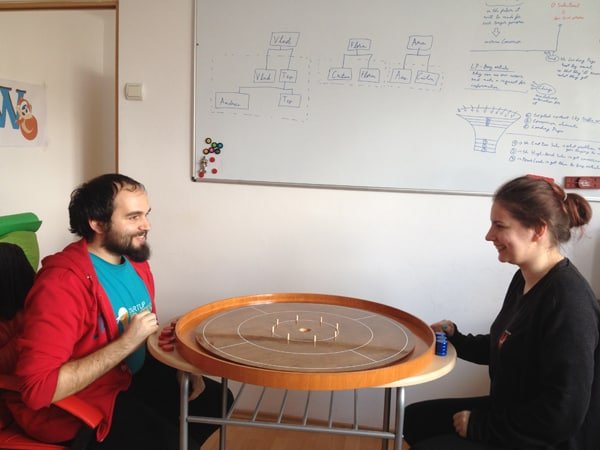 Even though they're fellow members of the Squirrly team, they both played aggressively (of course, aggressive in a playful way). And of course, Ana won! Go Ana! I think they really enjoyed the Crokinole game, and established some healthy team bonding. Just take a look at these photos.
The last game was between Ana and Vlad.
And the winner was: Vlad. Congrats Vlad 🙂 Even if Ana lost, we (the girls) were really proud of her.
This was our Hapinness Day. We loved playing Crokinole at the office, taking a break from our regular routines, and further establishing bonds that will carry into our regular work. I suggest you buy one too and give it a try. It's a fast, refreshing and team enhancing game!
How was your Happiness Day? Did you see the Solar Eclipse?
Latest posts by Andreea Muresan-Leau
(see all)