Squirrly SEO Plugin's Inspiration Box Provides Top-Tier Research Tools for Writers
One thing bloggers need even more than inspiration is focus. But how can you focus when writing research implies countless searches in your browser?
Squirrly SEO Plugin addresses this issue with its built-in Inspiration Box that turns you into a skilled content manager.
In order for you to work smarter – and inside the same platform! – Squirrly created effortless access to:
photos

Tweets

Wikis

blogs

your previous articles
No need to open a dozen other tabs to find everything you need!
Creating media-rich content is now within a click's reach. Keep your focus intact and resources close by, and you'll master the art of effective content creation.
The Inspiration Box is placed right above the Live Assistant section, on the right side of your WordPress Editor. These two features work hand in hand to help you create content that is both human and Google-friendly
It All Starts with a Keyword
Squirrly SEO Plugin was built so as to incorporate a suite of research tools for writers.
The Inspiration Box is practically a WordPress writing muse with a quirk: it retrieves content that's optimized for the keyword you're using within the article.
Just type in the keyword, and the Inspiration Box is ready to deliver. Plus, it also incorporates a brief keyword research tool.
Manage Your Writing Life More Efficiently By
#1 Putting Your Media Library to Good Use
After settling on a keyword, Squirrly helps you add optimized media and resources relevant to that particular phrase.It will only retrieve Copyright-free pictures that include your selected keyword in the ALT text.Oh, and rest assured. You can now gather all previously used images by saving them to your WordPress Media Library – one of the most useful research tools for writers out there.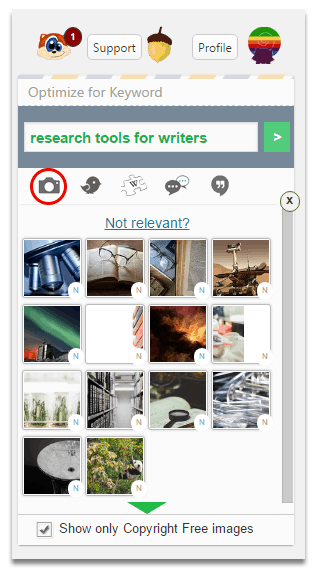 #2 Integrating References AND Trending Topics
Not only does Squirrly provide SEO optimization for the non-SEO experts, but it also helps you create well-rounded articles. How? By offering you the possibility to integrate:
1. Tweets
Clicking on the Twitter icon gets you instant access to a stream of topic-related Tweets.
Click on "Insert it!" and the incorporated Tweet(s) will add more substance to your article.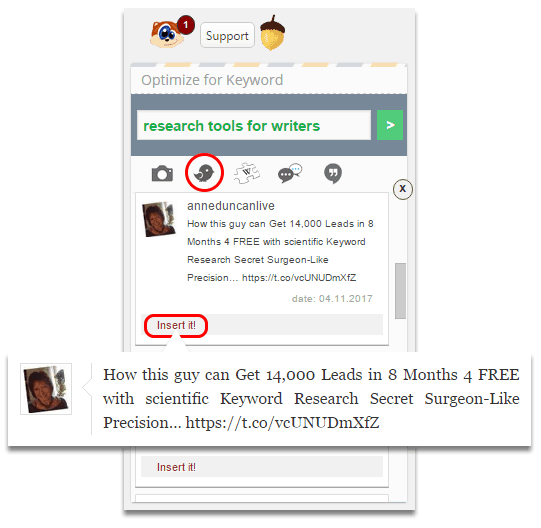 2. Wikis
Browse through Wikipedia articles to get more insight or quick fact-checking on your topic.
You can both read and insert the information you need as a reference.
3. Blog Excerpts
Find topic-related articles written by fellow bloggers or influencers.
Browse them, see what catches your eye, insert a box with excerpts of your choice or click on "Reference" to give credit to the original authors.
Plus, a golden hack: when in need for competitor research, don't leave your WordPress Editor. Squirrly made sure you get instant access to what fellow bloggers post on a certain topic. Once you learn what that is, you're ready to come up with improved information.
All in the same place!
#3 Inner Linking Right from Your WordPress Editor
When you want to link to some previously written articles on your blog, there's no need to do the whole 'Save Draft > Go to Dashboard > Search' click sequence all over again.
The Inspiration Box keeps you in the writing zone while also making inner linking a breeze.
Just select the quote icon, and Squirrly automatically browses your WordPress for previously written articles you want to cite or insert.
Discovering research tools for writers is usually a fragmentary process that may kill your writing drive.
Not anymore.
You now have the power of sourcing real-time intelligence with Squirrly's improved Inspiration Box.
Supercharge the Potential of Your Content without Leaving Your WordPress Editor.
You just need ONE tool for that.