Squirrly's SEO Virtual Assistant Gives You an SEO Green Light to Publish Your Content
The world of SEO can be hard to navigate, especially if you're not an expert. It's a jungle out there. And it's easy to get lost!
But what if you could rely on an ally to show you the way to excellent SEO?
Squirrly SEO virtual assistant was built with that purpose in mind.
So that YOU can publish content that is fully optimized for BOTH Search Engines and Humans – every single time!
What It Does for You:
Gain Higher Ranking for keywords connected to your brand, product, or service via search engines like Google.
Get an increase in Readership of over +285%.
Have a real chance of Outranking your competitors for the topics related to your brand, product, or service.
Have more Time to take care of other aspects involved in content creation.
Increase Efficiency: No need to go back to your content after you wrote it to make SEO adjustments. Your Content will be ready to GO LIVE once you're done writing it!
How It Works:
Guides you through the steps you need to take to fully optimize an article, page or product through a simple interface.
Lets you optimize your content while you are writing, with real-time SEO tips.
Works inside WordPress – you won't have to leave your dashboard.
Provides quality assurance tips to improve your text.
Enter the post title. Insert your keyword and find out if it's worth using it or not, with the Squirrly Research Tool.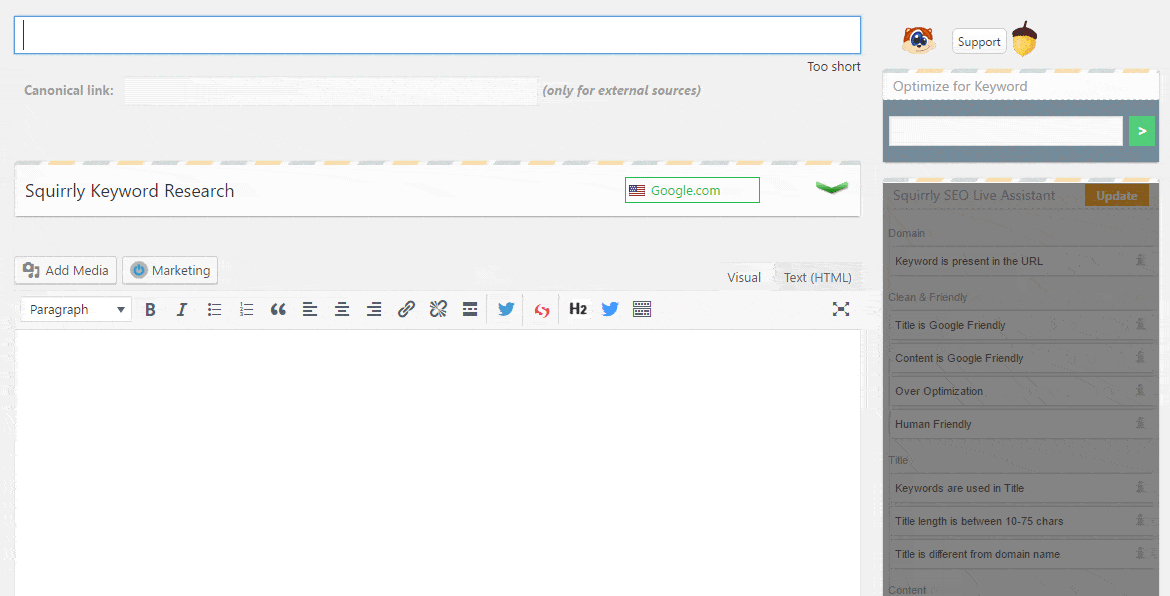 As you write, Squirrly's SEO Virtual Assistant checks to see if the blog article is optimized for both humans and search engines.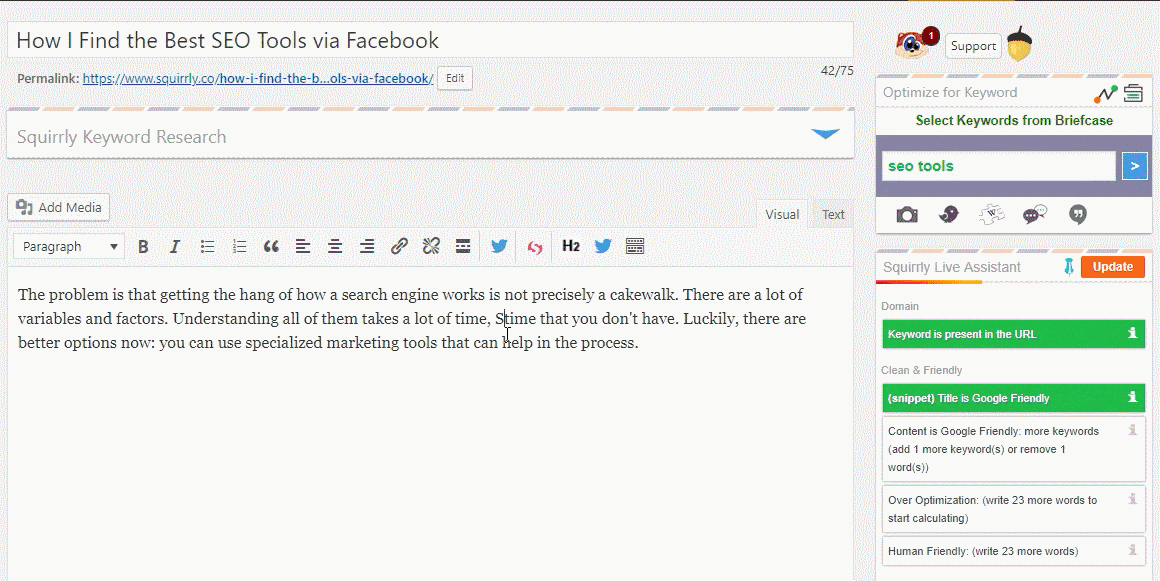 It makes sure that:
Your article is long enough to keep readers on page.
You have a strong introduction and conclusion for your article, in which you specify the topic you're writing about.
You don't have any excessive and annoying repetitions in your writing.
You avoid keyword stuffing.
You don't over-optimize your article.
Squirrly Live Assistant gives you SEO advice while you are typing so you can fully optimize your text right then and there.
Need a friend in the SEO jungle? Let Squirrly SEO Virtual Assistant be your wingman!