Having authority in the online world is one of those things that all of us aspire to achieve someday.
Many have managed to do so, and some are still working on it.
Did you ever wonder what the differences between these two categories of people are? We've all been given the same number of hours per day. We're all engaged in pretty much the same types of activities and daily habits.
But what about the branding tools they use? Can these make a difference? 
There is no secret recipe to becoming an online authority. No ancient power needs to be summoned to have a powerful personal brand. There is just determination, genuinely brilliant ideas, and the right tools.
Believe it or not, they are of great help for anyone.
If the pros are using them, why shouldn't you be doing the same?
There are many alternatives to choose from. But these three branding tools are the most powerful, easy to use and most of all, free. 
3 Branding Tools That You Should Start Using Right Now
Branding on a business level is something that every company should engage in.
But with personal branding, things are a bit different.
Every person active on the Internet has a personal brand. It consists of all the available online information about that person, what they're sharing, what they're commenting on.
Photos, messages, mentions in different media publications and so forth.
Personal brands are much more influential. That's why companies decide to collaborate with individuals for their campaigns.
Did you know that 92% of people trust recommendations from individuals (even if they don't know them) over brands? Yup, that's the power of a great personal brand.
Personal branding involves managing the existing online information about yourself in a professional way. You have to tailor your personal brand to showcase your traits, your experience, and your authority.
Tailor your personal brand to showcase the qualities you want it to.
Click To Tweet
As for the tools for personal branding you'll be reading about in the following lines, here they are:
We'll dive deeper into the features they offer in this article. We'll help you understand the importance of using them the right way.
These powerful tools for personal branding will no longer be a mystery to you.
Design without Being a Professional Graphic Designer
You may jump out of your seat and punch me in the face for saying that – especially if you're a professional designer. But that's what Visme does.
This tool enables anyone to create professional presentations and infographics without any fuss.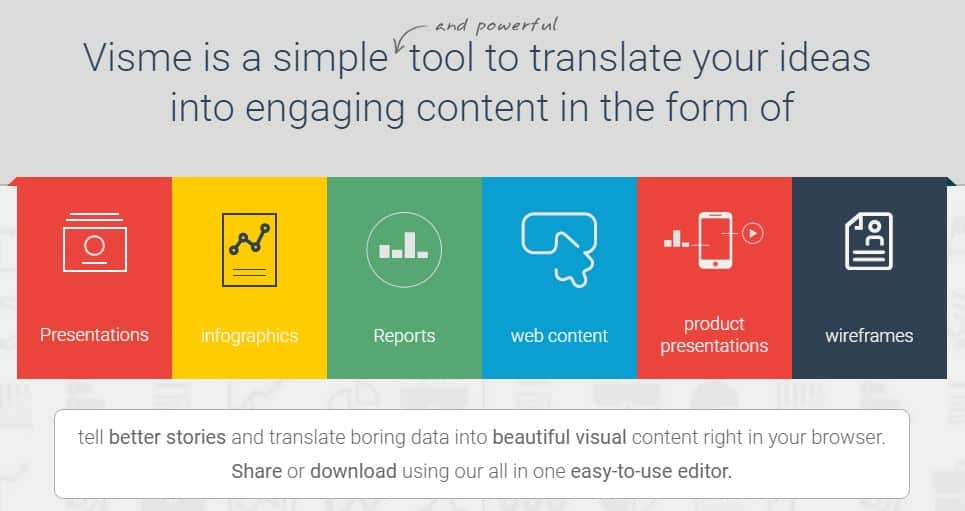 It's a free tool you access through your browser. You don't need to download or install anything on your computer. It's a great way to transform dull visual content into something more engaging.
Visme is outrageously easy to use, and intuitive. As soon as you sign up for the tool, you can start creating. You don't even need a tutorial or a step-by-step guide.
But the most important aspect is that you can use Visme for your personal branding process. Even the guys over at NASA use this tool. Go ahead and check it out now or read on to learn how you can use it to brand yourself.
Visme enables anyone to create professional presentations and infographics without any fuss.
Click To Tweet
Visme is one of the best tools for personal branding. 
Visme is actually a multi-use tool. It offers you great-looking templates to create stunningly good-looking content. You don't need any coding skills whatsoever because the creation process is all about dragging and dropping.
Creating engaging content for your social media profile or page is as simple as 1, 2, 3.
You can create guides, step by step tutorials; everything you would need from a visual perspective.
But a more professional approach is possible as well. Especially if you want to manage your career as an expert.
The best way to use Visme for personal branding is by creating a great looking résumé.
To do this, you'll have to use the infographic feature and your creativity. The guys at Visme even rolled out a step-by-step guide to help you with this. Here it is:
Use Visme's features to manage your career like an expert.
Click To Tweet
The 'Who's Who' Every Professional Can Get Into
Granted, when you read about LinkedIn above you may have thought "What? LinkedIn is a social media network, not a tool!" But the truth is LinkedIn can be a tool and should be used as such.
LinkedIn is the world's largest professional network. It boasts over 400 million users. Your personal brand must be present and active on this social media channel. But the way you'll use LinkedIn will turn it into a tool. You have to optimize some key aspects.
LinkedIn can be a great tool for boosting your online authority.
Click To Tweet
#1 Optimize Your LinkedIn Profile
To get started, you'll need a professional photo of yourself – preferably square. That will make your profile 14 times more likely to be found on LinkedIn. Make sure the photo outlines the attitude you wish. A smile usually goes a long way.
Next, you need to work on your profile headline. You should customize it to showcase your personal brand's message and vision.
After you've completed these two steps, it's time to start working on the background. Use this section in such a way it benefits your personal brand. Add promotions or a portfolio. You can even write a little story about your professional journey and how you got where you are.
The last part of the optimization process is regarding the vanity URL. You want people to find you on search engines. That's why your LinkedIn profile should look like this: linked.com/in/YourName.
Once everything is in place, you can start building authority.
A professional photo of yourself will make your profile 14 times more visible on LinkedIn.
Click To Tweet
#2 Become a Thought Leader
After your LinkedIn is optimized, you can start gaining authority. To do this, you'll want meaningful connections. Follow current thought leaders in your niche – do include a note explaining why they should accept.
Start publishing great and useful content yourself. LinkedIn is, after all, one of the few professional publishing platforms in the world.
Let people know what you care about and what you are experienced in. The more content - long-form, preferably - you publish, the more people will engage with it.
That will build your personal brand's authority.
To gain a further boost, you should start using SlideShare as well. That is where you should share presentations about your niche. Explain trends and give advice. To make this content look excellent, you can use Visme.
That is how you can use LinkedIn as a tool for your personal brand. It will require determination, patience and time, but it's what the pros are doing. If you want to reach the same level of brand authority, start using it right away.
Increase your authority using Visme to create awesome SlideShare content for LinkedIn.
Click To Tweet
Why LinkedIn and not other social media platforms? First of all, LinkedIn is the social media platform for professionals. Second, I have personally never heard anyone say "You should try Facebook. It's one of the best branding tools."
One Year of Social Media Posts in a Flash.
You need to master the art of social media management! If you have a handful of social profiles, one of a few things could happen:
You're active on all of them and that eats up a lot of your time;
You're active on some of them, but feel sad you can't contribute to the others;
You quit ahead of the game because you have a dozen social accounts and no way to manage them all;
To avoid a headache or twelve, consider a platform such as Squirrly Social to manage all of your accounts in one place. It supports all the big ones (Twitter, Facebook, Google+, LinkedIn).
But we did mention a handful. So by using the Squirrly Social connections, you can use a free Buffer account that allows you to extend your control to other platforms, including:
Instagram
Pinterest
Facebook Groups
And more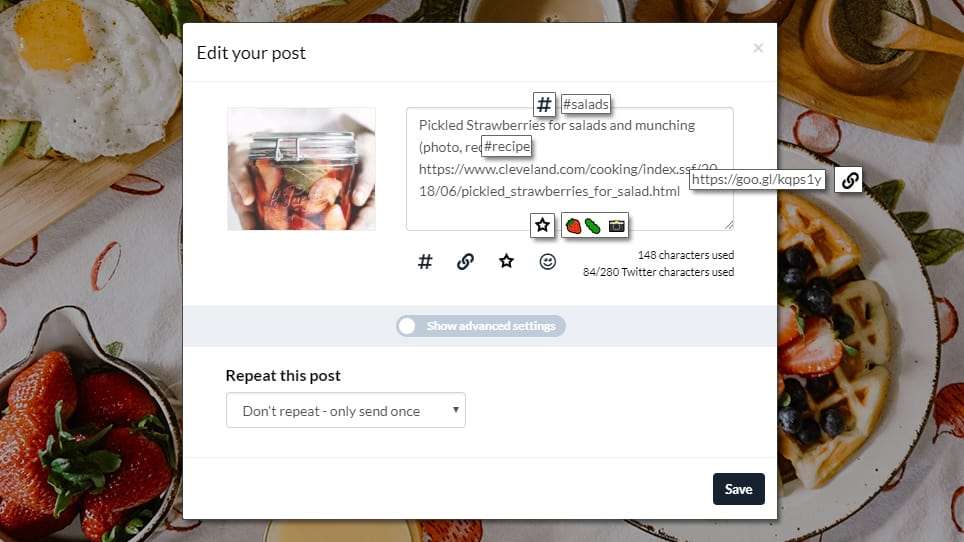 If you've set up a content calendar, you're going to have a lot of work on your hands, scheduling posts on social media.
Squirrly Social allows you to schedule everything from one place. You can even create categories and repeat each post several times.
On the other hand, you can also let Squirrly Social help you write the best posts for you. It can even automatically add hashtags and emojis to your posts.
#SquirrlySocial can automatically find the best hashtags for your posts.
Click To Tweet
You can even use their Social Media Assistant feature to find a list of posts according to what you are searching for, that you can share with your followers. Or you can set it to post things from your RSS feeds as soon as they're published.
That is very useful if you're publishing very often and would like your audience to know as soon as you have something fresh out.
If you don't feel like doing it yourself, you can delegate some social media tasks to your team. You didn't think you were in this alone, did you? The tool has some excellent team management options.
All in all, Squirrly Social seems like a lifesaver to anyone.
What's Holding You Back?
As you can see, developing a great personal brand is no top-secret job. The tools for personal branding presented above are just the tip of the iceberg.
Neil Patel is one of the thought leaders with a powerful personal brand that is using these tools. If he could do it, you certainly can as well.
Arm yourself with patience because building online authority will take some time. Once you reach your goal, you'll see so many professional opportunities you'll be glad you've started down this road.
Arm yourself with patience because building online authority will take some time. Once you reach your goal, you'll see so many professional opportunities you'll be glad you've started down this road.
Your turn: what other creative ways of using these tools can you think of? Are you using them as we speak? Can you share some of your ideas, tips & tricks, and recommendations in the comments section below? I'd love to learn more from you guys!

Latest posts by Alex Iftode
(see all)