Having a well-known website can be a great thing, but just because it starts making you money doesn't mean you won't have to work on it anymore. On the contrary, the more traffic you get the more time you will have to spend improving your website. But how do you go about doing this? Luckily for you, website analysis tools are now a growing trend on the Internet. More and more developers worldwide are putting a lot of time and effort into creating and releasing high quality tools that can help you out.
Why You Need a Website Analysis Tool
What is a website analysis tool and what can it do for me? Simply put, it is a type of software that allows you to input the domain of your website in order to run a thorough analysis and see how it fares. This means you will be able to further improve your website's success. The analysis tool we are going to be taking a look today is ContentLook, an audit tool that reviews your website's progress by focusing on 6 key areas: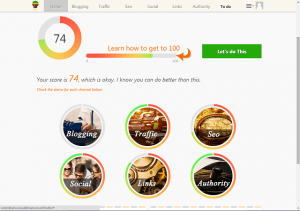 The Good…
As you can see, ContentLook features a lovely and appealing design. The progress bar at the top is eye-catching and gives you an overall idea of how well your website is doing. The areas of interest also feature a graph, letting you know which ones need improvement and which don't. This is extremely useful if you are in a hurry and just want to take a quick look at your website's progress.
The analysis tool lets you click through each one of the areas. Once you do, you will be presented with a myriad of suggestions on how to improve your website. What ContentLook does better than its competitors is that it doesn't only show you which areas need improvement, but it also gives you tips and explains what different terms mean and how they work. But it doesn't stop there. Besides getting useful explanations, you also get access to helpful videos.
Some sections even offer you access to articles that are filled to the brim with useful information.
This website analysis tool also abounds in thought-provoking quotes from various marketing experts and famous authors. There is a lot of diversity when it comes to them, since they rarely repeat themselves. They are not your run-of-the-mill cliché quotes. They are actually subject-related and give you something to think about while you soak in all the audit information.
ContentLook is not an online analysis tool that is only aimed at small business and website owners. Its accuracy, information and quick response can easily help out even large, successful websites.
And the Bad…
Every great thing has its drawbacks as well. While this analysis tool is free to use, you will need to create an account to get all the benefits. This might not be so bad if you would receive instant access, but you are definitely going to have to wait a while.
However, the analysis tool does give you the option to ask for an invite via Twitter. Also, regarding the access to information-filled articles mentioned above, there only seems to be one article at the moment, present only in the Traffic section. This is definitely no deal-breaker, since you are given a lot of useful information, but a little diversity wouldn't hurt.
Final Remarks
ContentLook is obviously not the only website analysis tool on the Internet, but it does seem to be the most reliable. Tools like SiteAnalyzer and WebSiteOptimization are also viable options. SiteAnalyzer has a stylish design and gives you full access without requiring you to create an account, while WebSiteOptimization is quick to respond and gives exact data. However, none of them can hold a candle to ContentLook.
All in all, a website analysis tool like ContentLook is a must if you want to efficiently keep track of your website's performance and also improve it. It might have some minor flaws, but the pros ultimately outweigh the cons.