The battle begins: Kickstarter vs Indiegogo. Fight!
Kickstarter and Indiegogo are two of the most popular donation-based crowdfunding platforms. Go and take a look at  our infographic: Top 5 crowdfunding platforms, and you'll convince yourself. They were founded in 2009 and 2007 respectively, and since then they've been leading a battle of their own in the online Wild West, wielding their ammo of donors and funders, fighting for the first place.  Well, what defines their success or their failure? Is it really Kickstarter vs Indiegogo or do they get along just fine?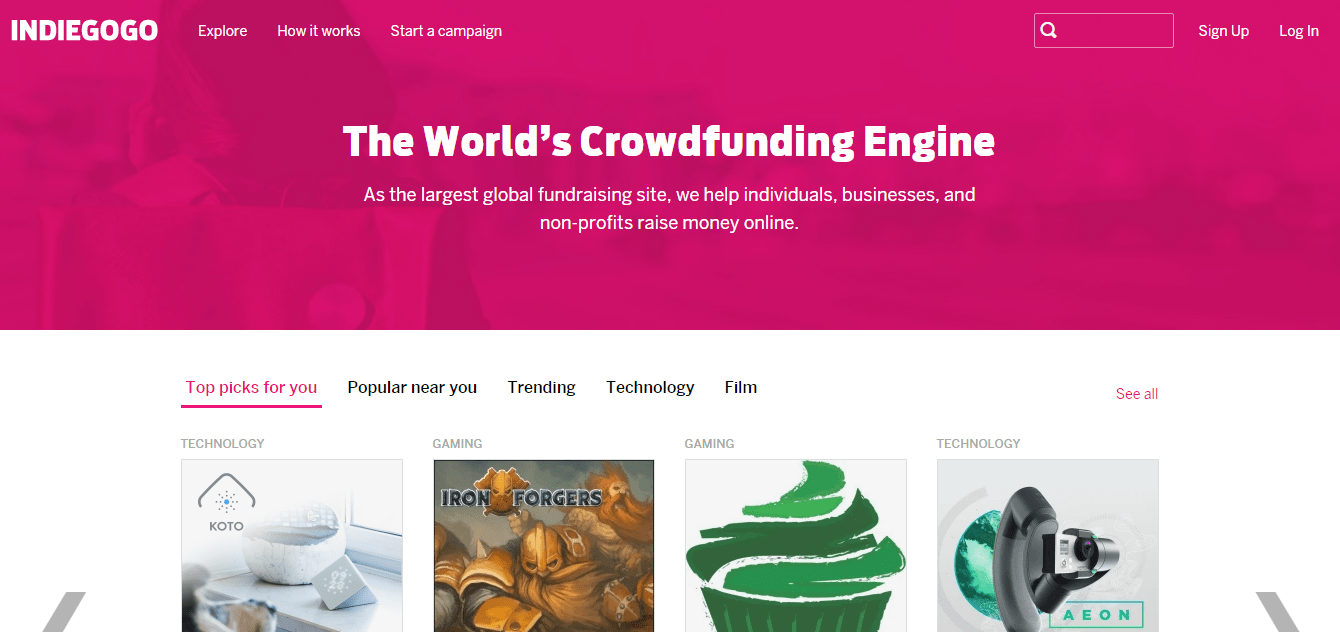 And the winner is…
 Round 1. Traffic and visitors engaged. Zach Eberhart points out that in terms of traffic and market recognition, Indiegogo is second best. Indiegogo only sees half the traffic of Kickstarter, but they could beat Kickstarter if their consistent traffic increased, because the two platforms provide similar engagement. Zach Eberhart further on analyses the two sites' conversion rates, the rate of visitors and data trends, showing that although the layout of the platforms' projects available for funding is identical, Kickstarter has a conversion funnel rate  28% higher than Indiegogo. Kickstarter has twice more traffic than Indiegogo.
Round 2. Policy and rules. In the rivalry Kickstarter vs Indiegogo, you need to take sides, and in order to do this you should learn a few defining rules about the platforms. Most users agree that Kickstarter has an appealing, user-friendly interface, while Indiegogo is less structured, more cluttered. Even so, when opting for Kickstarter you'd better know that your project must have to conform to Kickstarter's guidelines, while Indiegogo is "available to anyone to raise money for anything". On Kickstarter everything has to be a project of which you set a goal, that is to make a product, and the project has to belong to one of the categories: Art, Comics, Dance, Design, Fashion, Film, Food, Games, Music, Photography, Publishing, Technology, and Theater. Indiegogo, on the other hand, is very broad and diverse, and the majority of projects seem to be 'indie'.
Round 3. Goals and deadlines. Fees.  In both cases you earn something and you pay something. With Kickstarter you have a deadline to reach your goal, of 30 to 90 days, while with Indiegogo there is no limit of time fixed, though the average time is about 45 days. If a project is successfully funded, Kickstarter applies a 5% fee to the funds collected and the processing fees, while if it fails all funds are returned to their original donors. On the other hand, Indiegogo offers more funding choices. You can go for a Flexible Funding, where you keep all funds you raise, even if you don't meet your goal, or a Fixed Funding, where all gifts go back to their donors, if you fail. In case of a Flexible Funding, you pay 4% if you meet your goal, and 9% if you don't.
Round 4.  Success or failure? Harmony or rivalry? Both Kickstarter and Indiegogo seem to be in a class of their own. Kickstarter impresses with great numbers (look at this infographic), strict structure and fair rules, while Indiegogo stands out for its variety, permissiveness and active community of donors. In the online Wild West there is one person who can acknowledge the winner. The crowdfunding gunslingers await for your decision.
Tell us who do you think won the battle: Kickstarter vs Indiegogo. I can't wait to hear your opinion on these great crowdfunding platforms!
Latest posts by Ligia Mangra
(see all)