This time, we're going to take a broader look at how your real estate company can improve its marketing results. I'm going to talk about different digital marketing strategies and give you an idea about their strengths and weaknesses.
If you're more interested in content marketing than other ways of promoting yourself online, see our article about what a content strategy for real estate should involve.
I'll make it clear right now that I won't go into great detail. The goal of this article is to inform you about your options and to give you some tips. OK, now that we've got that out of the way, let's start.
1
Make Sure Your Website Is Dynamic
I'm talking about having a site that stretches and adjusts quickly so that people can use it regardless of the device they are on. 70% of marketers see mobile marketing as a critical enabler of products and services.
I suggest you also make sure the website looks appealing. Include the best and most professional pictures and graphics you can find. It might end up being a bit pricey, but it makes a much better impression than some boring and monotonous website.
It's nice if your site is dynamic in the other sense too, as in full of life and new ideas. Real estate doesn't have to be too serious. Buyers want a new home, not just property. So get their imagination going.
70% of marketers see mobile marketing as a critical enabler of products and services.
Click To Tweet
2
Have Smart Pop-ups, Not Invasive Real Estate Ads
I'll start by saying that I'm not a huge fan of pop-ups. Most of the time, they interrupt me, and I close them as fast as possible to get back to what I'm doing. I rarely stop to read them. It doesn't have to be like that.
If you have the same opinion as me, you'll want to pay attention to this part. Pop-ups can be better. They can come up at just the right moment, with just the right information or call to action.
Pop-ups can be simple things that just jump on your screen after a few seconds. They can also be a lot more complicated and personalized.
They can show relevant information based on where the lead is on the website or after a set amount of time. This way, you give them a chance to do what they wanted to do first.
I want to make it clear that although pop-ups can be annoying when done wrong, they are a much better alternative than forced registration. You don't see a whole lot of that anymore, and for good reason.
When someone just wants to browse some houses or find out more about your company, it's a huge turn-off to suddenly have to register. Almost everyone would just leave in this case.
So remember. Pop-ups are better than forcing people to register and smart conversion elements are better than boring pop-ups.
Make your pop-ups smart. You don't want people to feel invaded whenever they enter your website.
Click To Tweet
I doubt it's the first time you hear about the wonders of what automated marketing can do, but you might not be using it to its full extent.
In fact, a developer could create a real estate website that does everything on its own. The problem is that it would inevitably fail. Some jobs are just too important to delegate to computers. Not all, though, so let's see what you could let a computer handle.
A big part of the customer relationship management can be automated.
For example, you don't have to manually add every client or lead into your database. If someone wants to work with you or just inform themselves, you could have them fill out a form. Then, that information can be automatically added to the database.
The emails you send are another thing. I know you don't have time to write a personal message for everyone, but even by sending the emails, you lose a bit time.
An email marketing solution can handle that for you.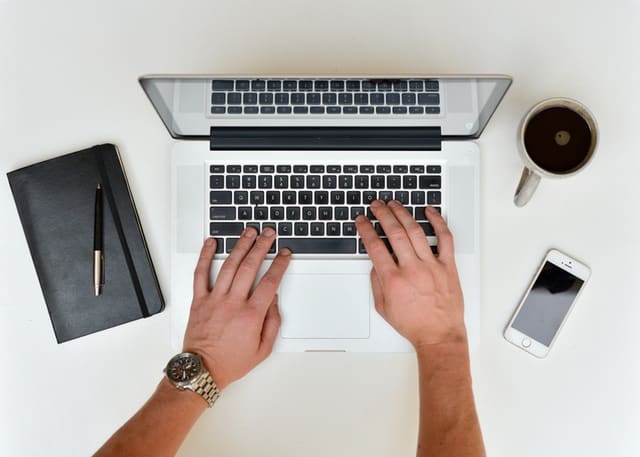 Be careful, though. Different people are waiting for certain emails so make sure they get what they need. Someone putting their apartment for sale and a lead that signed up on the site are two very different cases. Make sure they don't get the same message.
Automate your marketing, but keep in mind that some tasks are too important to delegate to computers.
Click To Tweet
Nothing changes the fact that content marketing is an excellent way to promote your real estate company. If you don't do any of the things I'm about to talk about, I suggest that you start.
First of all, there's the content. It's right there in the name. Original content is a surefire way to get leads invested in your company and what you have to say.
A blog with a weekly post doesn't use up a lot of money, but it can have an enormous impact on sales. The most important aspect is the quality. Don't forget the content is meant to be engaging and insightful, not just salesy.
Promote your real estate company with content marketing. It will increase brand awareness.
Click To Tweet
Then there's the use of social media networks. A significant amount of people use social media, so it's never a bad idea to create a page for your business there. On these pages, the company can interact with the customers and leads, and provide content.
In turn, you will increase brand awareness and attract new clients.
Lastly, let's not forget about SEO.
It stands for Search Engine Optimization, and its goal is to make your content and site more Google-friendly. This way, they'll be easier to find.
As a result, your website will get more visits and, of course, more clients.
Some agencies can help you with all the things I talked about, so you don't have to waste time on them. For the content marketing part, you don't have to look too far because we're right here.
If you're interested, take a look at the article we wrote about how Squirrly can help your real estate company . Alternatively, you can contact one of our content strategists and talk to them directly.

Latest posts by Alex Iftode
(see all)