"Jack of all trades, master of none."
The quote you've just read describes many content marketers. It's quite sad.
The vast majority of content marketers know a bit of everything and even possess the required skills to step in the big league.
"Jack of all trades, master of… some."
But some of them simply refuse to fine-tune their know-how and execution.
So it's a good idea to try and separate yourself from that 'gang'. To achieve such a goal and start playing in the Major League of Content Marketing – a name we invented, don't worry – you need to improve yourself.
Both personally and professionally.
Here are the skills you need to polish and the knowledge you need to nurture on a daily basis if you want to be one of the 'big boys'.
It really doesn't matter how much you know, everything you create needs to have proper research to be solid. To take it to the next level, you need to research:
Your audience – know what are their pain points and interests.
Discover what channels your audience often uses.
For search queries, they use to find what they need (Hint: answerthepublic.com).
Forums and communities your audience engages with.
The latest trends for your niche.
When you'll know your audience as good as you know yourself, you can consider yourself a pro.
In a previous lesson, we've mentioned some important reports you need to follow in Google Analytics on a daily basis. While that might be enough for most, to really take it to the next level, you need to actually undress your analytics data.
It has to pose no secrets or dilemmas for you.
The first thing you could do is take your time and write down a comprehensive system of relevant metrics. They should cover each tiny aspect of your content.
3
Win with a Superior Strategy
According to LinkedIn, companies with documented strategies are 36% more likely to succeed in their efforts. Sadly, only about a third of content marketers took the time to come up with such a strategy.
It should help you:
define your goals
track your research
plan your content
record your progress
stay organized and effective.
A detailed editorial calendar and content strategy are signs of an all-star content marketer.
4
Become The Best at Writing
Focusing on quantity instead of quality is probably the number one mistake marketers commit. Additionally, a large part of them struggles with writing well for their digital audience.
We're not talking about avoiding grammatical errors and typos.
We're referring to giving your content the high value required for it to be successful.
To be the best at writing, your content should be ten times better than all the rest. To achieve such a goal, your content needs to 'obey' some specific rules, like:
The website has great UI and UX on any type of device.
The content is trustworthy, helpful, eye-catching, interesting and remarkable.
It creates an emotional response.
It solves the reader's problems by offering clear and easy-to-follow solutions.
The writing is unique and rather fun to read.
5
Upgrade Your Design Skills
Working on your design skills gets you more independence in all parts of the content marketing process.
You can quickly push out really great content if you're able to create and edit images.
The goal? Telling a compelling story.
Whether it's an eye-grabbing feature image or some inline graphics, having even a basic designing skill set will get you much more than you were expecting.
Another great thing is you don't need to spend thousands on Photoshop subscriptions to accomplish this.
Start using Pixlr, Canva, and GIMp to create incredible, professional-looking images. They are all free.
6
Get Good at StoryTelling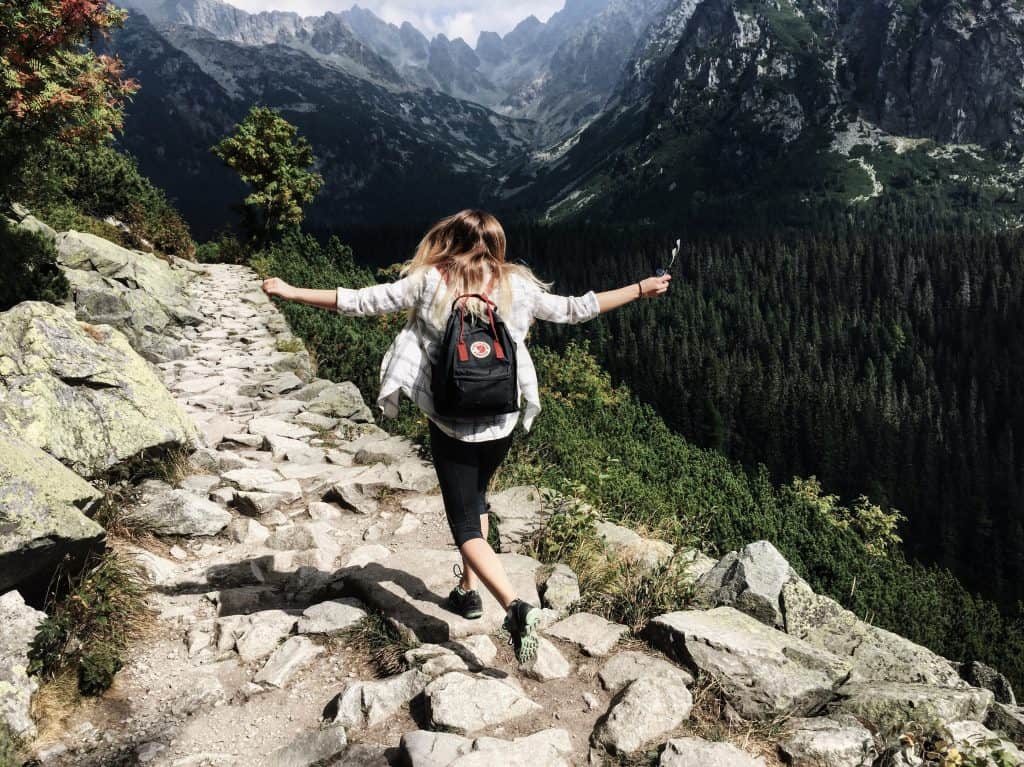 Creating a compelling story and making content more engaging should be every marketer's main priority. However, 60% of marketers struggle to produce engaging content for their audiences.
Storytelling is either in your blood, you get born with the ability and everything comes natural, either you need to work to master it. There's no magic formula, you just need to write and test and see what works.
You'll eventually develop a sixth sense.
The most successful content marketers are the ones who can elicit emotional responses from readers in ways that further connect them to the brand.
7
Learn How to Collaborate with Others
"All for one and one for all" may be just a quote from a novel by Alexandre Dumas. But the essential meaning is universally valid: each individual should act for the benefit of the group, and the group should act for the benefit of each individual.
And it couldn't be truer when we're referring to marketing teams. When all the members learn to collaborate with each other, results tend to get better and better.
When the entire team is in the same office, you may believe collaboration is 'enabled' by default. It's not always the case, especially if the team has no leader to inspire such conduit.
On the other hand, if the marketing team includes professionals working remotely, communication and proper collaboration can suffer.
Which takes us to the next point on our skills list.
The very best marketers use the right tools for their job on a daily basis. It helps them achieve their goals easier by either automating a certain process or by making everything more efficient.
We're talking about tools like:
Buffer
Google Analytics
ContentLook
Squirrly SEO Plugin
Moz
SemRush
And the list can go on forever. Each niche has its own suite of tools which make the marketer's life easier. More on this later, keep reading.
Skills Are not Enough. You Also Need to Get Technical
"Jack of all trades, master of… some."
Marketing is such a vast domain!
It includes countless niches which need mastering. It's somewhat obvious you won't be able to do so on your own. A day just doesn't have enough hours.
But what can you do if your business isn't yet big enough to include a team of experts covering each segment of the marketing process? You'll need to get technical, set everything up properly and learn about all the necessary processes.
For starters, we're talking about:
All the aspects mentioned above will give your content higher chances of performing well, ranking high, and getting the conversions you are looking for.
You can do all the things mentioned above by yourself. You could either tinker with the code and enter your own commands as you see fit, or simply use plugins which enable most of those aspects with a single click.
Learn How to Evaluate Your Content
If you checked all the aspects mentioned so far, it means you're really close to being one of the best marketers out there.
Sadly, your work is far from over and there is still a lot to go through until you can say you have everything it takes.
In this section, we'll show you how to evaluate your content in a professional way, so you can understand the valuable data certain analytics tools generate.
The bad thing is many marketers claim and argue there isn't any unified dashboard where you can learn everything you need to know about your articles or blog pages, about your marketing campaigns, social media performance or paid advertising efforts.
They haven't found that professional tool which would give them all the insights they need to really perform.
Allow us to contradict that.
We're really hoping this is good news for you and it is what you were searching for all along.
ContentLook - Your One-Stop Tool for All Things Content
We're not trying to oversell the tool. We do realize you know we're a bit biased since we're the ones who developed it. Instead, in the following lines, we'll simply present it and all its useful features for marketers who want to be number one.
Pages Overview
When you first start working with ContentLook, the tool will crawl your entire website and pull data about each and every one of your pages.
It will then list them all, along with some useful insights about word count, SEO score, social media data, traffic, user engagement and so forth.
You will be able to see which is your top performing page straight off the bat.
The Audit Section
This section should be your best friend on a daily basis.
The unique algorithm behind ContentLook provides you an audit of your website from different points of view, like:
Blogging
Traffic
SEO
Social
Links
Authority.
But the audit doesn't stop there and breaks everything down to the basics. In case a certain metric is off and you don't know how to increase it, you'll find useful tips and tricks for doing so.
You can read more about the audit section in Lesson 3.
Running Successful Campaigns
'Success' is always based on specific metrics regardless of the type of marketing campaign you are running.
The campaigns section of ContentLook lets you set up your own campaigns, goals you wish to achieve and articles/pages featured in the campaign.
As soon as you complete the campaign setup, you will be able to track it really easy in the pages section. You will be able to see progress both visually and by looking at the data.
Collaborate Better with Your Team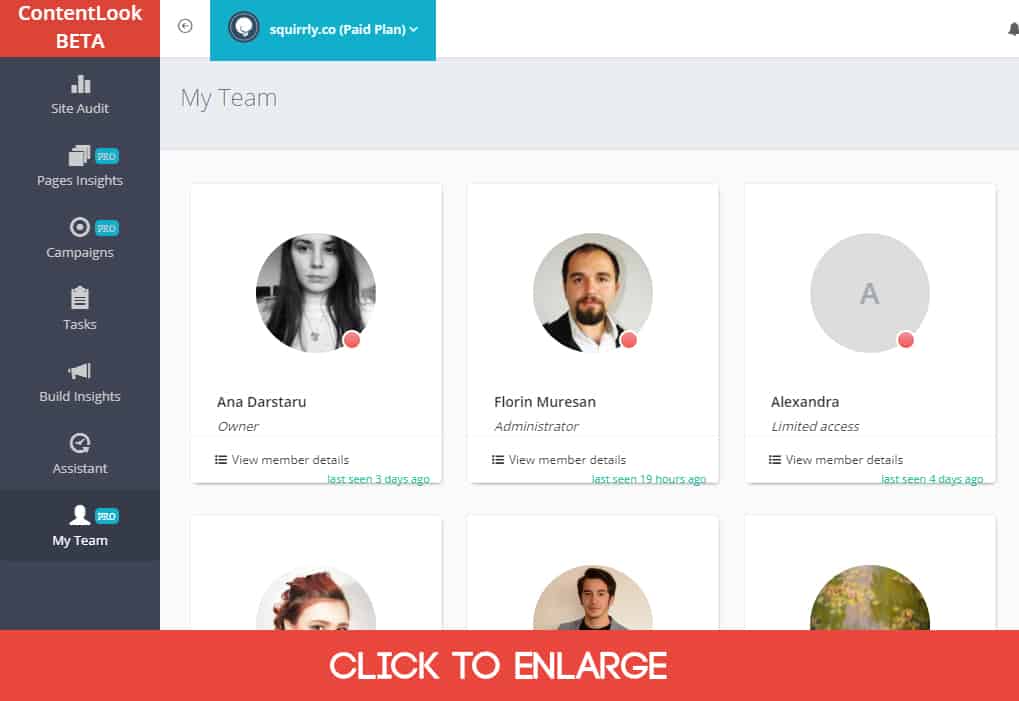 Remember the part with improving your collaboration skills? Teamwork may be a really important characteristic for any marketer, but if the team is working remotely, difficulties may appear.
ContentLook has two great features to promote better collaboration between members of the same team:
You can easily add specific tasks for your team members – complete with description and metrics you wish to follow. Progress can be viewed in the pages section.
They can comment on each task they have been assigned to, in order to ask questions or request anything they might need. Each conversation remains on that task, even after it has been completed.
ContentLook Assistant
Having a professional marketing consultant for your work is a great perk. Some pay thousands of dollars for this.
ContentLook gets you your own private marketing assistant.
In this section, you will be able to overview the entire activity of your team.
However, the Assistant will give you useful insights based on the data it gets from your metrics. It will be especially useful when something is not working the way you intended.
The Assistant will provide you with quality actions and professional advice on what you should do to improve the performance of your campaigns or standalone tasks.
Integrations
Naturally, ContentLook needs to be able to pull the data which matters the most from certain services.
The Integrations section is where you need to go and connect your Google Analytics account, your Trello boards and so forth.
Going Even Deeper into The Realm of Content Marketing
As you can see, ContentLook may be the tool which gets the job done. Sadly, you first need to know where you can find even more data about your content.
To do this, simply head to the Pages section and you'll notice each article and page has an Insights section. I'd say this is where the magic happens, but there is no magic involved – just precise data from Google Analytics and other powerful tools plus ContentLook's unique algorithms.
Here is where you can see specific data about each article and its performance.
For example, this section will tell you things like:
Traffic
Time on Page
Bounce Rate
Referrals
User engagement.
That last metric in the list above is actually the most important.
ContentLook uses an advanced algorithm which takes into account the way the user interacts with your content. It analyzes page views, time on page, bounce and so forth to give you a precise metric.
The higher the value, the better and more engaging your content really is.
One Last Thing
You can see there are two very distinct parts for this article.
You really can't have one without the other.
It's pointless to use the right tools if you don't have the skills to create top-notch content.
However, if you already have high-quality content, ContentLook will help you take everything to the next level. It will help you and your team get better and more efficient.
So don't waste any more time and get back to work on ContentLook.
Let us know in the comments section below if you have any questions. We're here to help.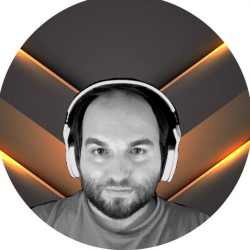 Latest posts by Florin Muresan
(see all)