As a Squirrly Affiliate, you can send people to different pages that we have created: books, blog articles, games, courses, landing pages, case studies, and much more.
All of these pages are a part of our validated sales funnels (have been created with the purpose of generating sales for our products).
This means that you can just send traffic to these pages – and our automated sales systems will do the rest to convert that traffic into leads and leads into customers.
To be able to track any sales that resulted from your promotional activities:
You need to use custom affiliate links to send traffic to those pages so that cookies can be generated for users who click on your links.
The cookie allows Squirrly's Affiliate system to track whether a person who clicked on your link ended up buying from us – so that you'll get credit for generating a sale.
The tracking is kept active for 90 Days.
Simply follow the steps below to generate custom affiliate links for pages you want to promote.
Step 1: Make sure you're logged in to Squirrly's Affiliate Platform.
Step 2: In your Affiliate Dashboard, go to Custom Tracking Links/ Alternate Incoming Page Links.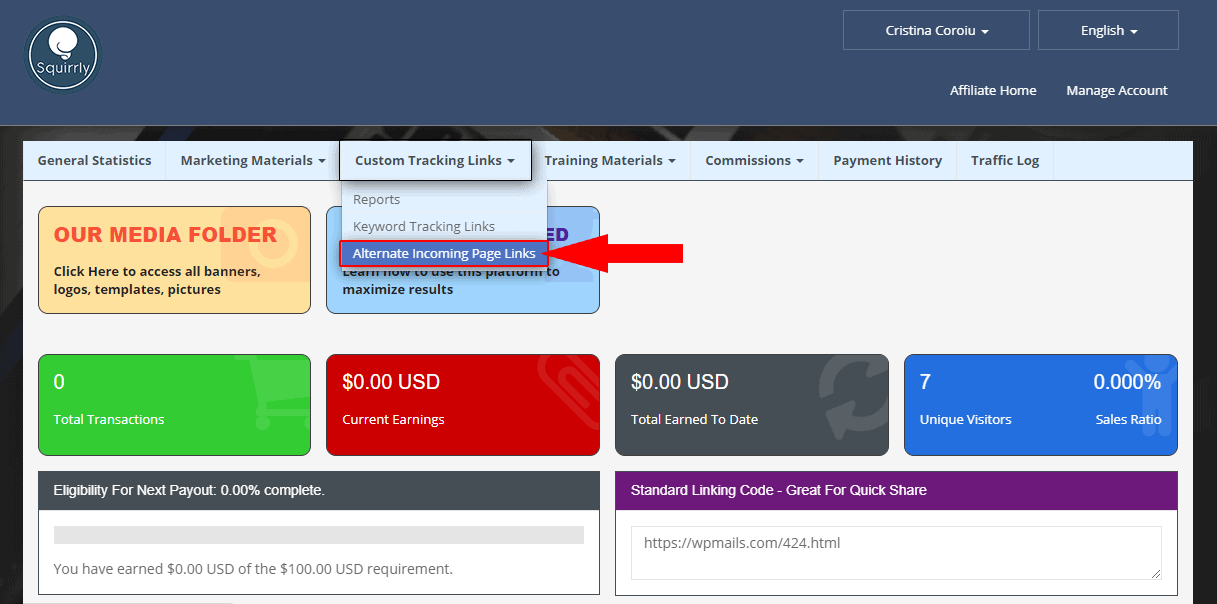 Step 3: Copy/paste the URL for which you want to create a custom affiliate link. Click on Create my Link.
And that's it! You'll now be able to grab your link and start delivering traffic to the page you want.
The affiliate link will redirect your audience to the page you are interested in promoting.
Repeat this Quick process for any NEW page (URL) you want to promote.
The more ideas you try from our Library of Ideas and the more pages you promote, the more you increase your chances of generating sales and boosting your commissions.
Benefits
This gives you tremendous flexibility. You can advertise with the pages that make the most sense for you and your audience.
You can create as many of these custom affiliate links as you want and send people to different assets and high-converting pages from us (eBooks, courses, games, marketing case studies, and much more) to maximize your earning potential.
Create multiple custom funnels to get people to buy Squirrly Products and earn a commission.
Know which pages get the most clicks. You can keep track of this in the Traffic Log section. Find it in your Affiliate Dashboard.
Keep Promoting! Keep Earning!