Squirrly – the Store for Entrepreneurs
This is from a real conversation with a Squirrly SEO customer:
I love your seo plugin, I've been using it on all my sites. wish you guys would also make a social media marketing tool… that'd be super useful.
Uhm, we actually do offer it already. Here's more about it…
This made us realize we could be doing a much better job showing you ALL the ways Squirrly can help you get better results from your marketing activities.
And we think we found a way to solve that problem.
Introducing the Squirrly Store >>

A New Discovery Experience
With the launch of the Squirrly Store, we made it much easier to discover new products from Squirrly that help you with a wide range of marketing needs.
From SEO and social media marketing to personal branding, competitor analysis and website security – our products will make your marketing look better and work harder so that it drives higher business impact.
Meet your next favorite product from Squirrly >>
Be the Superhero your Marketing Needs
Squirrly = ONE Company. Over 20 Different Products. ALL your marketing needs.
The right tools can add more hours to your day and make you feel like you've got marketing superpowers.
Choose your perfect Squirrly sidekick and reach the goals you're focused on right now FASTER.
Find your new favorite thing from Squirrly today >>
Squirrly SEO will help you rank up your WP site with data-driven SEO goals from an AI Assistant.
Use Squirrly Social if you need a way to manage your social content that's effective, quick, and will help you get the most out of what you're posting.
And when you want to find out what are your competitors' secrets that make them successful with SEO, Squirrly SPY is your best ally.
Find your new favorite thing from Squirrly today >>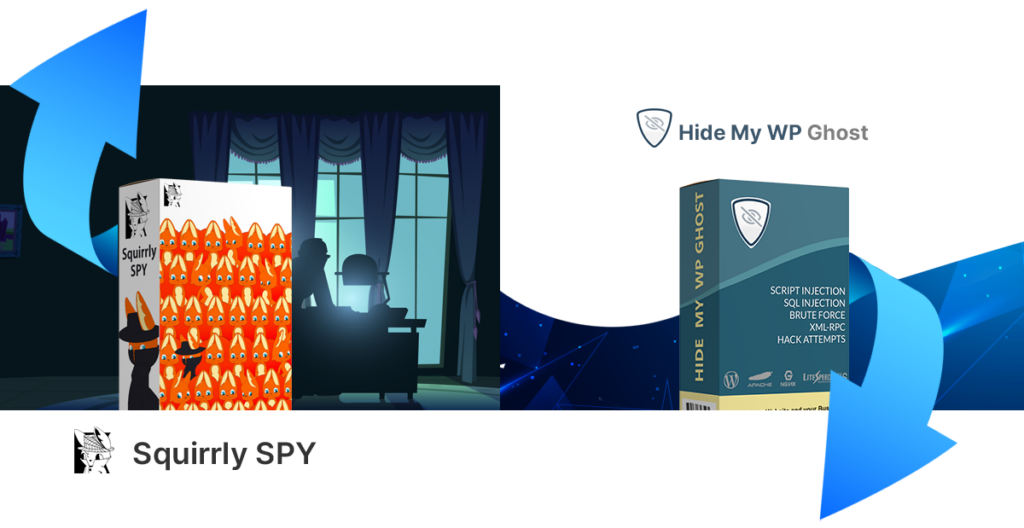 Website security should always be a top priority. With Hide My WP Ghost, you can easily protect your WP site by hiding the paths that hacker bots attack in order to gain access and inject bad code.
Have an insatiable appetite for digital marketing knowledge? Education Cloud PLUS gives you access to an always growing library of premium courses.
Start browsing our STORE to discover all products we currently offer (including FREEBIES).
Find your new favorite thing from Squirrly today >>
"Brought to you by the Squirrly Company"
The "Brought to you by the Squirrly Company" mark identifies a wide family of award-winning products loved by industry influencers and over 18,000 paying customers.
The part we're most proud of is that our products helped thousands of Entrepreneurs become successful at building their Online Presence.
The entrepreneurs who purchase our products buy 3 different products from us, on average.
You can trust us. And we're not just saying that >>
Discover Award-Winning Products that Customers ❤️
Easy to use. Innovative. The best. These are just some of the words our customers use to describe Squirrly software.
Come see what you may have been missing out on so far and discover more ways in which Squirrly can help you grow your business.