Welcome to the fifth Course of the Squirrly SEO tournament. And as I'm sure you guessed from the title, this portion of the coaching session will be all about becoming a Keyword Research Ninja.
The Good News is:
You can be a NON-SEO Person and still find amazing keyword opportunities for which to place your content at the top of search results.
"Really? But I don't know the first thing about selecting keywords or choosing keywords I'd need for the site" is what you could be saying.
Yes, really.
Today's course will show you the Keyword Research Formula developed by Squirrly. We use it for a lot of the website and e-commerce sites that we're currently ranking.
With the power of this formula you'll be able to find amazing keywords with very little competition in no time.
Read on:
It's no secret Keyword Research is a critical part of Search Engine Optimization.
It's been a topic which has been turned inside out, but this image from Ask the Public shows just how many questions people still have regarding this topic.
A few of them stand out, showing the areas where most struggle:
What are the reasons for which we do keyword research in the first place?
How to come up with new keyword ideas?
What is the process of analyzing a good keyword opportunity?
What is a good keyword, anyway?
In this lesson, we'll address all of these questions you probably have as well.
You'll build up your knowledge on this crucial topic, but that's just a part of the fun.
We've also included clear tips and best practices you can start applying right away using Squirrly's keyword research tool.
You'll get inspired and most likely have a brand-new set of awesome keywords in mind by the end of it. Hope you're excited.
So, Why Is It That We Do Keyword Research?
The role of keyword research in content creation is to help you avoid scenarios like these:
If you pick a bad keyword, your chances of reaching the first page of Google search are extremely slim, no matter how good the plugin you use is.
Being on the first page on Google for keywords nobody ever searches for, which means you'll get no organic traffic to your WordPress site.
Wasting resources creating content on topics which are not popular and no one really cares about.
Creating content blindly, while also losing focus of your strategy.
On the other hand, effective keyword research helps you better understand your target market and how they are searching for your content, services or products.
Basically, it helps you answer questions like:
What do people search for on Google
How many people search for that topic
How they phrase it
How interesting a topic is at the time; whether it's trending or not.
Knowing this information helps you create content which gets more traffic, which is converting into leads and sales.
Therefore, the Role of Keyword Research in Content Creation is an Essential One
If you want to create content that really speaks to your audience, you need to get inside their heads.
And the best way to do that is through effective keyword research.
By digging into the terms and phrases people are using to search for content like yours, you can gain valuable insights into what makes them tick.
What are they curious about?
What are their pain points?
What gets them excited?
The role of keyword research in content creation is to help you get answers to all these questions (and more).
Armed with this knowledge, you can create content that not only answers their questions and satisfies their needs but also speaks to them in a way that feels personal and relevant.
So if you're serious about creating content that drives traffic, leads, and sales, never skip keyword research.
It's the key to unlocking the hearts and minds of your audience.
Now that you know more about the role of keyword research in content creation, let's go over a few key notes to keep in mind when picking keywords and building your strategy.
A Few Essential Notes to Get Started on the Right Foot
Let's get on the same page here.
You probably know you should research keywords which are connected to your brand, your niche, the industry you are in and the things you're promoting on your site.
But keyword research is so much more complex than that.
And in order to find amazing, golden-nugget opportunities, you have to take it to the next level and go beyond the obvious keywords and acknowledge that:
There is nothing more inefficient than getting stuck on a keyword and stubbornly creating content for it by going against data which shows you it's NOT a keyword you should target.
For instance, we had a client who wanted to use digital ecosystem as the main keyword used to describe their digital marketing services.
It sounded pretty original, but data showed it was NOT what their potential clients were typing into Google to find services such as theirs.
---
The keywords you are targeting should be relevant to the country you are targeting.
---
One word can have multiple meanings.
People who search for nails on Google might want to do their nails at a salon or buy nails to do some work around the house.
These are two very different people who search on Google for two very different things using the SAME world.
---
The same thing can be phrased in many different ways.
People use all kind of words to look for the same thing. The image below illustrates this perfectly.
An individual looking for a nice bar to hang out on a Friday night could type any of the keywords below into Google.
This shows why keyword research is essential and why it's so important to be as specific as possible, which means going for long-keywords composed of multiple words.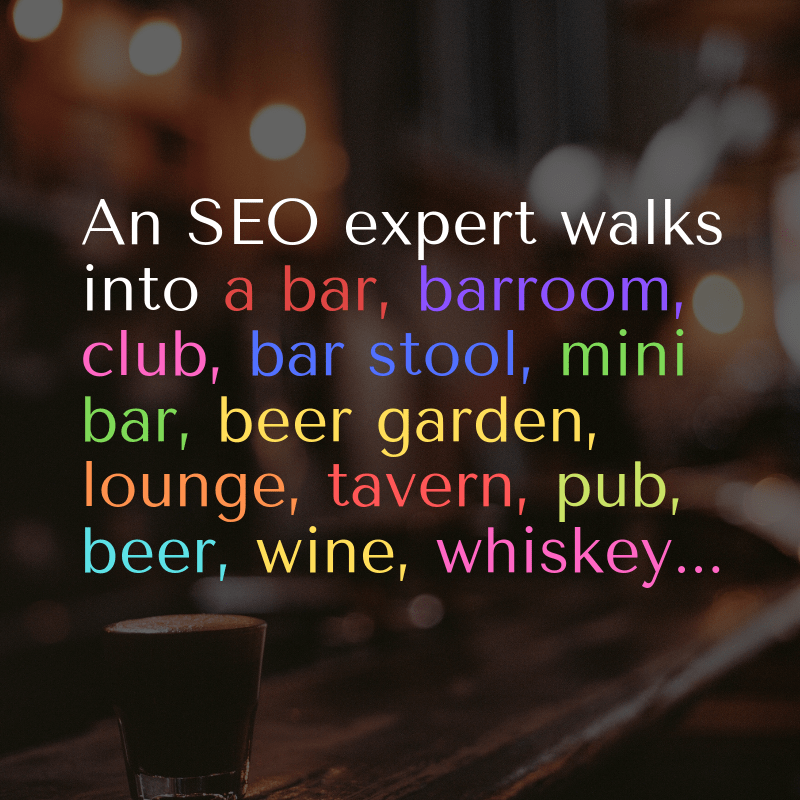 You may get 6,000 visits to your site if you've managed to find a keyword with high Search Volume.
That's success, right?
Well, if your goal is solely to bring traffic, then yes. But look, you could get 6,000 visits and not make a single sale.
So, if you're trying to convert some of the traffic you bring to your site in sales, make sure you're also targeting keywords which show commercial interest.
---
Not what you thought it meant.
You may even find keywords which seem to be awesome. However, Squirrly SEO allows you to use the Keyword Research tool together with its Blogging Assistant (formerly known as the Inspiration Box).
Once you find keywords you think of saving for your site, make sure you read some content written around those keywords from the Blogging Assistant. "Premium Coffee" is quite a different cup of coffee than "Specialty Coffee".
 I go into detail about this pitfall here in this video.
Search Intent shows how likely someone searching for a given keyword is to purchase from you.
There are two main categories to keep in mind here:
1. Informational Intent
The user's intent when using these keywords is to acquire information on a particular topic.
These are keywords you may want to use in the Awareness Stage of your customer journey when you're trying to get your brand and the solutions you offer in front of your audience – even if they are not ready to buy.
How to keywords are a great example of key phrases which fall under this category.
2. Commercial Intent
On the other hand, search queries which have words like free shipping, buy, order now, next-day shipping, near me, best price, coupon, deal all showcase a strong purchase intent.
By recognizing keyword intent, you'll see more opportunity for conversions.
Keep these nuances in mind when picking keywords and building your strategy.
It will help you create better content for each stage in your customer's journey.
How to Find Profitable Keywords for Your Niche
Start by brainstorming a list of keywords and phrases that are relevant to your niche and the problems your audience is trying to solve.
Once you have your initial list of keywords, use keyword research to expand on your list and get new ideas.
For this, you can use a keyword research tool like Squirrly's Keyword Research Tool which also enables you to analyze search volume, competition, and potential traffic for each term.
When doing keyword research, you'll want to focus most on informational keywords – as these are the ones that get a ton of searches.
You'll see that some search terms are more popular than others, and you will be wise to focus on the most popular terms (terms that have a high Search Volume).
This is just an intro on how to find profitable keywords for your niche.
And the main thing you should take away from this is this:
Finding profitable keywords for your niche is like a treasure hunt: it requires patience, persistence, and a sharp eye for hidden gems.
Don't be afraid to think outside the box and explore long-tail keywords or related topics that your competition might be overlooking.
And finally, remember that knowing how to find profitable keywords for your niche starts with understand your audience inside and out.
By creating content that truly resonates with their needs and desires, you can turn a keyword idea into a gold mine of traffic, leads, and sales.
Best Long-tail Keyword Research Tools for SEO
When it comes to optimizing a website for search engines, long-tail keywords play a crucial role.
These phrases contain more than three words and are highly specific, making them more likely to attract qualified traffic.
Another advantage of using them is that they usually have higher conversion rates and lower competition, meaning it will be easier for you to start ranking for them.
However, finding the right long-tail keywords can be a daunting task without the right tools.
Here are three long-tail keyword research tools for SEO that will help you find high-opportunity keywords for your website.
1. Keyword Research Tool from Squirrly SEO
Squirrly's Keyword Research tool will give you lists of suggested Key Phrases made out of 2 to 5 words. This way, you can focus on the specific phrases people are actually searching for on Google.
What's more, Squirrly lets you find keywords that are relevant for the country you want to rank for so that you can focus on your country's audience.
Start by entering a keyword that matches your business.  It should be a keyword (topic) that you want people to find you for when searching on Google.
I recommend avoiding topics that are too broad or too general (like jewelry, or car) and focusing on more specific keywords that contain 2 or more words (such as: fine jewelry for women).
Then select the country you want to focus on.
After you chose the country, Squirrly also gives you the option to select other keywords suggested by Google and Bing from a list of keywords, as shown in the example below:
Once you click on Do research, Squirrly will start doing targeted keyword research for your selected country. All the processing is made in real-time so that you get fresh information for each keyword.
You'll get lots of amazing long-tail keyword ideas, as well as valuable insights (competition, social discussion, and search volume) for each keyword.
And this is why Squirrly is known to provide one of the best long-tail keyword research tools for SEO.
2.  The Related Searches section of Google
Located at the bottom of the search results page, this section displays a list of related searches that users commonly perform in relation to the initial query.
By analyzing these related searches, you can identify additional long-tail keywords to target that are related to your primary keywords.
More often than not, you'll find amazing keyword suggestions that you may want to use in your content.
Plus, unlike other long-tail keyword research tools for SEO, this tool is free and easily accessible, making it a great starting point for any website looking to improve their SEO strategy.
Answer the Public is a visual representation of Google's autocomplete feature, and provides a great way to get ideas of topics to write about or get inspired to write about a certain topic from a different angle.
However, unlike Google's autocomplete feature, this tool takes the results from search engines and creates its own visual results, as well as separating the "whys" from the "hows".
Use it before you begin brainstorming ideas for new content to know exactly what your audience is looking for.
A Cheat Sheet for Getting Quick Keyword Ideas and Becoming a Keyword Research Ninja
If you find yourself running out of ideas of what to type into Squirrly's Keyword Research box, don't fret! Start with a keyword you find relevant and which you want to rank for and try these formulas to generate new keyword ideas.
Infographic title: 16 Formulas to Find New Keyword Ideas (Don't Do Keyword Research from Scratch)
You can use these formulas as part of a brainstorming session to find new keyword ideas that are relevant to your topic and your audience. Where it says your keyword in the formula, insert a word you find is most relevant for your website.
1. Adjective (best, free, new, great, top, quick, simple, easy) + your keyword
e.g. free tools for social media
Great for uncovering core keywords to target in your most important pages.
---
2. Your keyword + year
e.g. best make up products 2018
This formula is best used when you want to leverage people's appeal towards the latest information and trending topics.
---
3. Keyword + season
e.g. hair care products for winter
Use this formula to leverage seasonal trends.
---
4. Your keyword + location
e.g. best pizza place in Rome
You can also try being even more specific and consider a keyword like best pizza place in Monti (a cool neighborhood in Rome).
Use this formula if you're targeting a specific city, for instance, or if you have a physical business.
---
5. Your keyword + buyer persona
e.g. SEO training courses for small business owners, remote job opportunities for stay at home moms
Great for coming up with keyword ideas you can use as a base to develop highly-targeted SEO strategies.
---
6. Price + your keyword
e.g. premium wooden watches, cheap wooden watches
Using this formula will help you come up with price-focused keywords you can target in your conversion-focused content.
---
7. Your keyword + benefit
e.g. wooden watches free shipping, training course free download, SEO software free trial
Great for uncovering benefit-oriented keywords.
---
8. Your keyword + word which suggests novelty
e.g. new children books, new in leather shoes, fresh marketing training
Good for when you want to emphasize that something, be it a product or knowledge detailed in your content, is up to the minute.
---
9. Best + competitor name + alternative
e.g. Best SEMrush alternative
Come up with keyword ideas that can help you build up the foundation of effective competitor campaigns.
---
10. Your keyword + modifier such as review, guide, training, list, analysis, checklist
e.g. SEO tools review
Great for brainstorming keywords ideas which will help you reach people looking for specific information formats.
---
11. Your Brand name versus Competitor brand
e.g. Squirrly versus Yoast
---
12. Your product name vs competitor product
e.g. Google Docs vs Microsoft Word
It's human nature to compare things in order to find a winner. By targeting this type of keywords, you can show your target audience why your product is the better choice.
---
13. Your keyword + "statistics"
e.g. US student loan statistics 
Targeting this type of keywords in your content will help you attract more backlinks. That's because journalists are the ones who typically search for "Topic + Statistics" keywords.
More specifically, journalists who are looking for reliable statistics that they can include in their articles.
---
14. " What is " + your keyword
e.g. What is travel insurance
This type of keywords is great for reaching people who are searching for information in your industry.
---
15. Best + [Product category]
e.g. best digital marketing tools
---
16. "How to" + your keyword
e.g. How to travel cheap in Germany
Use this type of keywords to reach people who are looking for specific information in your industry and get your business and services on their radar.
These were just a few ideas.
Of course, you can play around and combine these formulas for long-tail keyword suggestions. So, you could end up with long-tail keywords such as best hair care products for blonde women 2018. 
Start experimenting with your keywords, expand your list. It will get things moving for you and open up a whole new world of amazing keywords your competitors don't know about.
Your goal for this course: Try any of these formulas in Squirrly's Keyword Research Box when you're done with this lesson (click here if you need help using the Keyword Research feature). Save the best ones in your keyword portfolio.
Master These Proven Tactics to Discover More Amazing Ideas for Keywords
Some tactics work incredibly well – regardless of the niche you are in, the industry and so on. What's more, you can use and master these methods even if you're a non-SEO expert.
So don't stop reading, we're almost at the end of this lesson.
Be more specific. Long-tail keywords are less competitive than generic, broad terms and will help you produce content which is a lot more relevant to what your audience actually needs. So, instead of targeting the keyword hair care product which is highly competitive, you could go for a more specific alternative: styling products for curly hair. Squirrly's keyword research tool is amazing at surfacing long-tail keywords for your content you might have otherwise missed.
---
Taking time to identify their pain points, what they are struggling with, their frustrations, as well as their goals, is something which will help you come up with great keyword ideas.
By solely targeting your customers when their searching for exactly the thing you sell, you're missing out of a lot of other opportunities to get your brand noticed by them.
Your customers are probably searching on Google for things which are related to your product – without actually typing in the name of your product.
Let me explain with an example.
Let's say you are selling courses for small business owners. In this case, you shouldn't JUST go for a keyword like marketing training for small business owners.
Keep in mind your customers spend the majority of their time searching online for stuff you DON'T sell – explicitly.
Small business owners might look for things like how to grow my email list, how to get more customers, how to manage multiple social media accounts; these are aspects your marketing training course probably covers, more or less.
By targeting those keywords as well, you can get your site in front of a wider base of your target customers.
This makes you top of mind – so when those prospects are ready to invest in a product like yours, you'll be the first they'll consider.
Try Quora
Quora is a massive Q&A platform which covers all the topics under the sun and can help you reveal topics which are top of mind for your audience.
Go ahead and type in your keyword in Quora to get started. Get inspired by the questions those interested in the topic have asked.
Once you have some new ideas for topics/keywords, go back to Squirrly and research their potential.
Use Google's "People also ask" box

On Google, you can also check out the "People also ask" box (this is particularly useful for identifying long-tail question keywords).
How does this help you?
Including variations on your main keyword which are closely semantically related is an excellent way to achieve and keep good content rankings.
That's because this tactic shows both Google and your visitors that your content is providing complete and thorough information on the topic.
The Importance of Competitor Keyword Research
Let's talk about why you should also get inspired by your competition.
Okay, inspired is just another way of saying spy on your competition and discover the keywords they rank for.
How does this help you? Well, if you know this information, you can use it to reverse-engineer their SEO strategy.
Competitor keyword research is like putting on a pair of x-ray glasses: it lets you see deep into the heart of your competition's content strategy.
This is the easiest way to explain the importance of competitor keyword research.
By analyzing the keywords and phrases your competitors are targeting, you can gain a wealth of insights into their approach to content creation, their messaging, and their audience.
What topics are they covering?
How are they positioning themselves?
What language are they using to speak to their customers?
Armed with this knowledge, you can identify hot topics their pages are ranking for and yours aren't, make strategic decisions about how to differentiate your own content, and even refine your brand messaging.
So, if you want to stay ahead of the game, don't underestimate the importance of competitor keyword research.
Instead, use it as as powerful tool to sharpen your own content strategy and outsmart the competition.
There are several ways you can do competitive analyses, but the easiest by far is using Squirrly SPY.
Squirrly SPY will generate an insightful report of keywords used on your competitor's site. 
This helps you find incredible keywords – even for highly-saturated niches like fitness and beauty in which it can sometimes feel impossible to find new topic ideas.
An important mention!
Using these tactics does NOT replace Data Analysis. They are great for keyword discovery and will help you get inspired in those moments when you have no clue where to start.
However, to become a keyword research ninja there's a lot more you need to do.
Once you have a list of potential keywords, check the analytics.
Always use Squirrly's Research tool to get data about the keywords before starting creating content.
In addition to relevant data about the keywords you are considering, you'll also find other great suggestions of long-tail keywords that your site can rank for.
 A Step-by-Step Process to Analyze Keywords like a PRO
Before we end this course, I wanted to share with you a quick 4-step process you can use after doing keyword research in Squirrly and have a generous list of keywords in front of you.
This simple process will help you pick those keywords opportunities which are worth the investment of time and resources.
Start by analyzing the competition. Ideally, you'll want to target keywords which are easy to rank for.
Then look at the search volume. The bigger the number, the better, because it means many people are searching for that keyword.
Trend. If you find keywords which have both low competition and similar search volume and don't know which one to pick, always look at the trend. If the trend for one keyword is growing and the trend for the other is dropping, you're obviously going to pick the first.
Finally, discussion. If a topic is hot on social media, it means that topic will likely generate a lot of engagement.
Try to look at the list of keywords below and analyze the data provided by Squirrly in relation to each keyword. Then, using the process above, identify the best keyword opportunities from that list.
This is how you become a keyword research ninja!
The perfect keyword which meets all criteria can be hard to come by and the truth is, a keyword doesn't have to be perfect to be effective.
Now you know what the most important aspects to watch out for are.
Using Keywords as Part of a Strategy
It's important to ensure your keyword strategy isn't going stale. Adapt, fluctuate, reiterate your strategy and make changes when needed.
The feature which will be the star of the next lesson- Briefcase – was built to help you with that.
There are many cool ways you can use it to manage and organize your keyword portfolio to build a strategy which keeps evolving; you'll see!
Here's Your Badge for Completing This Course
Great job today! You've rounded up your knowledge on an essential aspect of SEO and hopefully got some inspiration for your next batch of keywords. You are now a keyword research Ninja.
Don't forget about your goals for today:
Open Squirrly's Research Tool and have fun trying some of the formulas we gave you.
Save at least three keywords to your Briefcase. 
See you on the track at the next course! Keep up the good work.