By now you know what expectation marketing is and what advantages it can bring you. But is your marketing strategy going in the right direction? Or are you completely off when it comes to meeting the expectations of your audience?
Are you completely off when it comes to meeting your audience's expectations?
Today I'll offer you a complete step by step guide on how to do an audit of your site. By applying this, you'll know for sure if you're doing expectation marketing right or not.

The Resource for Your Expectation Marketing Audit
To make the whole process easier, I created this short series of questions that will follow the lines of this article and give a score at the end.  That way you'll have an objective idea of how your brand stands.
Answer the questions to find out your score.
You'll also need access to the internet throughout the process, but nothing more complicated than a browser. You can do the whole process from a mobile device (smartphone or tablet). Keep your smartphone at hand, for one step of the audit.
The last thing you'll need for this audit is the right mindset. You'll need to be objective in all your answers. That's the only way this will help you evaluate your marketing strategy. More than that, actually navigate the site and answer as you would be a new visitor that has found your brand online for the first time.
Each time you struggle to answer honestly to a question consider this. "If you'd be on this page for the first time, would you see that element? "
Now let's start using this audit. I'll go through each part and explain why it's an important aspect of Expectation Marketing. 
Available Information on Each Page
The first category of questions in our audit is focused on what information you can find on each page and of course the Home Page.  We focus on 4 elements for any page in your site:
Brand Name
Brand Logo
Brand Motto/Tagline
Contact Information.
The main reason why this information needs to be found on each page (if you want to execute an expectation marketing strategy) is: Most people will land on other pages from your site; not your homepage. They will find a link, either on social media, search engines, or email. That link will take them to a page or article on your site.
Most visitors won't see your Home Page or Navigation Menu first.
Now let's consider two cases.
In the first case think of a visitor that finds a link and comes to your site for the first time. Brand name, logo, and tagline (or a combination of these) are important to be found on that page. This way the visitor can easily associate the content with your brand (and also get a clear feeling that they are not on some shady website).
The contact information is also relevant. It gives the reader the opportunity to subscribe and come back to your site and content. In this case, we consider contact information to be more than just emails and phone numbers. We add: social media follow buttons and email subscriptions sign-up forms.
In the second case consider a visitor that has been to your site before. They will need the brand information to associate it with the past content they've seen. The contact information on the page gives you the opportunity to have more ways to communicate with them in the future.
Now on the Home Page, all these Expectation Marketing principles apply. There is one more piece of information that is crucial. A short description of your brand will help clear things up for the reader. It will also give them context on how to interpret the content on your site.
Depending on your brand the Short Description can include:
What your company does
The topics you discuss on this site as a Personal Brand
The brand's vision, especially when it comes to magazines or blogs
How the product helps the users
Or the advantage of your services
But the most important aspect is for the short description to be clear. It should be obvious what it refers to and what the brand is.
So we've covered the first 3 questions of the audit. Again make sure you've answered them like a simple visitor on the site.
Second Chapter: The Contact Information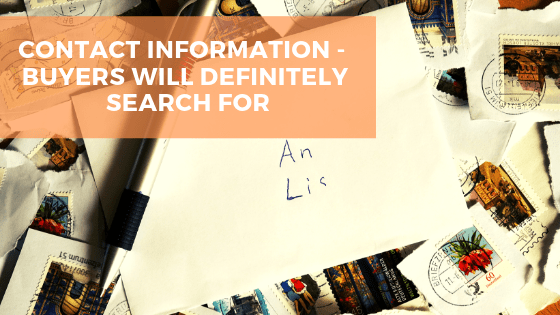 Now in this part of the audit, we focus particularly on Contact information that buyers will definitely search for. We've also considered it because it gives them a clear way to communicate directly with your brand.
We've already covered the research for what kind of information visitors search on your site in the second lesson. If you'd like to check that information you can do so here.
The elements we're considering are:
Contact or Office Email
Contact or Office Phone Number
Support Email
Support Phone Number
Sales Email
Sales Phone Number
Now to clarify one aspect. You don't need all of these! Of course, if you're a Personal Brand you most likely will never have more than the contact email and phone number. Even as a company you might not need both support and sales contact information.
That's why in the audit we are interested in which of these channels you have set up.
The real important aspect of Expectation Marketing is for the ones that you already have to be available on site. They should also be readily available for visitors and buyers.
After all, this is the information which people need to find in order to buy.
If people need to search for this information on several pages to reach it, they will probably just believe the information is not there. They won't keep on searching.
Rezdy's site is a great example here. They have their contact information on each page; you just have to scroll to find it.

The Core of Expectation Marketing: Written Content
When it comes to written content the first advantage your site can have is a Blog. This is one of the core elements that show you are active.
It's a way to share ideas, opinions, and valuable information with your audience. It's the part that offers the opportunity for an open discussion.
As the Audit questions show this, the blogging frequency is fundamental. From the expectation marketing perspective, you should be posting at least once or twice a week.
Visitors will take into account if you've posted in the last period when they check your site. So that's one of the main reasons why it's important to post consistently on the blog.
If you can't keep up the frequency they (your visitors) expect from your brand, let us know.
The icing on the cake is the way topics are chosen and presented. It's paramount that the articles you publish on your site are focused on your audience's needs and questions.
That means you don't have to focus on products, services, and features but rather on solutions. Focus on how you can help and the advantages your visitors or customers will have.
Make sure to answer this question in the audit objectively. This aspect can influence your success just as much as the frequency.
Bonus TIP: 
Don't try to just write what people would like to hear. Stay true to your brand's voice but present topics that are interesting for your audience from your own perspective.
Besides the blog, there are also some essential pages to have on your site. These are :
About us/Team Page
Product/Service Page
FAQ
Pricing Page
With the content of these pages, it's important to make sure you continuously update it. You need to show that you have an up to date presentation.
Social Media Active Profiles
As in the case of Contact Information, it is not important to have profiles on all the Social Media platforms, but rather to be active on the ones you do have.
For example, I'm seeing websites that show Youtube, Instagram, Google Plus, but they are not active on those platforms. This makes me think they're out of business or that their budget is so low that they can no longer keep these active. Such a case is really bad for the brand, because nobody wants to work with a business that's going out of business.
If you have Twitter, Facebook, Instagram, Pinterest, Youtube, but you only ever post on Twitter and Facebook, then show just Twitter and Facebook to your audience. Otherwise, you're just hurting your brand.
Here you should strive to post at least once a day on all of your Social Media profiles. If you do that, you should have the best Audit score.
You can share the same piece of content with your audience several times. This way you give each piece more power. It will be seen by a larger part of your audience several times. This tactic increases the chances of people clicking on it.
But it is also important to not just self-promote.
The next important aspect of the audit is to share content from other sources in your industry. If the only content you post on your profile is your own, that's bad.
Buyers will have a hard time in finding a reason to follow you. That's why it is important to have content from other brands and sites on your Social Media profiles.
The good part is that we can help you research your industry and find great materials to share. Just let us know you need it.
Bonus Tip:
Try to become a thought leader in your niche. This involves creating great content, but it also involves being seen as a super informed person. Share content from other important sources in your industry.
Another aspect that shows you're an active brand in Expectation Marketing is interacting with your audience. You can encourage visitors to start a conversation. However, if you don't answer to the ones who do, you'll lose their trust and interest. If people see that you're actively replying to others, they will also be inclined to drop you a comment.
That's why it is important to look over your social media profiles. Answer comments, offer likes, and retweet as much as it makes sense. Make sure your profiles don't look like automated profiles!
Another important aspect regarding your social media profiles is making sure you have follow buttons on your site. You should have one for each Social Media profile. These elements give your first-time visitor the ability to come back again.
They'll follow you on their favorite platform. Then the visitors will see a new post in their feeds; click it and get back on your site.
And where do they use their favorite social media platforms from? That's right! Their phone.
What Device Is Your Audience Using?
Nowadays, it is impossible not to take smartphones into account. People will check your site from smartphones and other mobile devices. That's why the Audit takes into account if your site is easily accessible via mobile.
It's easy to check. Just take your phone and go to your URL. Now if you can access the site that's great. But the most important question is:
How does it look?
Does the resolution adapt to your device? Is the text properly resized? Is it easy to read? If not make sure to take note of it.
You might have a mobile version of the site (m.yoursite.com) or have a responsive theme. In that case, it should all look good. Still, you need to verify (trust me; personal experience)
Bonus Tip:
If you have an app make sure each user that comes from a mobile device on your site knows about it. You can do that with a pop-up where you state the benefit of using the app.
Now check the blog template and all your main pages from your phone. Make sure they are all optimized for mobile devices.
Some landing page software will need for you to mobile-optimize each page. There might be elements that overlap or text that can not be read correctly. Be sure to write that down.
Email List: A Sure Way to Keep in Contact with Your Audience
The last element of the Expectation Marketing Strategy is not something you can check on your site or Social Media profile. It refers to an Email List.
The first step is to have an email list system set up. With at least one Sign-up form and software to keep all these contact details from your audience. When answering the Audit, search for the sign-up form on the site and make sure you find it.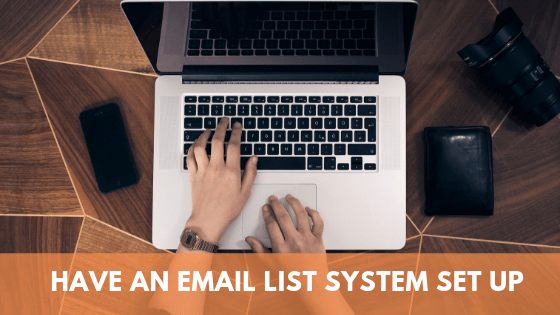 Now the second part here is all about sending them content. You should tailor a particular sequence of emails and articles for any new visitor that subscribes to your list. Depending on your brand's specific these can focus on :
The process of using your services
How to set up their product for the best experience
The most popular articles on your site if you are a Personal Brand
Make sure to answer in the Audit if you already have this sequence or not.
Keep sending them useful content. Many companies rely on a weekly newsletter for this task. It is enough to keep your brand in your audience's mind.
If you are sending any type of regular emails, check Yes in the Audit.
The Audit of Your Marketing Strategy
In this article, I've focused on each element of the audit, why it is important and how you should evaluate it. Be sure to Audit for your marketing strategy.
It will tell you how well you are doing when it comes to Expectation Marketing. A good score is usually above 55. We'd love to hear how well your site is doing so let us know your score and opinions in the comment section below.
You'll have to take a close look at all the elements in your marketing strategy for this Audit:
What Information can you find on each page of your site
Are the contact details easily accessible?
How often do you blog?
If your Social Media Profiles are Active
Does your site look good on mobile?
And is your mailing list receiving constant content?
If you'd like to improve your strategy but don't know where to start, we can help you. Check our services and let's get started. 
In the next lesson, we'll focus on how you can improve the points which were presented here and start implementing your Expectation Marketing Strategy.