I have to admit it: I am kind of obsessed with makeup, skincare, and everything related to beauty. And I am not the only one, considering the global beauty industry is worth a staggering $445 billion.
When you add content marketing on top of people's high appetite for beauty, the results are even more spectacular.  Analytics are often proving that.
Even so, in the beauty world, the competition between brands is fierce. I know I spend a lot of time researching on what my next foundation should be because there are so many options out there.
Buying them all would be a waste of money and products because there is no way  I would be able to use all of them (although I have to say I did give it some thought).
In the Content Marketing World, Every Brand Has a Story to Tell
L'Oreal's claim that they want to reach 1 billion new customers by 2020 was pretty big news.
I should say that it is a big statement. With several brands in its portfolio that range from high-end to low-end, L'Oreal is a world leader in the beauty industry.
One possible explanation is that even though the beauty industry has a variety of products to choose from, women tend to have their favorites and stick to them.
Of course, the temptation is enormous, and I personally can't stay away from trying new products every once in a while. I'm sure neither can you.
When it comes to repurchasing a product, women care about more than just the quality of the product.
Let's see how L'Oreal managed to stand out with content marketing in such a highly competitive industry.
How @Loreal stands out in the highly competitive industry of beauty using content marketing.
Click To Tweet
The Key to an Effective Content Marketing Strategy Is to Listen to Your Audience
First things first. Before you decide what your content strategy is going to be, you want to do some research on what your audience wants. L'Oreal keeps its eye on its social media platforms, and so should any big brand that already has an active community.
Crafting Content for Different Segments to Increase the Base of Customers
Up until 2008, L'Oreal created content that targeted most of the company's customers.
Traditional content advertising, like commercials and prints, were meant to make people aware of the existence of new products.
But they realized that if they wanted to get their audience to buy, they had to take their strategy to the next level.
And that meant creating valuable content that targeted different segments of potential customers.
You probably know that L'Oreal's products are not solely addressed to women. Men have a wide range of goods they can buy, too.
Generally speaking, most men don't spend as much time taking care of themselves and reading about beauty products as women do.
However, a well-targeted piece of content that addresses their needs and concerns can make any man interested in buying a beauty or self-care product.
L'Oreal Launched Makeup.com, Its Own Content Marketing Platform
On the website, visitors can watch makeup tutorials, how-to videos, read articles on beauty news, trends, and reviews, or they can look for product information, not only for L'Oreal products.
Visual content works wonders in the beauty industry world. There's a reason why how-to videos are so widely successful.
Fresh content is consistently posted on their website, and the writers are ones of the best in the industry because they already have experience in writing for glossy publications.
Return-on-Investment (ROI) is essential for brands doing content marketing. And L'Oreal makes no exception, of course.
On the platform mentioned above, they compare the type of products people that access their platform buy, to those who did not access it. That way, they can adapt their strategy so they can reach out to other customers.
What's more, L'Oreal uses content to spread awareness to lesser-known brands and products that they want to promote.
Educating Potential Customers through Content
The beauty industry is so much more complicated than it meets the eye. In fact,  there's a lot of science that lays behind it. And there is no denying that products will become more and more sophisticated.
This is where the education part comes in.
Big brands are putting a lot of effort into educating potential customers about the best ways to use their products by providing useful and interesting content in many different shapes and sizes:
How-to videos;
Interesting facts;
Tips and tricks;
News about trends;
Product reviews;
DIYs.
I am sure that many women, like myself, follow beauty blogs, watch videos, and are constantly looking to learn more about the products they want to buy.
By providing useful information, L'Oreal establishes itself as a trusted brand that women can relate to.
5 Different Ways You Can Apply Your Eyeliner, How to Choose the Right Shade of Foundation, 4 Ways to Style Your Hair during the Summer: these are all examples of content you can find on L'Oreal's site.
To help you get an even better idea on what kind of topics are relevant to L'Oreal's audience, I thought it would be useful to show you what are the top shared articles on social media for makeup.com at the time I am writing this article.
Side note: In case you are wondering, I used a platform called ContentLook to pull this data. I'll get into more details about it, so keep on reading. It's only interesting stuff, I promise.
Content Marketing Analytics + ContentLook + MakeUp.com = Exciting Insights
ContentLook is Squirrly's latest tool that shows you the loopholes in your website's online strategy. I decided to put it to the test, and see if L'Oreal's beauty platform is as strong as they say it is.
We could all make assumptions and try to guess the performance of L'Oreal's site MakeUp.com.
But when it comes to content marketing analytics, I think it's always best to know than it is to guess.
As you can see, makeup.com has a pretty high score. I'll admit: I'm impressed.
Of course, L'Oreal can do better than this. Still, I was stunned by the fact that their blog post frequency is every 13 hours. I mean, wow! That is quite something.
What they're missing here, though, is content optimization for their page. This will help people find their articles much easier on search engines, especially taking into consideration that their overall score is this high.
Their website is also missing key elements:
Copyright meta
DcPublisher Meta
a robots.txt file
Canonical link
Keywords for the site
NoFollow links
L'Oreal, if you're reading this article, please go ahead and read our articles that will explain why each issue is important for your website's content strategy.
---
Update
This was the reality back in 2014 when this article was originally posted.
But a lot has changed since. Brad Pitt and Angelina Jolie are no longer a couple, and excessive contouring and highlighting are no longer in.
So I thought it would be interesting to see how L'Oreal's strategy has progressed and what's different.
Once again, we're using the same tool, ContentLook, now enriched with a new set of features and capabilities, to get the insights I wanted.
First of all, I was curious to check the performance score.
As you can see, L'Oreal did a good job keeping their overall score high, which is no surprise considering they are such a big brand. However, their score did drop by 11 points.
So what influenced this change? Let's break it down.
Right off the bat, I can see that the frequency with which they post has decreased from every 13 hours to every 3 days.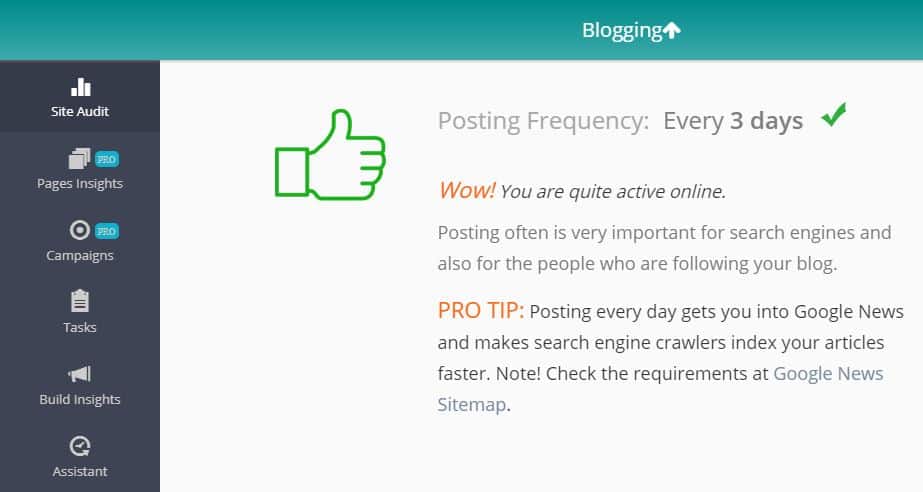 Sure, the blog is still pretty active, but they are not posting as much fresh content as they did 3 years ago.
Also, as showcased in the Audit section, the pages for the site are still not optimized for search engines.
Surprisingly, their website is also still missing some essential SEO elements, a problem ContentLook identified back in 2014 as well. I'm talking about:
Copyright meta
DcPublisher Meta
Robots.txt file
Come on, L'Oreal, it's been 3 years! It's high time you did something about this already!
On the other hand, I was happy to see that there's now a Canonical Link in the structure of their site. This is going to help with avoiding to multiple duplicates indexation of virtually the same content.
Also, as opposed to the 2o14 version of the site, makeup.com 2017 has NoFollow Links which provide a way for webmasters to tell search engines "Don't follow links on this page" or "Don't follow this specific link."
However, ContentLook also identified Duplicate Open Graph Meta Tags for the site. And that is not all.
In the screenshot below, you can see 2 other essential issues ContentLook has uncovered for the L'Oreal powered site.
Another problem is that the site is not optimized for speed, which means that L'Oreal might be losing visitors because the site takes too long to load.
Overall, though, the site is doing a good job in all of the 6 areas you can keep track of in ContentLook:
Traffic
Blogging
SEO
Social
Links
Authority
Now, here's a fun question: What if it was your site instead of Makeup.com that we were analyzing?
What kind of information would we be looking at? If you're not sure, it's a bit of a bummer. Because you can't find solutions if you don't know what the problem is.
Curious to know your site's performance score and unveil your site's key weaknesses and strengths?
It's simple!
Head over to contentlook.co and create your FREE account today! You'll get to identify key areas of your site that need improvement and much more!
Because just like makeup.com is a fraction of L'Oreal's overall strategy, the Audit is just one of the impressive features of ContentLook. Here are just some of the other goodies you'll get:
Advanced content marketing analytics;
Actionable Page Insights (including Engagement Data, Traffic Data, Social Media Metrics, Word Count, Optimization, Content Analysis and more);
An opportunity to build Custom Insights;
Integrations with your favorite platforms;
An easy way to track the progress of your campaigns;
A better workflow for you and your team;
Improved team management.
Learn more about ContentLook today!
Measuring Success
L'Oreal has already made a name for itself as a leading company in the beauty industry.
But that doesn't mean it doesn't have high ambitions for the future as well. The most important one is to offer beauty for all individuals. Notoriety is what makes it an overall successful company.
But what about the content marketing strategy?
Its success is measured by the metrics drawn from feedback received on videos or articles. L'Oreal uses these insights as reliable information on whether the content strategy works or not.
Can Content Marketing Take Over Traditional Advertising Entirely?
Let's get one thing straight. Content marketing is constantly evolving and morphing into more sophisticated versions, but it's a strategy that is not going anywhere.
More and more companies have already experienced its long-term benefits. In addition to L'Oreal's success, there are a lot more businesses and startups out there that heavily rely on this strategy.
The benefits are:
Better interaction with the audience;
Getting instant feedback;
Creating meaningful connections with the audience;
Building a brand.
These are just some of the things that bring success to any business.
L'Oreal has significantly succeeded at differentiating itself from its main competitors by being known as a trustworthy company which thinks beauty is for everybody.
How do you use the power of content marketing to grow your business and brand? Let me know what your thoughts on this subject are in the comment section down below.
PS: If you want to learn more about content, its importance, and read startup success stories, subscribe to our newsletter to receive our articles directly in your email box.
Want more marketing case studies? Find them here. 
Latest posts by Ana Darstaru
(see all)