"How many members does your marketing team have?". This is how I started my HARO query, which is the platform I used to conduct the research for this brief case study.
17 lovely marketing managers (and people in charge of managing a team) were kind of enough to respond to my preliminary question, and then my follow up ones. I will be mentioning each and everyone throughout the article along with their thoughts.
Why Should You Care About This Case Study?
I believe it's important to know how our industry peers structure their teams, how they manage to get things done in such a dynamic environment. At the same time, we should be aware of how they overcome everyday challenges in order to finish projects and reach their KPIs or if there's an optimal solution to such problems.
In the beginning, I had no idea I would stumble upon so many new opportunities for writing and thinking about the teams of the future. But speaking to each of these leaders has helped me uncover certain insights, ideas about team structure and also challenges they face.
After all, there's so much content online about strategies, ads, social media, content optimization and other topics, that we often forget that everything starts way before we start focusing on these things.
It really is all about the people, their skills, and how the team members are able to collaborate when working on long-term projects.
You will get to find insights to help you structure your very own marketing department, understand challenges you will be facing and ultimately see if in the future you will be required to share the same office space, or if you can just work remotely.
Why I Decided To Conduct This Mini Case Study
My goals were to find out:
How many members are, on average, in such a team;
How job roles are assigned and distributed across mkt teams;
If there are any differences between remote employees and those sharing the same office space;
How team members collaborate and if there are any drawbacks or blocks in the communication process;
What struggles marketers have when it comes to setting KPIs for campaigns – probably the most important aspect of them all.
Please bear in mind that I'm not trying to extrapolate these findings because the sample size is not representative. However, it definitely brings new aspects to light as well as the needs that arise within marketing teams.
Since there is very little documentation available today regarding this topic, I think it will be a very interesting read.
Let's start by talking a little bit about the size of the companies I interviewed, their profile and the number of people they have in their marketing departments.
The Facts – Company Size, Profile, Marketing Team Members
There were 17 employees from different companies who responded to my questions.
Now that I think about it, the questions seemed a little bit intrusive, so I thank them once again for being so open.
First, let's see how many employees these companies have and what's the size of their marketing team.
6 companies have 5-20 employees;
7 companies have between 21-100 employees;
4 companies have more than 100 employees.
Now, onto their marketing department.
Companies that have 5-20 employees have an average of 7 people (rounded down) on their marketing team;
Companies that have 21-100 employees have an average of 7 people (rounded down) on their marketing team;
Companies that have more than 100 employees have an average of 9 (rounded down) on their marketing team;
On average, all the companies I interviewed have 7.5 marketing team members (this is the only one expressed as a final number, according to previous not-rounded-down numbers). 
I wasn't aiming for a particular industry for this case study (find more marketing case studies here). I was more interested in talking to marketing managers or people who were in charge of marketing teams.
Even though I didn't ask, most of the people who answered my query were kind enough to tell me a little bit about what their company does.
As you can see, the companies came from diverse industries:
Software company;
eCommerce business;
SEO/digital marketing/PR/advertising agencies;
Real estate agency;
Startup (tech company);
NGO;
Service provider.
You're probably aware that remote working has become more and more popular. Not only that, but many different employers have shown over and over that not only remote working has decreased their employees stress levels, but it also improved their productivity.
I was curious to know whether some of the companies I discussed with were adopting the remote work arrangements as well.
What I found was that 5 out of these 17 companies are fully remote, and the other 12 share the same office space.
There are, of course, more insights to these numbers, but I'm going to develop this portion down below in the takeaways section.
Now that we've seen an outline of the companies that were involved in this study, I will go ahead and start digging through their answers, and I will also be adding some quotes I received from them about two critical areas:
How are roles distributed in marketing teams?
What kind of challenges do they encounter when they manage campaigns?
I hope you're eager to see what I discovered because I'm excited to share this with you.
Let's get started.
How Are Job Roles Distributed Within Marketing Teams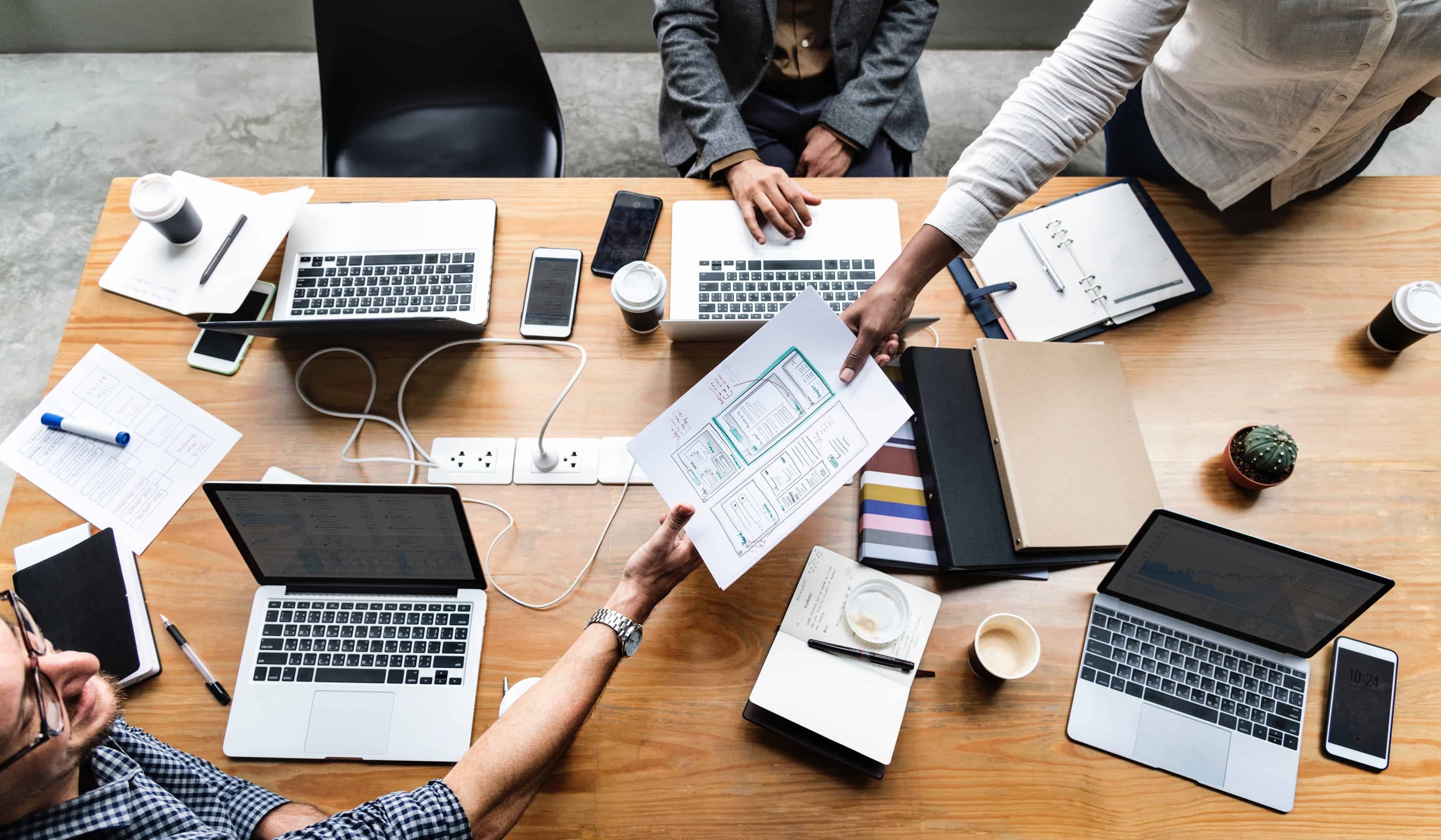 Marketing is such a dynamic environment, and it's interesting to see how diverse marketing departments are, depending on what businesses focus on.
Here are the key findings when it comes to job roles:
100% of the companies that responded have content writers on their team. In most cases, it was the highest percentage compared to the other job roles;
76.4% of them have social media specialists;
64.7% have team members who are focused on SEO;
Only 17.6% of these companies have a designated project manager;
The other job roles were in a much smaller percentage, and the responsibilities were overlapping in most cases. Some of these companies have people in their team who deal with analytics, PPC, email marketing, promotion, PR, media buying, events, growth hacking, lead generation, and outreach.
Now, let's dig into the next topic, which is all about finding out what are the biggest struggles these companies have when it comes to setting KPIs for their campaigns.
When I read their answers, I have to admit that I resonated with most of them, as I'm sure you will too.
Campaign Struggles That Are Encountered By Marketing Teams
Metrics, results, objectives, data.
Us, marketers, are driven by all of these words when we manage campaigns or projects. And most of the time, not everything is as easy as it seems.
That's why I wanted to know whether marketers have any setbacks when they manage projects. The responses were extremely interesting and diverse.
Here's what I found:
Understanding which KPI to measure is essential.
According to Carlo Borja, who is Head of Online Marketing at Time Doctor,
"Knowing which metric to measure so as to contribute to the overall company goal can sometimes be a challenge in itself".
Gary Morris, founder at Grafted-In, adds that:
"Understanding the business and how it works is important in determining the right KPIs to deliver."
Establishing the budget can be tricky.
James Nuttall, copywriter at Roman Blinds, says that
"Establishing budgets is usually our biggest hold-up, particularly for social media campaigns".
John Valentine, who is part of the marketing team for the NGO NJ Sharing Network, finds that because of their limited budget and staff,
"It's difficult to determine how/where our resources should be allocated to most effectively communicate our awareness and educational messages."
Who else agrees with Erin McCormick, Director of Marketing at Hergenrother Realty Group? She says:
"Oftentimes the direct impact of marketing campaigns isn't easy to track".
Eleni Cotsis, marketing manager at AllTheRooms, is on the same page with Eric because her struggle is to
"measure the value of long term brand-building activities versus direct marketing."
Michael Heiligenstein, Director of SEO at FitSmallBusiness, makes an excellent point about quality vs. quantity:
"To talk about quality, you often have to take a step away from your KPI and say "Hey, this was really great, here's something the numbers don't fully show," or "Hey, we're hitting our targets, but we're not exactly doing it in way that actually advances the business."
Max Robinson from Ace Workgear says that
"Limited data makes it very hard to provide a fully comprehensive report".
Leeyen Rogers, VP of Marketing at JotForm, compiled campaign KPIs in a very straightforward manner, by saying
"There is no perfect way to determine what success looks like."
Emily Sidley, Senior Director at Three Girls Media, couldn't have said it better:
"Clients often want to see results right away, but a content marketing and social media strategy is a long-term approach".
Stephen Twomey, owner at MasterMindSEO, illustrates another important aspect when it comes to working with clients:
"We really have to set proper expectations from the get-go when onboarding a new client. If they have never done SEO before, they might think, it only takes a week."
Key Takeaways – What We Learned From Talking To Marketing Managers
A lot has been said in this case study, so I think it's time to wrap it all up with the key takeaways.
To keep my thoughts organized, I decided to divide the conclusions into 3 main sections:
Remote work;
Job roles;
Campaigns.
Let's get started.
1. Remote work
Remote work is not an issue for companies nowadays because they all work online and rely on collaboration tools, such as Slack, Trello, Google Drive, instant messaging services, or project management tools built in-house.
Remote working has been implemented partially by some companies that have an office space as well. Stoney deGeyter, CEO at Pole Position Marketing, decided to do this "As a way to promote work-life balance. As long as everyone does their job and can handle being self-managed, I see no reason to make them come into the office all the time."
Only one of the companies I talked to said that sometimes, it could be a challenge the fact that team is remote because they are all in different time zones. Alice Bedward, Marketing Manager at Helpling, added that "As a result, we're always looking at our communication gaps and considering and trialing possible solutions."
On the other hand, Gary from Grafted-In, says that they have found "a highly functional system that allows us to communicate in entirely different time zones yet systematically provide information and forward progress and our deliverables for a client."
Final conclusion: remote teams perform just as good as those who share the same office space. In the end, miscommunication can occur even when you share the same office space with your colleagues.
2. Job roles
Content creation remains the number one priority when it comes to marketing activities.
"To be a real full fledged marketing team these days, you need multiple employees with a diversified skill set". Brandon Hoffman, Director of Digital Marketing at Kea Advertising, captured exactly what my thoughts were after reading all of the answers about job roles. Another good example here is Neil Doyle, Head of Marketing at Blueface, who says that they don't hire for specific roles and that each team member does social media, events, email, PPC, SEO, and content.
Focusing on one job is important as the company grows. Erin from the Hergenrother Realty Group pointed out that "In the early stages of a business, it's important to have a Jack or Jill of all trades, who can tackle a variety of marketing tactics and initiatives independently".
It's easier to delegate work and assign tasks if your marketing members are separated into different teams, which is what Dylan Peters, PR coordinator, and his team at JAM Paper & Envelope did. Not to mention the fact that they've also increased efficiency.
Meetings need to be held regularly to ensure the fact that everyone's aligned with the company's goals. I would like to quote Kari Daffron here, Content and PR manager at Readers.com, who says that not only she holds quarterly meetings with everyone, but she also does weekly meetings with her teams and "have monthly meetings with the other three marketing leads to ensure alignment all year long."
3. Campaigns
Education is still a big problem for marketers who work with clients. It appears that clients who do not understand marketers' efforts have their expectations way too high or fail to appreciate their hard work.
Not all marketers are obsessed with quantitative results. Yes, they are still essential and are still tracked, but most of them have started to understand that the brand recognition is often more important than social media shares or traffic.
Marketers are flexible when working on campaigns/projects. They like to adjust and plan accordingly by looking at the progress they made.
Knowing which metrics to set is not as straightforward as one might think, especially when marketers start working on something new. Nevertheless, as they get more familiar with a certain company/project, they can estimate much better which metrics to follow in order to achieve the desired objectives.
Figuring out how to distribute the budget can be tricky, especially for social media campaigns. In the majority of cases, this depends on the size of the team and on what type of activities will be rolled out.
This Is Not The End
Even though you've reached the end of this case study, I will continue my research and do an additional roundup with another group of marketers who responded to a different set of questions about their workflow.
So stay tuned for part two!
It was so nice exchanging emails with the lovely people I mentioned throughout this article. A big THANK YOU to all of them for taking the time to discuss this with me.
I do hope you enjoyed reading this post and that you learned quite a few things about marketing teams.
Please leave a comment if you liked it or share it with your social media friends so they can find out about it too. Until next time!