As September rolls in, what better way to welcome it than diving into a brand-new course on Education Cloud PLUS? 🚀 Introducing… 249 Genius Ways to Use ChatGPT for Digital Marketing! 
You know ChatGPT, right? It's kinda like that fancy new gym everyone joins but only a few venture past the treadmills. Most folks are still STUCK in beginner mode and jogging in place, mesmerized by the basic features.
Why not be the one who discovers the hidden saunas, the elite trainers, and the secret Pilates classes? With this course, you have a chance to ditch the beginner tag and get massively ahead with AI. You'll discover 249 (yes, TWO-FOUR-NINE!) epic use cases that remain under the radar for most.
This course is available now with a 🔥 Premium Pass. Upgrade today and unlock instant access to this course, PLUS 42 other gems.
Get a Premium Pass for just $9.99 USD/month >>
Already have a Premium Pass? Log in to your account here. Then navigate to the All Courses section, type in '249' in the search bar, and voilà! You can dive in right away and start learning from this course!
Here's the lowdown on what you'll find inside:
💌 50 Ways to Use ChatGPT for Email Marketing
🔍 49 Ways to Use ChatGPT for SEO
🎥 50 Ways to Use ChatGPT for Video Marketing
📣 50 Ways to Use ChatGPT for Social Media Marketing
✍ 50 Ways to Use ChatGPT for Blogging
Whether you're all about plotting the next big move, executing with flair, or juggling both (we salute multitaskers!), we've curated insights to fit every need.
To make it easy for you to reach the use cases that are most relevant to you right now, we've divided them into two snackable categories:
Brainstorming & Strategy:
This is where you'll find use cases for cooking up ideas and setting the game plan. Your AI-powered think tank.
This is where you'll get inspired to bring those ideas to life and craft compelling content with AI's touch.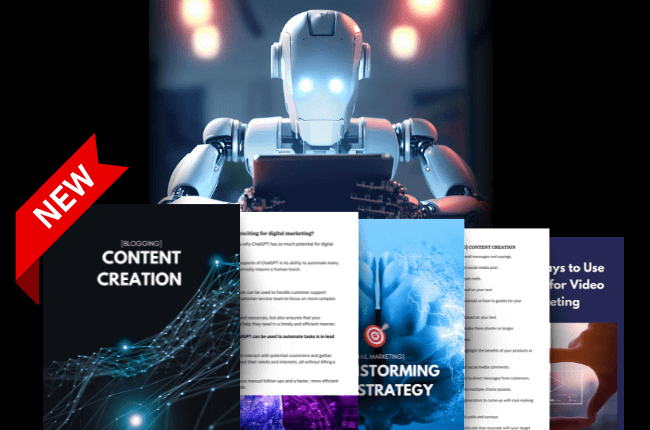 Think of ChatGPT as your marketing gym buddy. It spots you during the tough lifts and makes sure your content game is always flexing. 💪
Learn to incorporate AI into your strategy, and it'll feel like having a team of top-notch specialists on your side… without ever having to cut them a paycheck! 
You'll reclaim those lost hours (hello, newfound Netflix time) and save resources while also deepening your connection with your audience. Whether you're an AI aficionado or just getting your feet wet, this is your treasure map to undiscovered potential.
So, ready to take the next step?
Get a Premium Pass for just $9.99 USD/month >>
You'll unlock instant access to EVERYTHING inside Education Cloud PLUS, including this newly-released course.
Never stop learning!