As you may have heard, affiliate marketing is a good way of monetizing your work as a blogger. If you've just started down this path and got your first bucks, you may be wanting more. And you should!
But it's not all about the money. By taking a keen interest in this domain, you'll actively learn a new skill. After all, we're talking about another component of digital marketing.
The affiliate marketing tools industry is expected to be worth almost 7 billion dollars in the next five years. That means there is room for everybody and you can get a "piece of the pie" as well.
There's another important aspect of this domain – besides money and getting a new skill. You get to build trust around your personal brand. Doing it the right way will give you the online authority we all seek.
Without further ado, here's what an affiliate marketer's toolbox should contain. Use these tools to rack up more and more conversions and trust.
[sqcta text="Icegram" type="bullet"  color="yellow" cnt="1″]
[sqcta text=" Increase Your Subscribers List for Free" type="header"  color="gray" size="28px"]
Icegram is a WordPress plugin designed specifically for marketers. It has more than one feature and it is free. When you're a beginner in this domain, having to pay for affiliate marketing tools or services could prove to be tricky.
If you've read a few articles about this topic, you know that each traffic source is of high importance. The thing is that your newsletter list is probably the best one since email marketing is one of the most effective forms of content marketing.
Keep in mind the fact that the people who gave you their email address considered they can trust your content.
This is where Icegram comes into play. It enables you to increase your affiliate marketing newsletter subscribers. It gives you countless ways to get your audience's attention. Here's what cool features you get:
Advanced targeting rules
Multiple placements
Multiple design templates to choose from
CSS customization capabilities
Integration with almost any theme
[bctt tweet="Having a large number of subscribers is a must for affiliate marketing. Icegram offers you that." username="SquirrlyHQ"]
[sqcta text="PageWiz" type="bullet"  color="yellow" cnt="2″]
[sqcta text=" DIY High Converting Landing Pages" type="header"  color="gray" size="28px"]
Having a great landing page for the products you're recommending is a good way to get conversions. The problem is that they're not easy to build. You need coding skills and resources.
However, PageWiz is a tool that lets you create your landing pages. You don't need coding skills – just drag and drop skills.
Another great benefit is that they already have quite a few templates designed specifically for affiliates. Ain't that great? Sure it is!
Your best choice is to get everything done and set up. When you're finished with all the other details, go to PageWiz and build the landing page. You get a 30-days trial – time in which you should gather some money for a basic plan.
Yes, PageWiz isn't free, but you have high chances of being able to self-sustain an account through affiliate marketing.
[bctt tweet="With PageWiz you don't need coding skills, just drag and drop skills." username="SquirrlyHQ"]
[sqcta text="Piwik" type="bullet"  color="yellow" cnt="3″]
[sqcta text=" Liberating Analytics And More" type="header"  color="gray" size="28px"]
Piwik is a powerful, free, open-source platform for analytics. It does more than that. You can either host it on your server or use it as a cloud-hosted solution. Since its launch, it has been downloaded almost 3 million times. Another cool thing is that they have a mobile app as well.
Piwik is far more than your basic analytics platform. Its greatest perk is the ability to give you real-time data about your audience.
You may be wondering why should you use this tool. The reports it provides give you useful information that'll help get a more precise overview of all your content and users.
Getting back to the affiliate part, Piwik is smart enough to offer you that extra oomph you're craving. However, what matters the most to you are the conversions. Without them you have nothing and your work is in vain. But if your content and website do convert, you'll quickly want to know more.
Especially since conversions follow the 80 – 20 principle. What this mean is 20 percent of your users account for 80 of your revenue – usually. Granted, authority and ranking are key factors in the equation. But that 20 percent of your traffic is what matters the most. These are the users that do what you want them to do.
[bctt tweet="You're blind without data. Use Piwik as your second pair of eyes." username="SquirrlyHQ"]
However, no matter how deep you go into Piwik's features make sure you don't get lost. It's more complex than Google Analytics. Set up only the aspects that help you get more conversions and move on to generating content.
[sqcta text="ContentLook" type="bullet"  color="yellow" cnt="4″]
[sqcta text=" Website Analysis & Content Audit" type="header"  color="gray" size="28px"]
Being a player in the affiliate marketing niche means you're competing with big brands over the attention of the same audience. Your advantage is that 84% of Millennials don't trust traditional advertising.
As you can guess, the above statement means you're one step ahead of your competition. All you need to do is stay on the righteous path and deliver consistent quality.
However, to deliver quality you need to understand what works and what doesn't. The previous tool, Piwik, is giving you in-depth analytics. But Contentlook is a more user-friendly approach and it covers different aspects.
You know how important ranking is. You understand the possibility – and advantages – of one of your articles going viral. ContentLook is a tool that helps you achieve these aspects.
[bctt tweet="ContentLook helps you grow and constantly improve your work." username="SquirrlyHQ"]
What ContentLook does is giving you a clear overview of how your content is performing and how well it's optimized. You'll learn:
Social media networks performance. How many shares, likes, comments, and so on your content got on each network. This is great to learn where most of your audience spends its time.
Traffic analytics. It works differently than Google Analytics or Piwik. Contentlook outlines your overall traffic and per-post traffic. Use it together with the above point to understand what works and what doesn't.
Content search engine optimization. Another great feature of Contentlook is that it tells you how likely are your posts to be found organically. The better optimized they are, the higher users will find them in search queries.
More than this, the Contentlook audit provides solutions to your problems. The team behind the tool doesn't only tell you what's wrong but also teach what you should do to fix it.
[sqcta text="VWO" type="bullet"  color="yellow" cnt="5″]
[sqcta text="Easy-To-Use A/B Testing For Affiliate Marketing" type="header"  color="gray" size="28px"]
Some sources go out on a limb and say that A/B testing can help you earn four times more. There is no specific statistic backing up that claim. However, a positive effect can be seen.
Why should affiliate marketers use A/B testing tools like VWO? Easy: To understand what their audience likes to see.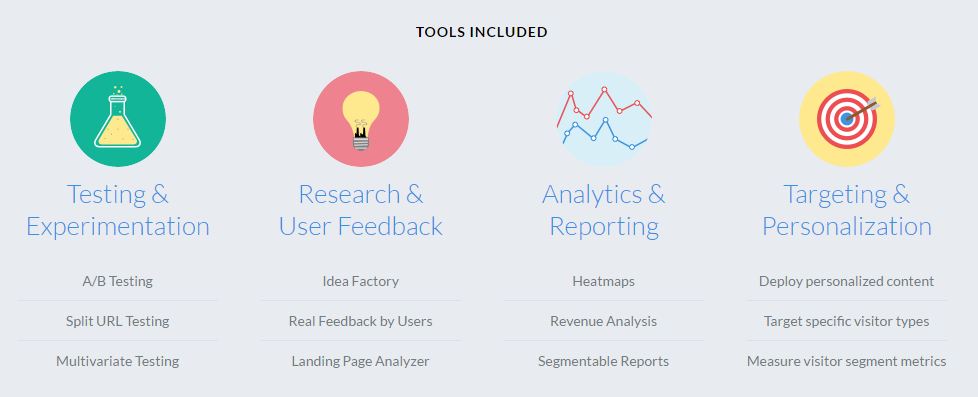 VWO is a tool that gives you real-time reports that outline what works and what doesn't. Using this tool gets you:
Testing and experimentation capabilities
Visual editor for landing pages
Useful analytics
Heatmaps & clickmaps – to understand which zone of your website attract the most attention
Integration with most popular platforms
Custom targeting and personalization
VWO offers tons of useful features you could take advantage of. However, most affiliate marketers won't find much need for some.
[bctt tweet="VWO offers friendly site-testing for non-technical users. Use it to your advantage." username="SquirrlyHQ"]
What VWO does for you is allow the testing of different headlines, buttons, and CTAs. You can change key aspects on your pages and test which of them performs better. When you got your answer, you can get back to work on writing content.
[sqcta text="Table Maker" type="bullet"  color="yellow" cnt="6″]
[sqcta text="A  Plugin for Your Website" type="header"  color="gray" size="28px"]
If you're new to affiliate marketing, your start should be strongly related to learning from others. Scout other similar websites and try to find out what plugins do they use to score more conversions.
This table plugin is not a must and it's hard to find one that works well and its developers are still around. But it can make a huge difference. Here's a screenshot from Table Maker – such a plugin you can get for free from the WordPress Plugins directory:
Now that you understand the point of plugins as such, you probably already have ideas on how to use them.
Table Maker was last updated nine months ago and it seems there is no longer support available. However, it still does the job and it even features a responsive layout.
Creation of tables is simple and intuitive. To insert them into your post or page just follow the instructions – there's a shortcode there. Easy-peasy!
It's a great feature to have on your affiliate marketing website. You know that looks matter a lot. This means that the plugin might help you get some extra conversions.
[bctt tweet="Make it easy for your readers to compare features and advantages." username="SquirrlyHQ"]
[sqcta text="Website Grader" type="bullet"  color="yellow" cnt="7″]
[sqcta text="How Powerful Is Your Website" type="header"  color="gray" size="28px"]
Website Grader is a simple tool that analyzes your website and grades its performance. You get information about:
Performance
Mobile
SEO
Security
Each of those aspects gets a score and your website receives an overall rating based on the results of the audit. Sadly, you don't get many details about what you should do.
Clicking on the offer at the bottom of the page will actually take you to HubSpot. The tool in nice and feature-rich and useful for affiliate marketers as well.
It's an all-in-one marketing software platform. It helps you optimize your website in terms of SEO. This will lead to more prospects finding your content and more of them turning into buyers.
You get a 30 days trial that will bring in more traffic, leads and customers.  You should definitely try it out and see if the results do improve. Try to find out if it helps you reach your goals easier or not.
[bctt tweet="There is always room for improvement but you need to know where you stand." username="SquirrlyHQ"]
[sqcta text="Squirrly" type="bullet"  color="yellow" cnt="8″]
[sqcta text="SEO by Squirrly – Your New Best Friend" type="header"  color="gray" size="28px"]
Some of the affiliate marketing tools presented so far you'll be using only from time to time. That's how they were built and designed. Use them, get your info, proceed to other tasks – like writing.
However, SEO by Squirrly will soon become your best friend. On the outside, you'd be tempted to think it's just another SEO plugin for WordPress. But you'd be wrong. Very wrong.
It's only a few years old and it already surpassed the 100,000 users milestone. Its great features and utility have been praised and recommended by thought leaders like Neil Patel, co-founder of KissMetrics.
You'll get multiple benefits for using this tool on a daily basis.
No, let's rephrase that.
You'll get multiple benefits for using the 108 features of SEO by Squirrly. Here are some of the most important and powerful ones:
Live Assistant – works hand in hand with you as you write your affiliate articles to ensure maximum optimization.
Keyword research – quickly provides you details about the keyword you plan on using. You get information about recent discussions, exact search, competition, and trends.
Further research and inspiration – it helps you find quality images you can use in your posts, what people talk about that topic on Twitter, how Wikipedia describes the topic and other blog posts related to your topic.
Weekly audit – each week you get a report detailing your post performance, what can be improved and how you should do that.
Rich snippets – in the settings section you can set up rich snippets information so that Google displays more about your website in search results.
Performance analytics – SEO by Squirrly gives you ranking and social analytics for each post optimized. You can set this only for your country if you wish or just keep the default Google.com.
There are tons of other features you need to try. You'll get access to the PRO version for 14 days, but the free plan is perfect if you post 5 times per month.
Go and check out SEO by Squirrly.
[bctt tweet="SEO by Squirrly works hand in hand with you to deliver maximum optimization." username="SquirrlyHQ"]
[sqcta text="AnswerThePublic" type="bullet"  color="yellow" cnt="9″]
[sqcta text=" What Does Your Audience Search for When Referring to Your Topic?" type="header"  color="gray" size="28px"]
If you're having a hard time coming up with the perfect headlines that answer your audience's problems, this is the tool for you.
AnswerThePublic is a 100% free tool that gives you great insights into your audience's mind. It's extremely simple to use and fast.
All you have to do is select your country – if it's among the supported ones – and enter your topic. Wait a few seconds and boom!
You get detailed results regarding the phrases people use to learn more about the topic on Google and Bing. In the affiliate marketing niche, this is valuable information.
Test AnswerThePublic and let us know in the comments section below how you feel about it.
[bctt tweet="AnswerThePublic helps you get a look inside your audience's mind." username="SquirrlyHQ"]
[sqcta text="GIMP" type="bullet"  color="yellow" cnt="10″]
[sqcta text="Your Powerful Photo Editor" type="header"  color="gray" size="28px"]
You've heard about GIMP for sure. It packs almost enough power as Photoshop, minus the price. It's an open source 100% free software you can use to edit images.
More interesting is the fact that it's doing a great job. It delivers exactly what it promises. You simply download it and use it.
There are many customization options and 3rd party plugins you can use to further enhance your productivity. The best way to use GIMP is for custom blog images and social media promotion.
[bctt tweet="It's FREE, it's powerful, it's fast. Use GIMP for quality visual elements." username="SquirrlyHQ"]
[sqcta text="Final Words on Affiliate Marketing Tools" type="header"  color="gray" size="28px"]
The tools presented above are surely not the only ones you can use to up your game in affiliate marketing. However, they are efficient and get the job done.
Additionally, you may not need them all as long as you know how to tend to your needs regarding writing, research, and optimization. But if you're a beginner do give them a try. It will help you understand better the whole concept.
For and foremost, don't forget who your audience is. Getting too much wrapped around tools might defocus you. You're writing and working hard for people, not search engines or statistics.
Your turn: What other affiliate marketing tools do you find useful? Do you have any tips for beginners that you'd like to share? Let us know in the comments section below so we can learn from each other.