There are huge changes to Squirrly SEO versions starting 12.0 and we're happy we could work closely with you to bring all of them.
The one change you will notice right away is the brand-new User Interface which so many of you have voted for and helped us with user interface testing and feedback.
The changes we've made to the UI are huge, but it's not the only way we've made Squirrly SEO better.
We've also re-written many of the tools inside to improve your experience of using Squirrly to rank at the top of Google Search.
For example, there's now a new workflow of using the SEO Live Assistant and the Blogging Assistant to create optimized, media-rich, well-researched content.
Plus, there is now a new on-boarding system, based on user choices, and a new One Page Setup experience that makes it super easy to get pages, keywords and data inside many important sections of Squirrly SEO.
Keep reading to learn more about the most important updates and fixes that were recently released!
SEO Live Assistant Updates & Fixes
Re-written SEO Live Assistant
The SEO Live Assistant was given a big makeover, and now features 4 important steps and sections:
STEP 1: Keywords
Easily browse through your keyword portfolio and add the keywords you want to optimize for.
STEP 2: Enhance
Start writing and use the built-in Blogging assistant to quickly create media-rich, well-researched content without leaving WordPress.
STEP 3: Analysis
Squirrly automatically checks your content to ensure it has the best SEO chances. Simply follow the guidance provided by the live assistant and turn everything green to fully optimize your text.
4. EXTRA
If you need a deeper analysis of your content, you can set your article or page as a Focus Page with just one click.
Plus, more updates:
Update – Live Assistant layout for both floating and integrated version
Added the SLA integrate option in Live Assistant > Settings
Option for Integrated SEO Live Assistant (comes as optional to the main Floating option)
DEMO Post has been removed due to users publishing it by mistake
Keyword Research Tool Updates
Changes to the experience of using the Keyword Research Tool
Option to Delete Suggested Keywords from the Keyword Research Assistant
Keyword Research Results section changes to highlight the very easy to rank first
Changes to keyword research steps (Choosing a country for your keyword research – no longer a separate step in the keyword research workflow).
Focus Pages Updates
New and better filters for Red Elements inside Focus Pages and Bulk SEO
Tooltip highlights that teach users how to deal with Red Elements inside Bulk SEO and Focus Pages
New! On-Boarding System
Re-written On-Boarding system, based on user choices and more control to the users
Field completion sequences, to make sure that at the end of One Page Setup, a user has all the info placed in their site, according to the specifications they make (highly dynamic system).
Field selections in on-boarding according to USER LEVEL and the selected options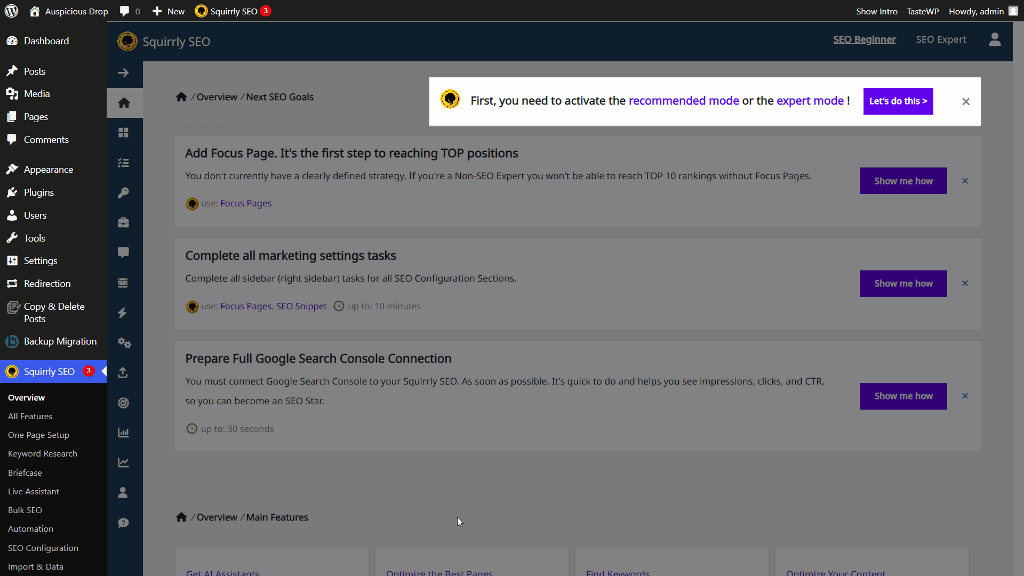 New! One Page Setup Experience
The One Page Setup experience helps users get pages, keywords and data inside many important sections of Squirrly SEO, so that everything becomes easier for the user.
More Resources to Help You Maximize using Every Feature from Squirrly
New suggestions for Learning Materials (relevant for every section of the plugin). Get custom recommendations of free learning materials to quickly master using Squirrly features & expand your SEO knowledge.
Tips and Tricks in different sections of Squirrly SEO to help you make the most out of every feature from Squirrly.
New Help Center – check it out here >>
All New Articles with New UI – all articles inside our Knowledge Base have been updated with new images and text so that they make sense with the new UI and UX improvements.
Changes to the lessons from the 14 Days Journey to Better Ranking
New graphics for In-plugin Custom Learning Materials Suggestions
Changes to SEO KIT
New! Two different experiences: SEO Expert and SEO Beginner Modes
The two different experiences in the same SaaS + Plugin allow you to easily switch from beginner mode (designed for non-SEO Experts) to expert mode (best for experienced SEOs) to tweak more options when needed.
Key Fixes
Fixed – Small Bugs
Fixed – Removed unused libraries from Live Assistant
Fixed – PHP Warnings in Automation and JSON-LD when some features are not yet activated
Fixed – SEO Automation – Add the post type in automation issue
Fixed – SEO Links – External Nofollow Link Exception- Fix – Update the compatibility with JetPack
Fix – RTL CSS for Live Assistant and SEO Configuration
Fix – Update the Briefcase and Ranking Tables to select the number of rows to show
Fix – Update the tasks from Next SEO Goals
Fix – Add the comparison images when other SEO plugins are activated
Fix – Fixed the save process in SEO Automation to not show error message
Fix – Prevent double border when SEO Automation is activated
Fix – Prevent PHP Notifications in SEO Snippet
Fix – WooCommerce compatibility & Rich Snippets
Increased Compatibility
Update – Compatibility WP adminify plugin
Update – The JSON-LD compatibility with WooCommerce on Products variant price
Web Dev Kit Updates & Fixes
Fix – DevKit installation to load the correct custom logo
Fix – Dev Kit install on plugin activation
Some of the Feature Deactivations will only be possible for Web Dev Kit feature holders
UX Improvements
New UX for Pop-UPS and Next SEO Goals tasks
Better Bulk Operation Features in Research, Rankings, Focus Pages, etc
Better UX for Blogging Assistant and all sub-tools of Blogging Assistant
Better UX – Beginner vs Expert
Better Cloud Account UX and In-Plugin Account UX
Better OnBoarding UX
New Navigation Menus in all the platform
Better Navigation Elements across all sections
New side navigation bar to make it easier and faster for users to move from one section/feature to another.
Clearer grouping of SEO Settings, to make it easier to navigate and set up
Breadcrumbs (New navigational elements indicating the location of the user within the plugin)
New experience of using the SEO Live Assistant and the Blogging Assistant
More Changes
Change: Move Menu in Overview Section from Right to Left, after more customer feedback on Alpha version
Re-Written All Features section and the whole logic of Activating / Deactivating Features.
Works with WordPress 6.0
Re-written the Advanced Mode completely – now is Expert Mode
More Expert Features and Mechanics
Completely reducing the feeling of overwhelm for Non-SEO Experts
Changing Settings Assistant by Squirrly to different Mastery Tasks handlers
More capacity for Private SERP Checker Cloud
Opening More Workers on the Cloud Servers for processing
Optimized for Mobile
Clearer NO Configurations zone and clearer ways to make Squirrly SEO go to compatibility mode
Re-Written SEO Settings
Re-Written SEO Automations
Reset Day presented in the user profile info inside the plugin, for users to know when limit refresh happens
Option to see the exact keywords that drove people to your site
Changes to the tasks visible in the Next SEO Goals section
Changes to the Squirrly Genius digital assistant from Squirrly
Clearer display of plan limits
Squirrly SEO (Peaks) – One of Our Biggest Version Upgrades Yet
Squirrly SEO (Peaks) is one of the biggest version upgrades yet, with many of our tools being completely re-written, in order to deliver the best performance.
Furthermore, it's a software you've helped build. For that, we want to say a huge Thank You to everyone who took the time to share their ideas, feedback, and suggestions on how to improve Squirrly.
You can continue adding your ideas and voting on existing feature requests using our official Roadmap here >>
Your contribution is invaluable and we are thrilled to have you along for the ride!💯🔥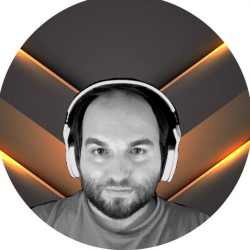 Latest posts by Florin Muresan
(see all)