The Future of Work is Now
Netflix took 3.5 years. Facebook took 10 months. And then came ChatGPT.
Launched in November 2022, it took just 5 days for ChatGPT to reach one million users, setting a new record for rapid adoption.
The rise of artificial intelligence (AI) has taken the world by storm, transforming every sector in which it has been applied.
A recent survey conducted by Tech.co, reveals a telling trend:
Almost half (47%) of business leaders and decision-makers are considering entrusting AI tools with certain responsibilities instead of onboarding new employees.
The survey also revealed that "business leaders and decision-makers think that, on average, more than a quarter of their current workload could be completed by ChatGPT or similar tools."
Another report by Forrester forecasts that AI will replace 90,000 jobs in 2023, growing to 2.4 million by 2030. These jobs will mainly consist of roles that are easy to automate and have high generative AI influence. These include technical writers, social science research assistants, proofreaders, and copywriters.
Given statistics like these, it's no surprise that more and more people are starting to ask themselves these unsettling questions:
"Will I get replaced by an AI? Or worse, by someone who knows how to use AI?" 
The fear of obsolescence in a world marching steadfastly into an AI-dominated era is real. But fear, while potent, doesn't have to paralyze you. Instead, let it fuel you!
That tiny voice in your head whispering doubts and what-ifs? You can silence it by being proactive and taking action. And we're here to help you do that!
Don't wait for the future; shape it! Start by creating a FREE account for Education Cloud PLUS and be the professional the future needs.
10 NEW AI Courses by the End of 2023 in Education Cloud PLUS 
We've recently announced our plans to release 10 brand new AI Courses inside Education Cloud PLUS, and as you can see from the infographic above, the announcement didn't go unnoticed.
Yahoo Finance, SmartTech Daily, AI Forum, Education Fame, Training Industry; these are just some of the major online publications that covered our news.
And we're going to deliver.
We're not talking about training for jobs that will be relevant in a decade; we're talking about equipping professionals for roles that are already in demand.
Each new course in the Education Cloud PLUS portfolio (already 40 courses strong) will tackle crucial areas of using generative AI. These are actionable skills that professionals can apply in their roles—right NOW!
Unlocking Potential, Unveiling Possibilities
With our upcoming 10 AI courses, we're not just offering you knowledge. We're also extending a hand to guide you through the AI labyrinth, ensuring you're equipped, empowered, and ever-ready for what the future holds!
Our CEO, Florin Muresan, perfectly encapsulates our mission: "You don't need to be a victim of the future; you can be its architect. Our students won't just survive the wave of AI. They'll ride it."
And, building upon this belief, we're making sure our courses will not only serve tech wizards but every professional who's ever wondered, "Can I stay relevant in the AI era?"
(Spoiler: YES, you can!)
The course content is designed to be accessible, irrespective of an individual's level of expertise in AI. You don't have to be a techie or a coder to learn how to leverage AI tools. All you need is a willingness to embrace the future, and the Squirrly Company will provide the keys to unlock it.
And while the path will have its fair share of challenges, with the right tools and knowledge (courtesy of our forthcoming courses) and a robust community (that's you!), we are not just going to survive the future.
We'll thrive in it.
Create your FREE account for Education Cloud PLUS today and start your journey towards AI mastery!
The First Course on AI is Already Available Inside Education Cloud PLUS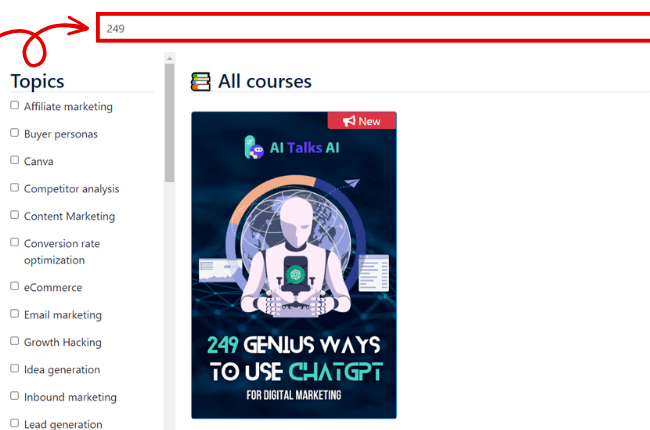 With this course, you have a chance to ditch the ChatGPT beginner tag and get massively ahead with AI.
You'll discover 249 (yes, TWO-FOUR-NINE!) epic use cases that remain under the radar for most.
Here's the lowdown on what you'll find inside this course:
💌 50 Ways to Use ChatGPT for Email Marketing
🔍 49 Ways to Use ChatGPT for SEO
🎥 50 Ways to Use ChatGPT for Video Marketing
📣 50 Ways to Use ChatGPT for Social Media Marketing
✍ 50 Ways to Use ChatGPT for Blogging
Whether you're an AI aficionado or just getting your feet wet, this is your treasure map to undiscovered potential.
This is Only the Beginning!
We want to ensure you have the best resources and knowledge at your fingertips. We've been cooking up some exciting new courses on AI, and we can't wait to share them with you soon!
🔥 Sign up for a free account now and be the first to get notified about our latest course releases.
Trust us, you won't want to miss what's coming. The AI courses we're brewing are total game-changers and will teach you amazing new skills that will re-shape your business and your career.
But our commitment to you goes beyond these courses; we're hoping to shape a community where each of you fearless future shapers can learn, and most importantly, evolve together.
We'll explore, stumble perhaps, but surely discover and conquer new horizons—side by side, every step of the way.
After all, what's an adventure without good company, shared victories, and collective growth?