It's time to grow your business with the Full Force of SEO: Squirrly SEO Newton is here!
Start using it and get:
Inner Links Assistant (two components: one that helps you find opportunities for all previous content, and one that helps you build new inner links)
Inner Links Helper inside the Research Assistant from Keyword Research (to help you build more content for growing inner links)
Complete Schema Builder with all the schemas for Rich Results
Redirects Management
404 Monitor
Import Settings From Other WP Plugins
Web Dev Kit Plans – to setup multiple plans for your clients (set custom limits/client, set custom features/client, etc.)
Instant Indexing (with IndexNow and Indexing API by Google)
Copyright-Free Images inside the Media Library
Remove Category Base (incl. for WooCommerce)
Add No-Follow or Sponsored on a link-by-link basis, directly as you're editing a post
Add Keywords Via Import, to bypass keyword research
SEO Live Assistant works in the Front-End of many WP Builders
One-of-a-kind support for video schemas across entire WP site
Our own spin on the idea of FAQ Blocks (very soon), where you won't lose content when you deactivate our plugin, unlike Yoast and RM. Also, that will work from all Builders, not just Gutenberg.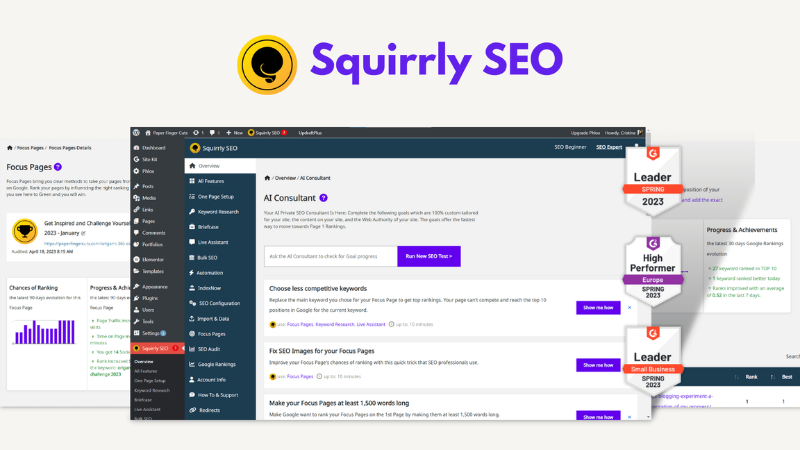 Squirrly SEO Offers the Complete SEO Funnel
THE ONLY Software in Holistic SEO. You can take care of everything and all ranking factors with Squirrly SEO, not just On Page, and not just research.
Take care of everything and rank higher than ever before!
We'd like to sincerely thank all of our users who have generously contributed their ideas and suggestions. Your valuable feedback lit a bulb over our heads – you helped us realize that there was still something missing in order for Squirrly SEO to provide the complete SEO funnel.
With these brand-new features (and many others that you can discover here), Squirrly SEO is the all-in-one SEO solution you've been waiting for.
Community Release:
You (as a community) have asked us "not to sleep" on any new features and new tech we build for it, so here it is.
Developer Updates videos, marketing materials, help center materials, and videos are NOT yet available! But we're working on this, and all those materials will follow soon.
However, all the features we mentioned in this article are available now.
Get Squirrly SEO today or update to the latest version if you already have Squirrly SEO installed on your site, and give these brand-new features a try!
We hope you'll enjoy using them as much as we enjoyed creating them for you!