Whoosh!
There goes another quarter! (is it just me or is this year flying by faster than a witch on a high-speed broom?)
We've now officially entered fall, a season that has a lot to offer, and I'm not just talking about pumpkin spice lattes and Halloween treats.
The start of fall is also when G2 releases its Fall Reports, and we're proud to announce that Squirrly SEO continues its streak as a High Performer winner with 12 new awards.
Check out the latest badges we've added to our growing trophy cabinet:
High Performer (India SEO Tools)
High Performer (Asia SEO Tools)
High Performer (EMEA SEO Tools)
High Performer (Asia Pacific SEO Tools)
High Performer (Europe SEO Tools)
High Performer (Americas SEO Tools)
High Performer (Small-Business EMEA SEO Tools)
High Performer (Small-Business Asia Pacific SEO Tools)
High Performer (Small-Business Europe SEO Tools)
High Performer (Small-Business Americas SEO Tools)
High Performer (Small-Business SEO Tools)
High Performer (SEO Tools)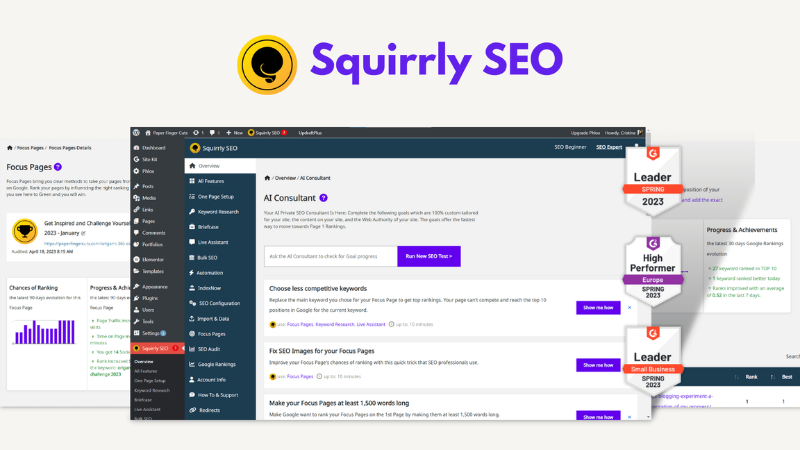 What Makes Squirrly SEO Stand Out?
Yep, we've landed some new awards.
And while this might be a tiny bit about us, it's mostly about YOU — the people at the other end of the software sharing your honest reviews on platforms like G2. So, thank you! Now, if you're new to Squirrly, then maybe you're kind of side-eyeing this, pondering, "What's the big deal with Squirrly SEO, anyway?"
That's a fair question. Here are some of the main reasons why thousands of users from all over the world trust Squirrly SEO to boost their online visibility:
The SEO Expert on My Team
"I am not at all savvy about SEO, other than having an everyday working knowledge of SEO. Squirrly does all the micro-learning of SEO that I do not have the time to learn or the resources," G2 reviewer Chris D. says. "So, I see Squirrly as the SEO expert on my team."
With Squirrly SEO, you get access to expert guidance and support from an AI Consultant, ensuring that you're always up-to-date with the latest SEO best practices. Completing the goals shown by the AI Consultant offers the fastest way to move towards Page 1 Rankings.
All Your SEO Needs in a Single Plugin
Christopher Jan Benitez said it best in this review he shared on G2:
"Squirrly will take care of all your SEO needs without having to use other tools. It has features that you want from a premium SEO tool like keyword research, SEO audit, and content optimization. Best of all, you can do all these things from a single dashboard."
Unlike other tools, Squirrly SEO takes a holistic approach to SEO, offering the Complete SEO Funnel. Squirrly provides over 650 features for SEO to help you with everything you need to influence Google Ranking factors and reach the first page of Google.
You will be able to use one tool for keyword research, content optimization, SEO settings, technical SEO, site audits, rank tracking, setting up inner links, redirects, schema builder, 404 monitor, and much more.
Squirrly is Newbie-Friendly and Makes SEO Fun and Easy
"WordPress SEO can be complex but Squirrly has simplified it for me," says Yunesh Chettri, a content writer at SignalX. "I don't feel lost in terms of SEO anymore. I can focus more on writing quality content and then have it SEO optimized with Squirrly so that it ranks."
We know it can be very hard to stay consistent when doing SEO feels like an unrewarding chore.
This is why we wanted to make SEO feel more like a fun challenge, with gamification elements and features that guide you to learn about SEO and complete tasks that lead to incredible results.
Ready to Elevate Your SEO Game and Join the Winners' Circle?
If you're still on the hunt for that ONE tool to skyrocket your rankings while also leveling up your SEO skills, consider giving Squirrly SEO a try!
And if you're already ranking with Squirrly, take a moment to share your journey! Join the conversation on G2 and leave a review sharing your honest feedback. Your insights not only help us make Squirrly SEO the best it can be but also assist fellow marketers and businesses in making informed decisions.