[GUEST POST]
Source: Proschool Online
As we have crossed a disappointing 2020, the new year has caught most businesses counting their losses and re-strategizing for 2021!
Ranging from embracing virtual collaboration platforms and working from home, the last year has taught companies to adapt to the evolving market landscape as quickly as possible.
The new year is looking to be much more normal, and it's high-time for entrepreneurs and marketers to put their thinking hats on and start refining their marketing strategies based on what they've learned from the pandemic.
One of the key marketing areas to focus on in the new year is social media marketing because half of the world's population leverages these channels to stay connected with each other!
Due to the health crises, most people have spent their time on social media platforms in the last year, which has made it even more crucial for businesses to develop a holistic social media marketing plan for 2021.
There's no doubt that social media will be more important than ever in 2021, and putting together a comprehensive social media marketing strategy would be no less than climbing a steep mountain!
However, creating a win-win 2021 social media marketing plan is not impossible if you keep the insights from 2020 social media evolution and the new year's social media trends in mind.
So, let's dive deep and figure out what you should include in your social media strategy to generate up to 200% more organic traffic in the new year! But before that, let's brush up our basics a little bit.
How Would You Define Social Media Marketing?
"Social media will help you build up loyalty to your current customers to the point that they will willingly, and for free, tell others about you."
Bonnie Sainsbury (Digital Business Strategist & Founder Of Social Media Smarter)
Source: Facebook
Social media platforms ranging from Facebook to Pinterest and Instagram to Twitter and Snapchat have become the hot favorite hangout place for people.
These are the most potent tools where you can connect with your current and potential customers and influence them by posting relevant content and initiating meaningful discussions for a variety of purposes, which can be either to:
Increase sales
Drive more organic traffic to your website
Boost your brand image
Grab leads
Retain existing customers
Establish social authority
Run an awareness campaign
Interact with the target audience
However, being digital marketers, you must think of social media marketing beyond posting content and sharing real-time posts or images and videos.
Ensuring that your content is tailored to suit the context of a particular social media platform is crucial for driving maximum engagement.
If done right, social media marketing helps build and retain a consistent brand image of your business across various social media channels.
There are great social media marketing techniques to boost your target audience's understanding of your brand and positively impact how they perceive your offerings!
Behind all your social media marketing efforts, the idea should always be to provide the audience with quality content that strikes a chord and solve their pain points. However, implementing irrelevant social media marketing strategies can bust your marketing success big time!
Similar to any other business venture that's bound to fail in the absence of a robust strategy, your social media marketing is doomed to crash without a concrete plan.
Hence, having a full-proof social media marketing strategy is crucial for driving results and achieving goals! But do you know what a social media marketing plan is?
What's The Definition Of A Social Media Marketing Plan?
"Social media algorithms will always favor people. It's time to wake up to this fact and be the first in your industry to craft a radically different people-first social media strategy that is driven by the voice of your employees, customers, and influencers."
Neal Schaffer, President, PDCA Social
Source: Marketing91
A social media marketing strategy is a blueprint of everything you plan to do and hope to achieve on social media channels.
The more specific and actionable your social media marketing plan is, the more effective it will be.
So, it's better to keep it concise and not extremely broad or lofty that it becomes impossible to measure or implement.
A well-thought social media marketing plan can guide your actions in 2021 and let you know whether you succeed or fail in your efforts!
What Are the Key Steps to Creating a Social Media Marketing Strategy to Generate Up to 200% More Traffic in 2021 (Organically)?
 "Social media is just a buzzword until you come up with a plan."
Felicia Lin (American Writer & Social Media Strategist)
One of the most sought-after aspects of social media marketing is driving traffic to websites organically! Now, what's organic?
Organic social media marketing techniques are the methodologies you reach your targeted audience on social media channels without paying for advertisements.
For example, if you are running Facebook ads, it's a paid social media marketing strategy and not an organic one!
Considering how dynamic social media platforms are, creating a holistic marketing strategy seems daunting. But don't worry, as we have all that you must know.
So, let's explore the crucial steps included in building a killer social media marketing strategy that delivers results in 2021:
1. Audit Your Current Social Media Presence to Identify The Gaps & Spot The Strengths
"Social media is about people! Not about your business. Provide for the people, and the people will provide you."
Matthew Goulart (Founder of A Canadian Digital Marketing Agency Ignite Digital)
One of the crucial insights that you should have before developing any strategy is your current status.
So, before building your 2021 social media marketing arsenal, it's mandatory to analyze your existing social media presence.
Audit the specific social channels where you are actively contributing content and interacting with the targeted audience. Also, check if your profile on each of these social networks is optimized or not.
The most crucial factor is to analyze if the social channels that you are active on are bringing organic traffic to your website or not.
If yes, which are those social media platforms?
Answering these questions will give you useful insights into what's working and what's not!
2. Analyze Your Competitors Social Media Presence To Dig Out The Strategies That Are Worth Implementing
"It's important to remember your competitor is only one mouse click away." 
Douglas Warner III, Former CEO, J.P. Morgan Chase & Co
Analyzing your current social media presence is crucial, but you can't ignore your competitors at any cost. Competitor content analysis on social media channels is a useful technique that helps identify how they perform and which specific social media marketing strategies they're leveraging to attract and convert leads on social media networks.
Source: Digital School Of Marketing
Doing a situation or SWOT analysis is the best way to identify the strengths of your competitors and grab the opportunities by figuring out the answers to questions like:
How are your competitors leveraging social channels to achieve their business goals?
What are the different ways your competitors engage with the target audience on various social media platforms?
Are there any specific hashtags or competitor keywords for which your business rivals are trending, but you aren't?
Running a SWOT analysis before developing your 2021 social media marketing plan will allow you to analyze your company's health.
You can determine all the strengths, weaknesses, opportunities, and threats that can impact your organization's social health.
The SWOT analysis outcomes can be eye-opening about understanding what's happening with your business and can fuel your upcoming social media marketing techniques.
3. Picking SMART Social Media Marketing Goals For 2021 That Aligns with Your Business Objectives
There's no denying the fact that goal-setting increases your chances of success in any strategy, and social media marketing is no different!
Without clear goals, it would be daunting to figure out how well or how poorly your social media marketing techniques are performing.
Based on the analysis of your current social profile and competitors' social media presence, you can identify and document your specific goals.
Written goals will not only propel your social media marketing strategy forward in 2021, but they'll also serve as crucial metrics when it comes to tracking your progress.
Source: Medium
Providing a human touch to the entire digital selling process is one of social media marketing's fundamental purposes.
However, every brand has different objectives, and hence getting a complete idea of your specific goals for doing social media marketing is crucial.
While establishing your specific social media marketing goals, it's mandatory to follow one of the most popular and long-lasting goal-setting frameworks: SMART goals!
SMART goals help your objectives to convert into reality. Let's take a closer look at what makes a social media marketing goal SMART:
I. Specific (S) – the more detailed and specific you can be in documenting your social media marketing goal, the easier it would be to determine what you are trying to achieve.
For instance, if your goal is to grow your Twitter followers, you have to identify the top Twitter formulas to promote your content on the platform and make people want to click!
II. Measurable (M) – Your social media marketing goals should be measurable so that you can determine whether you are gaining or losing because of your techniques. For example, double the number of your Instagram followers is a quantifiable goal.
III. Attainable (A) – You should check whether the goals that you have set for your 2021 social media marketing are attainable. Can you realistically double your Instagram followers?
IV. Relevant (R) – Your social media objectives must align with your specific business values, goals, and mission.
For example, suppose you are into the B2B landscape. In that case, you shouldn't establish a goal of gaining exposure by participating in social media communities having B2C prospects because they aren't your target audience.
V. Time-Specific (T) – It's always better to give your social media marketing goals a deadline as it helps you stay focused and achieve your target within the established timeline.
For instance, if you have a goal to double your Instagram followers, figure out how many months you want to achieve this objective!
Once you have SMART social media marketing goals established for 2021, you can seamlessly track the crucial social metrics and KPI (Key Performance Indicators).
Revisit your goals regularly to figure out whether you are on the right track or not, and in case there are any gaps; you can customize your strategy.
Remember, a winning social media marketing formula is to measure and then rinse and repeat the process to guarantee marketing success!
4. Research Your Target Audience & Identify the Social Media Networks on which They Hangout the Most!
"When you combine the Buyer Profile with Buying Insights, you will have clear guidance for the decisions you need to make to win their business."
Adele Revella (Keynote Speaker, Author, & CEO of Buyer Persona Institute)
After you have established clear social media marketing goals for 2021, it's time to look into your target market. That starts with creating buyer personas! What's that?
Buyer personas are the fictional representations of prospects in your target market. Identifying your ideal customers and learning about their preferences, requirements, and problems can help you grab quality leads and turn them into paying customers.
For example, if you are operating in the beauty and cosmetics space, your target audience would be primarily females. An example of what a buyer persona looks like:
Source: HigherVisibility
Figuring out the demographics, age, gender, occupation, income range, social media usage, etc., of your ideal customers isn't easy, so you can do online surveys to have insights about your ideal buyers.
You can explore niche-specific forums and communities and look for your ideal customers.
You can consult with your sales and customer support teams to understand the persona of your ideal buyers.
There are tools like Google Analytics that can provide you with the demographic stats that get further broken down into conversion rates, traffic sources, etc.
There are many social media lead generation tools such as LinkedIn Sales Navigator or Quora that you can use to find your target prospects to develop relationships and identify their preferences and pain points.
Once you complete building your buyer persona, you'll have various target audience groups, each corresponding to a different buyer persona based on interests, gender, age, pain points, etc.
With the help of relevant buyer personas, you'll be able to create and share content that resonates with your leads and turn them into buyers.
So, try to fetch as much information as possible because it will help you understand what drives your target audience and develop a robust foundation for your 2021 social media marketing strategy!
5. Pondering Which Social Media Networks To Target & Embrace Some Diversification
 "I use social media as an idea generator, trend mapper, and strategic compass for all of our online business ventures."
Paul Barron (Award-Winning Author & Digital Media Expert)
Source: SocialPilot
If you have identified your buyer personas, precisely selecting which specific social media channels wouldn't be too tedious!
No social media platform is right or wrong, but different businesses have different needs. So, choose a channel that:
Is used by your target audience;
Aligns with your specific business objectives;
Suits your offerings. For instance, if you are selling beauty products, then a platform like Instagram will be the best choice for you;
Your competitors are also using.
Remember that each social media channel has distinctive attributes, and hence some are more relevant for a particular type of businesses, such as:
Social Media Channels Useful For B2B Businesses
LinkedIn
YouTube
Facebook
Twitter
Social Media Channels Useful For B2C Businesses
Pinterest
Instagram
Twitter
However, 2020 witnessed a massive shake-up in social media platforms' usage trends, which resulted in many new social media networks emerging as the hot favorites!
First is TikTok that pioneered a novel approach to social engagement.
For those who aren't much aware of TikTok, it's a short-form video sharing social channel where celebrities and amateur creators share user-generated content.
The content on TikTok is of a wide variety ranging from social media challenges to dance and cooking demos and animal videos to makeovers! TikTok might not be a perfect fit for every brand, but it has given marketers a new approach to create and share engaging content.
Source: Statista
Instagram is the second on the list as it launched Reels, a platform for influencers, brands, and fans to create short-form videos of 15 seconds. Videos are quite a popular form of content on Instagram as they spark more conversions because of higher reply rates!
Even Facebook has followed suit by introducing Facebook Stories, and YouTube has launched a snap video feature.
People love to consume different types of content with increasing speed, and hence creating shorter videos is worth investing in.
With so much happening on the social media forefront, you must revisit which social media platforms you are using and identify if you can integrate some of the fast-rising platforms to make your 2021 social media arsenal even more powerful!
6. Brainstorm The Types Of Content You'll Create & Curate In 2021
"In 2021, consumers will be looking for more meaningful content that they can share to educate others. Brands that have a defined opinion on equality or feminism, but don't do anything about it, will be criticized for their lack of action. Consumers will be expecting a more human approach from brands."
Maisie Tomlinson, Digital Marketing Coordinator At Penguins Events and Incentives
Once you've figured out which social media networks to target, it's time to find out what type of content you'll create in 2021. But it's not easy to identify fresh social media content ideas to create and share regularly on multiple social channels.
Creating quality and variety of content is crucial for grabbing audiences' attention and keeping them informed.
Solid content ideas help you stay ahead of your competitors and convert leads into paying customers.
But how to identify which content to create is the biggest challenge.
Keep the following points in mind while determining which content formats you should focus on:
A content type may perform differently on different social media networks. For example, on one platform an article might do well, but on the other, videos may dominate!
The kind of content you choose must resonate with your branding. It would help if you took advantage of the unique attributes of each social media platform present, but at the same time, it's crucial to keep your voice and tone consistent.
Besides, your language and voice might be fun, serious, or sarcastic depending upon your brand messaging but make sure it suits your target audience.
As far as the type of content to share on social networks is concerned, there are ample of them ranging from videos to GIFs and giveaways to behind-the-scenes glimpses!
It's up to you what you pick based on your business's nature and the likings of your target audience.
Source: Hootsuite
One crucial point to keep in mind when determining the type of content to share is that it should justify your specific social media marketing goals.
For example, if your objective is to engage your target audience, you can create a survey or poll to gather their opinions.
But if your goal is to drive sales, then social media video ads would be the best to serve the purpose.
Talking about the last year, sharing educational and socially conscious content was in trend.
Brands such as Nike, Disney, and Ben & Jerry's have shared educational content around the 'Black Lives Matter' movement.
Let's look at how Nike has twisted its popular "Just Do It" campaign to "For once, don't do it." to show that it stands with protesters in solidarity.
Adidas, which is Nike's one of the biggest competitors, has put their differences aside by reposting their content:
Source: TalentRecap
The key takeaway from these massive marketing movements on social media is that now brands are actively talking about sustainability and how they can do their bit to bring a positive change in society.
However, the social issues you pick to highlight on social media networks gradually become an integral part of your brand's identity.
So, be very cautious about what you say and support.
Ideally, you should select socially-conscious topics that go well with your business. Offer credible information on social issues to your target audience but refrain from taking any sides.
After exploring last year's top special media marketing shifts and trends, let's look at a couple of content types that you can't afford to miss sharing on social media platforms in 2021:
I. Engaging Videos
There's no doubt that videos dominate the social media landscape, and if you aren't posting engaging videos, you are missing so many leads!
II. Educational Blogs
If you have a company blog, you must share your latest article to your social media feeds so that your brand can stay on top of your target audiences' minds.
You can encourage your employees to share your blog posts on their unique media profiles. When employees amplify your content, it will look more authentic and reach a wider audience.
III. Visually Appealing Images, GIFs, Memes
It would help if you always try to humanize your brand on social media channels, and one of the best ways to do this is by sharing photos of your office culture, products, company events, fun in-office activities, etc.
Remember to share only high-quality and stick to each social media channel's size specifications if you want more engagement!
You can share memes, GIFs, and high-quality infographics to draw the attention of your target audience. There are various useful tools that you can use to create engaging infographics and present information in a visually appealing manner.
IV. Free Resources
Anyone will appreciate a free resource, and hence you should share eBooks or infographics on social media platforms to provide the audience with relevant information.
V. Company Updates/News/Announcements
Share any updates or announcements from your company to your social media feeds. You should post job vacancies or introduce new employees on social channels because your followers would love to see what's happening with your brand!
Source: Coschedule
VI. Curated Content
Curated content is any article, blog, or any form of media that you share from external sources.
Sharing such content saves your time as you don't have to create original content, and it boosts engagement on social media platforms.
To get inspiration for content curation, let's take a look at the second most followed Pinterest account of Maryann Rizzo, an interior designer.
Pinterest is the best social media channel for curating the best images, and Rizzo's interior design image collection is a visual treat to the eyes!
Source: DivByZero
VII. User-Generated Content
If you want to build trust and enforce quality customer service, there's nothing better than sharing user-generated content on social media networks.
Creating content from the photos or videos shared by your customers is the best way to grab the attention of new prospects.
Starbucks is one such brand that loves to show off its fan-generated content, and here's an excellent example from Starbucks' Instagram profile:
Source: Wordstream
VIII. Interactive Content
Polls, surveys, quizzes, etc., are all forms of interactive content that pull people to your business. This type of content has an extremely high engagement rate, and it raises your brand awareness. An example of a LinkedIn poll is:
Source: Social Media Examiner
IX. Educational Content
Scrolling through social media, you'll find that there's a lot of fluff content that doesn't have any substance to it.
But you can share valuable or educational content such as answering the top questions your target audience is asking to get more engagement on your posts.
Source: EZMARKETING
In 2021, you'll have to leverage incredible reach to inform and educate the target audience on social networks.
Picking the best content formats to spread positive messages should be your priority for welcoming interaction and engagement with potential customers!
Use one of the relevant timeline templates in the new year to help all your content team members on the same page so there'll be no miscommunication or last-minute hassle.
7. Outline Your 2021 Social Media Content Posting Gameplan
 "Without strategy, content is just stuff, and the world has enough stuff."
Arjun Basu (Senior VP, Content Strategy At Bookmark Content)
Once you choose the type of content you'll share on social media channels in 2021; another challenging task is structuring and planning your content posting schedule.
With multiple social media networks to target, it's easy to lose track of what's intended to go out and when! A social media calendar can make it easy for you to plan your social media content sharing for weeks in advance.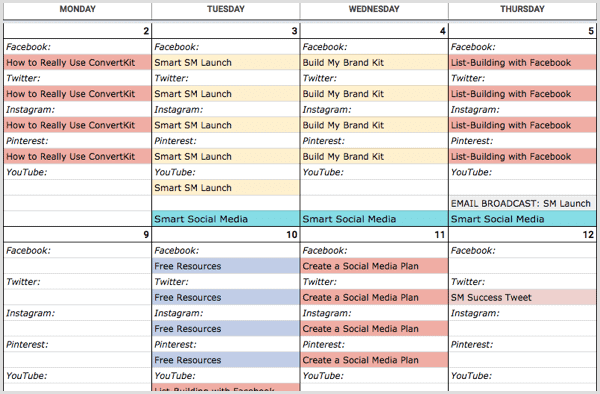 Source: Social Media Examiner
You can either create spreadsheets or leverage tools like Trello and Squirrly Social to build your social media content sharing calendar and keep track of:
I. The optimal content posting days or times and how often you should post on each social media channel. 
For example, on Twitter, you don't have to worry about posting frequency, and it's better to share more content as the posts get displayed in chronological order.
Facebook and Instagram don't have any ideal content posting times. On LinkedIn, Tuesdays and Fridays are seen as the best days to share content for maximum engagement!
Although there's no time-restriction for sharing content on Instagram, you must be extremely cautious about the Instagram fonts you are using. If misused, fonts can spoil the appeal of your Instagram posts.
II. Plan customized posts for each social media network as cross-posting across platforms isn't a good practice. 
Rather than copy and pasting content, it's better to make your posts tailored and optimized to suit different social media channels.
III. Keep track of all the videos, blogs, images, etc., that you've shared on different social media networks to avoid reposting.
IV. Plan specific content sharing objectives as you aren't posting on social media just for the sake of it!
Ideally, two rules make your social media content posting easier. Let's look at them in brief:
A. The 80/20 Rule
Source: Commercial Web Services
According to this rule, 80% of your social media posts should inform, educate, and entertain your target audience, and the rest 20% can directly promote your business.
It helps you create a robust brand image and develop a connected social media presence between different social media platforms.
B. The Rule Of Thirds
The rule of thirds states that ⅓ of your social media content should be promotional, ⅓ should feature ideas from the influencers in your niche, and the remaining ⅓ should tell personal stories of your business.
Source: EZMARKETING
This rule is all about striking a balance between promoting your offerings, developing healthy relationships with your target audience, and sharing updates and news from external sources.
Following the rule of thirds will help you keep your social media content fresh and add a variety to your posts so that the audience won't get bored!
Having your social media content posting and sharing organized for 2021 will save your time, and you'll never get confused when it's time to post or share something on a social media channel.
8. Make The Most Out Of Live Streaming In 2021
"An unintended consequence of COVID is that live social media has attracted audiences who otherwise struggled to find the time to attend live events that can take place at lunchtime or just after work. Live social media is not a new concept, but it has taken until now for many businesses to realize its potential."
Danny Bermant, Director, Brainstorm Digital
Another notable change that occurred because of the pandemic and prolonged lockdown is a massive increase in the consumption of live videos on social media platforms.
Live videos fill the void created by the lack of face-to-face interactions and provide a new promotional approach to marketers for 2021!
Live streaming has become the new normal for social media users as they are dynamic, authentic, and engaging.
The best part about live videos is that you don't need any unique tool, equipment, or software to self-broadcast yourself.
Just pick your smartphone and log into your social media account, and you can become the live streamer!
Going live allows you to connect with your followers in real-time on any social media network.
You can turn a live video from a broadcast to a conversation quickly and get instant feedback from our audience in the form of likes, comments, and shares.
There are ample ways you can leverage live videos, but a couple of the best ideas are:
a. Q&A Sessions
You can answer your audience's questions engagingly and invite them to interact with some of your team members to build strong relationships.
b. Show Behind-The-Scene Glimpses
Showing your audience what's going on in your office with the help of behind-the-scenes live videos is one of the best ways to build transparency into your brand.
c. Think Of Experimental Content
You don't need to choose only the conventional live video ideas. Be experimentative and show some creativity, just like when Buzzfeed took to Facebook live and did a video of stretching rubber bands over a watermelon until it got burst! It was a weird video but kept the audience engaged.
Source: Buzzfeed News
d. Use Live Videos To Make Announcements & Launches
You can use live videos to make a big announcement or do a product launch to let your target audience know about the big news and simultaneously interact with them.
Such videos will make people even more curious about your upcoming product, and they'll start following your brand religiously to know what's coming next!
Launching products on live streaming can help seamless client onboarding.
You are also making the first step of your client's journey fun and exciting and a step closer towards developing a long-lasting relationship!
e. Takeovers, Interviews, Collaborations In Live Videos
Airbnb streamed interviews on Facebook Live from the red carpet at the Jungle Book premiere in collaboration with Disney Live There Marketing Campaign, a huge hit!
Not all of us can interview celebrities, but you can collaborate with niche influencers and live stream their interview on social media channels.
For instance, you can collaborate with a renowned blogger in your niche and stream a live interview. You can also interview one of your graphic designers to demonstrate how he/she has built a unique feature for your website design template!
Takeovers are another excellent idea for live videos where brands team up to create content for each other's stories.
This trend is likely to gain more traction in 2021, with more brands collaborating and doing live takeover stories on different social media platforms.
Considering the popularity of live videos, you must add them to the list of your 2021 social media marketing techniques because it gives your audience an inviting feeling.
Live videos in 2021 will be among the most popular social media marketing strategies to nurture relationships with the target audience and build loyalty.
Embracing live videos will be a thrilling experience for marketers in 2021 that will let them achieve their goals in a completely different manner!
You'll grab eyeballs and let your potential customers look at your brand at a personal level.
So, be ready to ride the Livestream ride for yourself and start streaming!
9. Take A Plunge Into Relationship-Based & Influencer Social Media Marketing In 2021
"The new normal requires every company to put extreme importance on all things digital marketing. While search and email are two major components of digital marketing that can be done in-house, social media is both the most popular activity people do online as well as the most challenging for businesses.
This is because companies still look at social media as a promotional and advertising channel rather than as a grand arena to collaborate with social media users, primarily customers and influencers, and work them through a relationship funnel to incite word of mouth marketing for your brand in social media."
Neal Schaffer, President, PDCA Social
Believe it or not, if you are going to follow the same old social media strategies that you used in 2020 this year also then driving engagement and growing followership would be next to impossible!
You have to embrace agility to move forward and succeed in 2021.
Social media is full of fake news and advertisements that annoy people, so in the new year, you must invest time into developing healthy relationships with your existing customers, potential leads, employees, and niche influencers.
Influencer marketing will allow you to connect with nano influencers in 2021 who already have an affinity for your brand and determine ways to collaborate with people who are fond of your offerings.
The best thing about collaborating with influencers and brand lovers is that it's a non-conventional social media marketing approach that costs significantly less.
People believe their friends, celebrities, and niche influencers the most when forming a viewpoint about any brand, so doing influencer marketing in 2021 can help you boost sales conversions and brand awareness.
An excellent example of an influencer marketing social media campaign is OTBT (Off The Beaten Track), a brand that designs and sells women's travel and casual footwear.
Its Instagram influencer campaign started in 2017 when the brand collaborated with nano influencers who have accounts with 5,000 followers or less:
Source: Tinuiti
As a result of this influencer social media marketing campaign, their influencer community grew over 400 200, which was a massive success for OTBT:
"Social media accounts for approximately 44% of our gross e-commerce revenue, with influencers providing an estimated annual reach of 750,000 potential customers. They generate the majority of our lifestyle and content, while also creating brand exposure across the country, especially in the southeastern US states." 
– Kristina Petrick, Creative Director for OTBT
While launching influencer marketing campaigns in 2021, the only thing to keep in mind is to work closely with all your influencers so that your messaging and branding looks authentic and relatable!
10. Invest In A Relevant Social Media Marketing Software To Manage Multiple Accounts
"We have technology, finally, that for the first time in human history allows people to really maintain rich connections with much larger numbers of people." 
Handling multiple social media accounts manually can be too daunting! Hence, investing in an excellent social media management solution could be your lifesaver in 2021 as it will help you analyze, automate, and dive deeper into your social media presence.
Source: The Manifest
The best social media management tool will boost your social media marketing strategy by keeping an eye on your social mentions, so you never miss out on people who are involved with your brand.
It will schedule your posts ahead of time, so you don't have to worry about the most effective content to post and the appropriate time to post at the last minute!
Leveraging a social media marketing software like Squirrly Social and useful digital assistants in 2021 will help you automate your workflows, optimize your social media campaigns by streamlining complex tasks.
11. Assess Your Social Media Marketing Strategy To Identify & Fill The Gaps
Your social media strategy must be data-driven that you can measure with the help of tracking crucial metrics known as Key Performance Indicators or marketing KPIs such as clicks, engagement, likes, comments, shares, etc.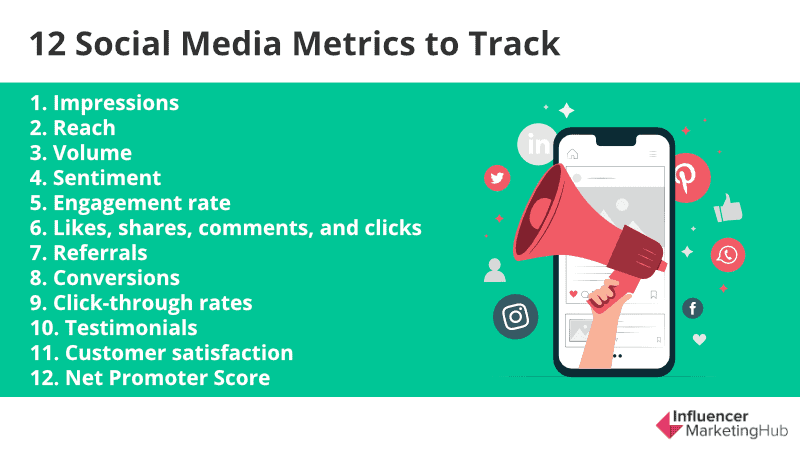 Source: Influencer Marketing Hub
Tracking and measuring the content that you share with your social media audience gives you a sneak peek of your performance.
The total number of clicks, shares, or likes your social media posts get defines that the audience is exploring your content.
A great number of clicks, shares, comments, or likes represents that you are doing well to engage with the target prospects.
Once you have insights into how your brand performs on different social media platforms, you can leverage the same to reassess where the gaps are and tailor your game plan accordingly.
There are social media analytics tools that you can use to keep track of the critical metrics, or Google Analytics can help you get a 360-degree view of your social media efforts.
The secret sauce to a winning social media strategy is that it can't be static and should evolve with emerging trends!
Such an approach can help you optimize your social presence and achieve your desired results in 2021.
Wrapping Up!
Irrespective of which route you take, it's evident that 2021 will be all about how you portray your brand on social media networks.
As of now, 2021 is looking to be an exciting year, a year of resetting and healing for most businesses.
But the ones that decide not to be agile or flexible enough this year can be even more challenging than 2020.
So, read a couple of the best social media books to get an idea of the best manner in which you can hit the social media landscape in this brand-new year.
We hope that this guide will help you cut through the challenges and harness the full potential of social media channels for acquiring leads, generating buzz, landing sales conversions, and boosting engagement!
Even if you are running a restaurant or a real estate venture, the social media marketing strategies laid out in the article will help you in achieving your specific business goals.
So why the delay in getting started today?