Latest posts by Alexandra Nicola
(see all)
The WordPress SEO plugin by Squirrly offers a lot of cool features. Here's a full list of them! If you use our plugin each time you write an article, it's paramount that you are familiar with a few essential best practices.
This will help you get the most out of your experience using Squirrly.
The first thing you'll notice when you start working on your article is a square with an empty text field at the top right of your screen. That's where you have to enter your keyword.
Once you've done that, the Live SEO Assistant comes to life.
But the important part here is how you choose that keyword.
The SEO Live Assistant will help you optimize your article for a keyword. But to get real results, you have to know which is the best one for your new post.
So in this article, we'll give you some tips about how you can better use the Squirrly Keyword Research, one of the most powerful features we offer.
1
Don't Undermine the Importance of Doing Research
To have a successful outcome, you have to steer things in the right direction from the get-go. In the case of the WordPress SEO plugin by Squirrly, this first step is choosing the right keyword.
And for that, you need to do some research!
To do a Keyword Research, all you have to do is click on the green arrow pointing down. You'll find it above the editing window.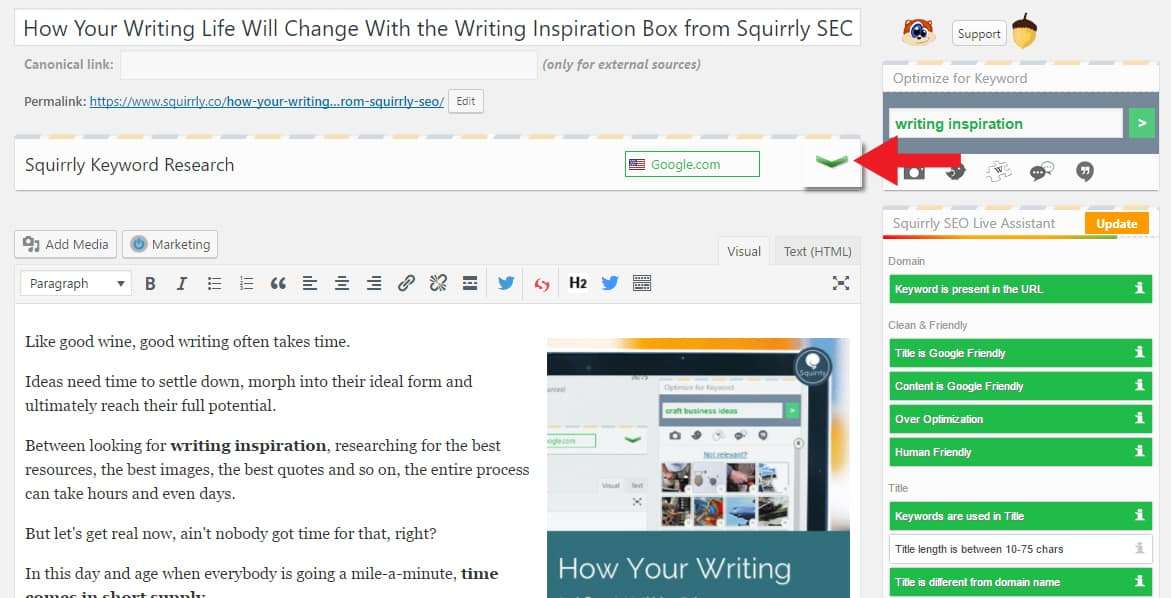 The WordPress SEO plugin by Squirrly will ask for your keyword, and then it will browse the web to gather the best and most relevant information for your particular site.
Note! The search won't work for one-word keywords.
Once you add your keyword and hit the Do the Research button, you'll be able to see the results. One of those will be the keyword you've entered.
But Squirrly also offers you other keyword suggestions.
So how do you choose the best one? Well, on the far right of each row, there is an arrow. Hover over it and you will find out 4 essential pieces of information about each keyword.
First of all, the Keyword Research Tool from Squirrly will give you an overall assessment on how many people are discussing the topic. Meaning the recent online discussions in which your keyword is found in the exact same form.
The second information you receive is the Exact Search. This gives a number that represents the numeric value of queries on Google in which your keyword was found in the same form. You need this to better understand how many people might be interested in your keyword/topic. You'll also get insight into how people write when doing a search. A single letter can sometimes make all the difference.
The third row contains the Competition for that particular keyword. It refers to how many people optimize their content for that exact keyword. You want your competition to be as low as possible so that you can rank better for that particular keyword.
And last but not least, the Keyword Research from Squirrly shows you the Trend that keyword has. You want the trend to be going up or at least to be steady. If you focus on a keyword with a trend that's going down, it's possible that the topic will lose its appeal soon, and your article will not rank well in the long run.
2
Target Specific Countries to Reach Your Desired Audience
With the WordPress SEO plugin by Squirrly, you can choose the Google domain of the country.
In other words, you choose a given country in our Keyword Research tool, and it will start showing you how the people in those countries search for the keyword ideas you have.
We offer 26 countries now, and we plan on adding more soon.
Why is this aspect so important?
If you write an article based on a keyword, you want to know how that specific keyword is doing for your specific public.
So if you are from Germany, for example, and your target audience is made of German citizens, then you want to know how your keyword is doing on Google.de.
3
Leverage All Information Provided by WordPress Seo Plugin by Squirrly
If you are not interested in the results you have received in your research, you can quickly click clear and do another search for other keywords.
Or you can use one of the keywords and start typing your article. The help this feature offers you for each post is available at all times because it's right there in your WordPress dashboard ready to help.
But for the best WordPress SEO outcome for your overall site, you need more information. You can find out data after publishing an article with the Squirrly Article Rank.
You can also get information right now by adding another keyword to your research.
For example, let's say you write a WordPress SEO article optimized for cat food, but your blog's primary keyword is pet shop.
If you do research on both terms, you can determine if the article will help or not. Some terms will give no results because they are in no way associated.
To Sum Things Up
The keyword research tool will help you choose the right keyword for each article so that you can build a better performing site. But the final decision is always yours.
We just hope this article has helped you shape a better understanding of how to use the WordPress SEO plugin by Squirrly to its full potential.