Content optimization is a crucial aspect of any successful digital marketing strategy. To ensure that your content performs well in search engine rankings and attracts a wider audience, you need to leverage the power of content optimization tools.
To truly make an impact and drive organic traffic to your website, you need to optimize your content effectively.
Content optimization involves utilizing the right tools and strategies to enhance your content's visibility, search engine rankings, and overall performance.
These tools assist in identifying opportunities for improvement, enhancing keyword research, analyzing competitor strategies, and much more.
When it comes to content optimization, the landscape can be daunting, with ever-evolving algorithms, shifting search trends, and the constant need to stay ahead of your competitors.
The best content optimization tools available: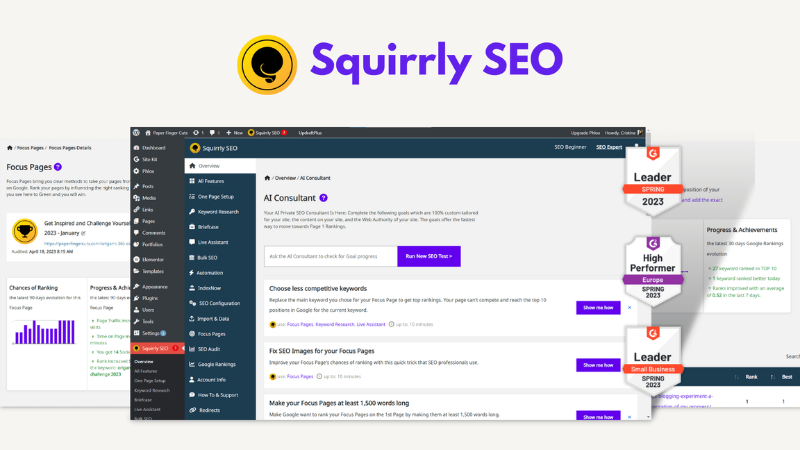 One such standout tool in the realm of content optimization is Squirrly SEO.
This all-in-one solution has gained recognition for its comprehensive features, intuitive interface, and ability to supercharge your content optimization efforts.
With Squirrly SEO, you can unlock a treasure trove of optimization possibilities, helping you rise above the competition and achieve tangible results.
Squirrly SEO is a comprehensive content optimization tool designed to help marketers and website owners maximize their search engine visibility. With its powerful features, Squirrly SEO offers a user-friendly interface and an array of tools to enhance your content performance.
Keyword Research: Squirrly SEO's keyword research feature is an excellent starting point for content optimization. It suggests relevant keywords based on your industry, search volume, and competition level, enabling you to identify lucrative opportunities. By targeting the right keywords, you can improve your content's chances of ranking higher in search engine results pages (SERPs).
Content Auditing: Squirrly SEO's content auditing tool allows you to assess your existing content's SEO performance. It analyzes factors such as keyword density, meta tags, readability, and more. The tool provides actionable recommendations for improving your content's optimization, ensuring that it aligns with search engine best practices.
From keyword research and competitor analysis to on-page optimization and performance tracking, content optimization tools offer a wide range of features designed to elevate your content's visibility and search engine rankings.
SEMrush is a toolkit that provides a vast array of features to boost your content optimization efforts. From keyword research to competitor analysis and performance tracking, SEMrush offers a comprehensive suite of tools for digital marketers.
Keyword Magic Tool: SEMrush's Keyword Magic Tool simplifies the process of keyword research by providing comprehensive insights into search volumes, competition levels, and related keyword suggestions. With this tool, you can discover high-potential keywords to optimize your content effectively.
Backlink Analysis: Backlinks play a crucial role in search engine ranking. SEMrush's Backlink Analysis feature allows you to explore your backlink profile, monitor referring domains, and identify new link-building opportunities. By leveraging this tool, you can enhance your content's authority and visibility in search results.
Moz is a trusted name in the world of SEO, offering a suite of tools to improve your content optimization efforts. From keyword research to link analysis, Moz provides valuable insights to optimize your content effectively.
Keyword Explorer: Moz's Keyword Explorer enables you to find relevant keywords, assess their search volumes, and evaluate the difficulty of ranking for them. It also provides insights into the organic click-through rates (CTR) for specific keywords, helping you prioritize your optimization efforts.
Link Explorer: Understanding your backlink profile is essential for effective content optimization. Moz's Link Explorer provides comprehensive data on backlinks, including domain authority, spam score, and anchor text. This information helps you identify high-quality link-building opportunities and enhance your content's SEO performance.
Content optimization tools are invaluable assets for digital marketers and website owners seeking to improve their search engine rankings.
With the right tools, such as Squirrly SEO, SEMrush, and Moz, you can enhance your keyword research, analyze competitor strategies, and improve your overall content optimization efforts.
By leveraging these tools effectively, you can boost your online visibility and attract a wider audience to your content.
So, why wait? Start using these powerful tools today and watch your content soar to new heights in search engine rankings.