Every business has customers who have struggles and problems they're trying to solve. And I can tell you right away your customers are no different.
Think of your customers' problems as opportunities.   
By knowing the biggest problems they're facing, you have the chance to make a real impact on them. Right now, you probably don't know what those struggles are because you haven't identified them yet.
The title of this article is no click-bait. I'm going to show you 6 guaranteed ways you can start using right away to determine customers problems.
Then, the only thing left for you to do is to start writing articles which will answer to their most common questions.

Let's dig in.
1
Make a List with All the Questions You've Been Asked/Received
I'm pretty sure you receive comments on your blog and emails from your customers all the time. Yet, you never thought about the fact that the questions which kept repeating themselves are actually a good thing.
Common questions are the opportunity you have been waiting for.
Here's how you should approach this step:
Check the blog comments section, social media, emails, and all the other places where you could receive messages from your customers.
Create a list of all the common questions you were able to find. Copy-paste the exact words which were used by your customers when they were describing the problem they're facing.
Take each common question one by one and determine whether it's an article topic you can write. If you don't have expertise on a particular subject, then you can always point your customers in the right direction by providing other valuable resources.
Start writing the articles.
After you've published them, contact the people who asked the questions and tell them you've written an in-depth article on the topic.
(optional) An extra step you can implement here is to search online for different variations on the problem you've solved through the article and tell people about it. That way, you'll not only reach a new audience (possibly people interested in doing business with you), but you'll also increase the visibility of your company and establish yourself as a thought leader.
The list you'll comply is going to give you a pretty good direction when it comes to what type of content you should publish on the blog, especially when you're stuck and ran out of ideas.
In the screenshots below, you can see an example of how we, at Squirrly, approached this step.
Let's move on to the next one.
2
Know what Problems You Can Solve by Listening
Step number one is the easiest way to approach customers problems. But you don't have to stop there.
Step number two involves a little bit more research. Your customers hang out on multiple websites, forums, or social media sites. They don't use them only for entertainment purposes, but to ask for help and advice on different matters.
That's why listening is crucial if you want to write articles which will solve customers' problems.
Here's what you need to do here:
Enter social media groups and communities where your customers hang out. Look at the conversations they're having with other people and see what questions pop up.
Quora, GrowthHackers, Inbound.org, Reddit – these are all extremely valuable communities. People ask questions there all the time. Hang out here as well and take notes about what people are discussing. Moreover, you can use them to ask some questions yourself.
After spending some time in these online communities, you'll be able to draw a line and say: I can solve these problems. I'd better start working on some articles then.
The more time you wait, the more will increase the chances of someone else solving your customers' problems.
3
Identifying what Type of Content Your Audience Shares the Most
A lot of research has been made when it comes to creating the ultimate headline or how to get people to actually share your articles.
And it was all done in good faith. There are certain psychological aspects which trigger people to share articles, most of them being directly related to the headline.
It makes sense to be this way – the headline can make the biggest difference. It can determine the success of your article.
It's like when you meet someone for the first time – you can kind of tell from the first few seconds whether you're going to like them or not. At the same time, you'll inevitably assume a few things about them.
The headline – the first impression – is a deal breaker.
How do you actually identify content your audience would like to read and share?
It's really simple to figure this out if you use a tool like Buzzsumo.
Just type in the search bar your target keywords, press enter and in a matter of seconds you'll see what kind of articles received the highest amount of shares. You can sort the articles by Twitter, Facebook, Pinterest, LinkedIn, or Google Plus shares.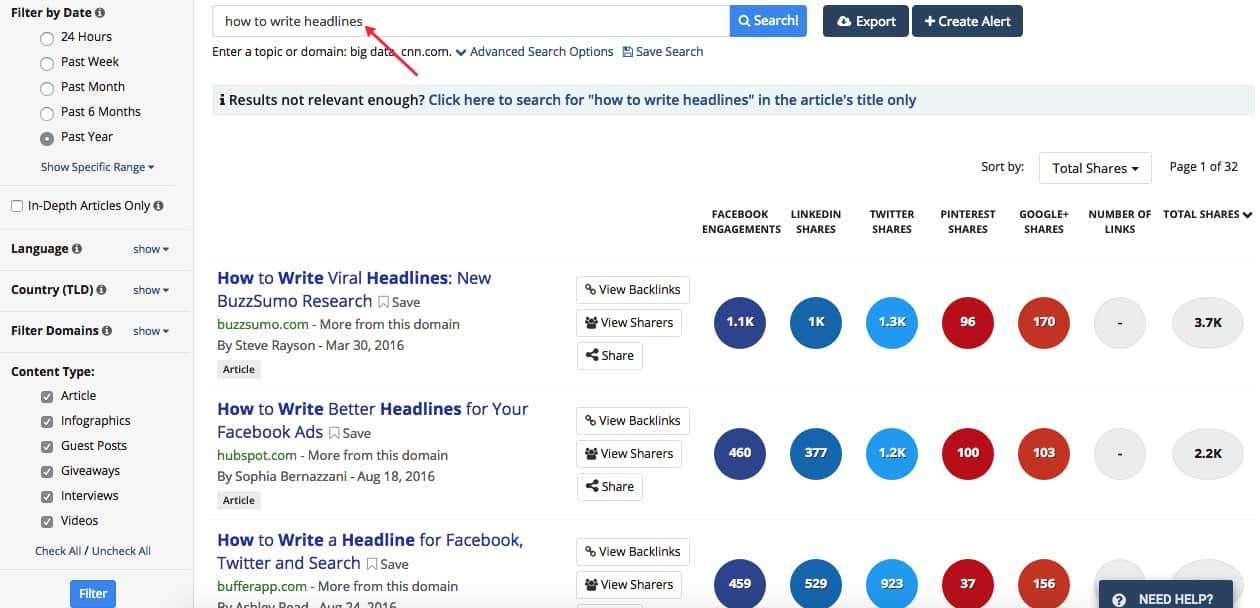 Then, create a list with the title of the articles you have found. That way, you'll be able to tell what kind of topics you can come up with, which are unique and fitted for your audience.
4
Monitor Your Competitors
Do you know what your competition is doing? The thing is, whether you like it or not, you should.
Don't worry, you only have to focus on your most important competitors, not on all of them.
You might be asking yourself how to analyze them or what to analyze.
I'm glad you asked!
Here's what you should pay attention to:
Their website
SEO strategy
Social media strategy.
In order to monitor your competition, we recommend two extremely useful tools: Opensiteexplorer.org and Buzzsumo – which I've already mentioned.
Opensiteexplorer.org is really easy to use. Just type in the search bar your competitor's domain and you'll be able to:
Know their domain authority and the page authority
Analyze all of the inbound links
See what anchor text the competition used
Check the 'Top pages' tab, which will show you what pages have been linked to the most.
Buzzsumo, aside from identifying what are the most shared articles after certain keywords, can help you:
Identify what content is shared the most from your competition. To see this, you need to type in the competitor's website.
What social media channel works best for them.
Google Analytics has the ability to show you plenty of insights not everyone knows about or uses them to its full potential. Mainly because it may not be the friendliest analytics platform out there.
Aside from knowing how much traffic you have on your website and where it's coming from, Google Analytics provides plenty of insight when it comes to the demographics and interests of customers.
So, take advantage of this and start looking in this section more.
It will also help you segment your market and target it by creating better content – which brings us to the final step.
Every business has several buyer personas, not just one ideal customer. If only it were so easy…
Your buyer personas can be extremely different, even if they're interested in the same products or services.
By outlining their profiles, you'll then be able to understand them better and create amazing content for them.
Think of your buyer persona as an ideal representation of who your customer is. You can even give them a name – this usually makes this process a lot easier.
You'll then be like: I'm writing this article for Jane, who is 30 years old, has 2 kids, is conscious about having a healthy lifestyle, has a corporate job but needs more energy in her life. 
Putting yourself in the shoes of a buyer persona of which you know so much about, is easy peasy. Content which resonates with the readers is so much more powerful than articles which are targeting everyone and no one at the same time.
People seek for that connection online as well so don't neglect that.
Solving Customers Problems the Smart Way
Starring at the ceiling and wondering what problems your customers are facing won't lead anywhere.
Thanks to social media and the abundance of online communities, you can now find answers and most importantly, the questions you have been waiting for.
So, get out there and start hunting.  
If you've enjoyed this article, give it a share on social media, so we can help other fellows out as well. And if you have any questions, feel free to post them in the comment section below.