There's no hiding from AI.
Okay, that sounded more ominous than I meant to, but I'm sure you're hearing about it left, right, and center. And as a site owner, you've likely considered joining the bandwagon by using AI to create SEO copy that ranks high on Google.
Maybe you've already incorporated it into your workflow.
As we've said before, AI-generated content is perfectly fine. As long as it's useful, you don't need to worry about Google punishing your AI-written content.
Google has made it clear that they reward high-quality content, regardless of how it's produced.
As the demand for high-quality content continues to grow, I thought it would be useful 😉 to share a few best practices for using AI to generate valuable SEO content.
Ready to dive in? Let's go!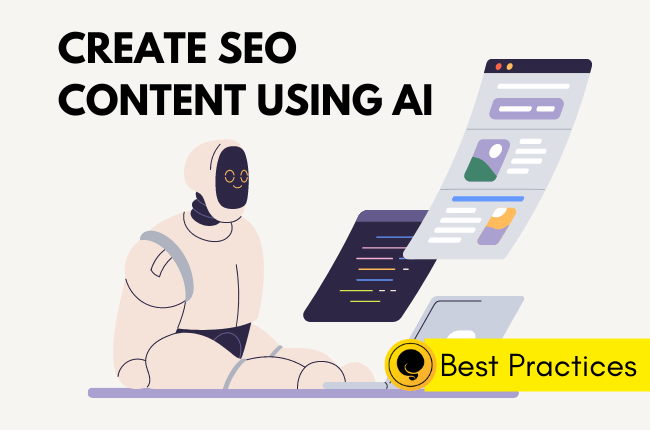 👉 Don't Skip the Fact-Checking
AI is smart, but it's not perfect, at least not yet.
Whether it's data points, quotes, dates, or even the spelling of names, errors can creep in, and these inaccuracies could hurt your credibility.
Your content isn't just about sharing information; it's also about building trust with your audience. And nothing erodes trust more quickly than misinformation.
So, don't publish AI-generated content without reviewing it first. Take the time to verify facts, cross-reference data, and ensure the context is appropriate.
Treat AI as an assistant in your content creation process, not a replacement.
👉 Bring Your Unique Insights to the Table
An essential part of making your content more engaging and valuable overall is infusing it with your personal knowledge and experience.
When your content demonstrates a depth of knowledge and first-hand expertise (such as expertise that comes from having actually used a product or visiting a place), it has a greater chance of ranking higher on Google.
👉 Ensure Your Article is Serving the Search Intent Well 
Search intent – the 'why' behind a user's search query – is crucial in crafting content that speaks to what your audience is really looking for.
Do they want advice, information? Are they looking to buy something?
If you want to rank on Google with AI-generated content, make sure your pages/articles satisfy the search intent behind the keywords they're targeting.
👉 Always Optimize the Content using the SEO Live Assistant from Squirrly SEO
This digital assistant from Squirrly SEO ensures your content is both Google-friendly AND human-friendly.
Before hitting publish, aim to optimize your articles or pages to 100% using this powerful tool.
Using AI, you can create more content than you ever thought possible! 
So, don't hesitate to embrace this exciting new technology to speed up your writing process and bring more of your awesome content ideas to life.
But never forget that your readers come first.
Follow these guidelines to leverage AI effectively without compromising on the quality or value of your content.