As a fellow writer and content creator, I understand the challenges and the excitement that come with this craft.
Whether you're looking to create compelling headlines, optimize your content for search engines, or find the perfect words to express your ideas, these tools have got you covered.
Allow me to introduce you to a collection of resources that will help you captivate your audience and take your work to the next level: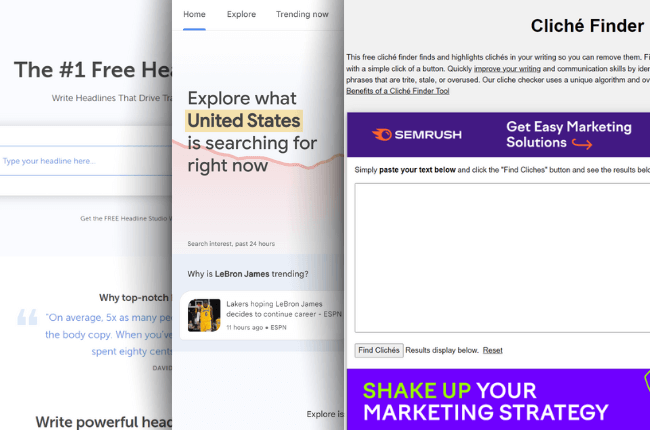 1. 🔍 CoSchedule Headline Analyzer:
Crafting captivating headlines is crucial for grabbing your readers' attention.
This tool provides valuable insights, scores your headlines, and suggests improvements, ensuring your titles are compelling and click-worthy.
2. 🌍 Google Trends:
Stay ahead of the curve and tap into the latest trends with Google Trends.
Discover popular search queries, explore trending topics, and gain valuable insights to tailor your content and engage your audience effectively.
3. 🧐 Cliche Finder:
Writing original content can be a challenge.
Cliche Finder is an excellent tool that scans your text for cliches, allowing you to infuse freshness and uniqueness into your writing.
4. 🐿️ Squirrly SEO: 
Search engine optimization (SEO) is essential for driving organic traffic to your content.
Squirrly SEO simplifies the process by providing real-time optimization suggestions, keyword research, and SEO audit to help your content rank higher on search engine results pages.
5. 📚 OneLook Reverse Dictionary:
Sometimes, you have a concept in mind but struggle to find the right words.
OneLook Reverse Dictionary comes to the rescue by helping you find words based on their definitions, enabling you to express your ideas with precision.
6. 🔥 Power Thesaurus:
Avoid repetitive language and enrich your vocabulary with Power Thesaurus.
This crowd-sourced platform offers a vast array of synonyms, antonyms, and related words, empowering you to express yourself with eloquence.
I highly recommend exploring these tools to boost your writing efficiency, enhance your content quality, and make a lasting impact on your audience.
7. 😱 Write or Die:
Need an extra push to stay focused and meet your writing goals?
Write or Die provides a stimulating environment by imposing consequences (like annoying sounds) when you stop writing, motivating you to keep going and maintain your writing momentum.
Give them a try, and I'm confident they will become valuable assets in your creative journey.