Just in: four new badges, including a Momentum Leader award, for Squirrly SEO in the G2 Summer 2022 Awards.
The G2 Grid® reports for Summer 2022 have just been released and we're thrilled to announce that Squirrly SEO has received 4 NEW AWARDS.
The collection of awards inside our 🏆Trophy Cabinet keeps growing!
(it's getting crowded in there, but that's honestly a great problem to have) 
With these awards, G2 recognizes Squirrly SEO as a Leader in Customer Satisfaction, as well as product focused on continuous innovation and growth.
For the first time, Squirrly SEO was named a Momentum LEADER in the SEO category in the G2 2022 Summer report.
The Leader tier in the Momentum Grid® includes products in the market which are innovating and growing. Customer satisfaction levels are also taken into consideration, and Leader products rank in the top of their category's products by their users.
For summer 2022, G2 also placed Squirrly SEO in the High Performer class in the following categories:
Small Business SEO
SEO
Europe Regional SEO
High Performer badges are awarded by ranking products based on customer satisfaction scores, with user reviews playing an essential role in determining these scores.
Products in the High Performer quadrant have high customer Satisfaction scores compared to the rest of the category.
More about G2: 
G2 is one of the world's largest software review platforms, known for providing authentic peer reviews and market analysis to help software buyers make informed purchase decisions.
At Squirrly, we take customers feedback to heart!
Throughout 2021 and 2022, we released a plethora of updates, improved user experience, and introduced a brand-new UI to make sure Squirrly SEO is not only effective but also as easy and as enjoyable to use as possible.
We're working on many more updates that we're excited to share with you by the end of this year. You can read more about the updates on SQROAD on Twitter.
New awards like these validate our efforts and serve as additional motivation for us to keep working hard. But the feedback we get from our users remains crucial to our day-to-day efforts of continuing to innovate and deliver the best technology and support to our entire community.
If you'd like to read what people are saying about Squirrly on G2 – or leave a review yourself 😉 – you can visit our G2 profile here >>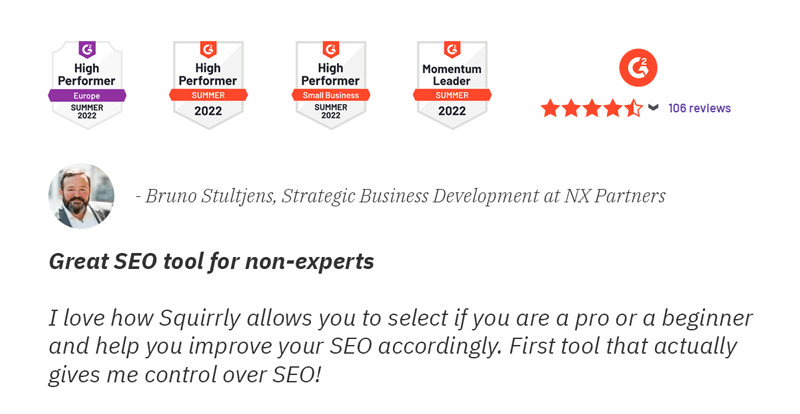 Hearing directly from individuals using Squirrly to rank on Google continues to be incredibly important to our team.
As Squirrly SEO keeps growing and improving, we look forward to getting even more feedback!
The Most Awarded SEO Tool is Waiting for You! 
There are over 30 different awards earned by Squirrly SEO – the most awarded SEO tool 2 years in a row. Plus, the press loves it! 
But most, importantly, our community of awesome users loves it. Because it just works. You can hear from many different customers using Squirrly to rank on the 1st Page of Google here:
I want to end this article by saying a big thank you to our users for their continued support and to G2 for the recognition.
And if you haven't tried Squirrly SEO yet, you can learn more about it here!