Hey there,
Can you believe we've reached lesson eight already?
It's time to push things even further! You now have the skills needed to employ more advanced methods to get better results from your content.
Of course, many webmasters and site owners automatically assume that their site content is on point and does not need refreshing.
Problem is that more often than not, they are wrong.
You see, the reality is that website content needs to be constantly updated to thrive.
So don't skip this lesson. 
You'll learn more about the benefits of running a content audit on your site(s) – one of the best strategy tools in a marketer's toolkit.
[sqcta text="Why Run a Content Audit" type="header"  color="blue" size="30px"]
There's an old saying that goes something like this:
[sqcta text="
It only takes one bad apple to spoil the bunch.
" type="lite" color="blue"]
The good apples are the awesome pieces of content just sitting in your archives. The bad apples are represented by the outdated, low-authority, low-quality pieces of content you have.
At its most basic, you need to conduct a content audit on your site to separate the bad apples from the good apples.
A content audit is basically a qualitative analysis of all the content that exists on a website (or a network of sites).
But you'll come to realize it's an eye-opening experience, really.
You have to do it every once in a while to ensure your content is actually supporting your content marketing strategy and pushing in the right direction.
When done right, a content audit helps you answer key questions, such as:
 Is your content up-to-date? Does it have the right keywords?
Is your content well-optimized for search? Are there basic SEO elements in place?(Meta tags, keywords, meta description)
What content is worthy of being updated or repromoted and what content should be removed from your site?
Is the content consistent with your organization's goals and your users' expectations?
Which are the parts of your website your audience likes and dislikes the most?
What content is lifting you up and what content is dragging you down?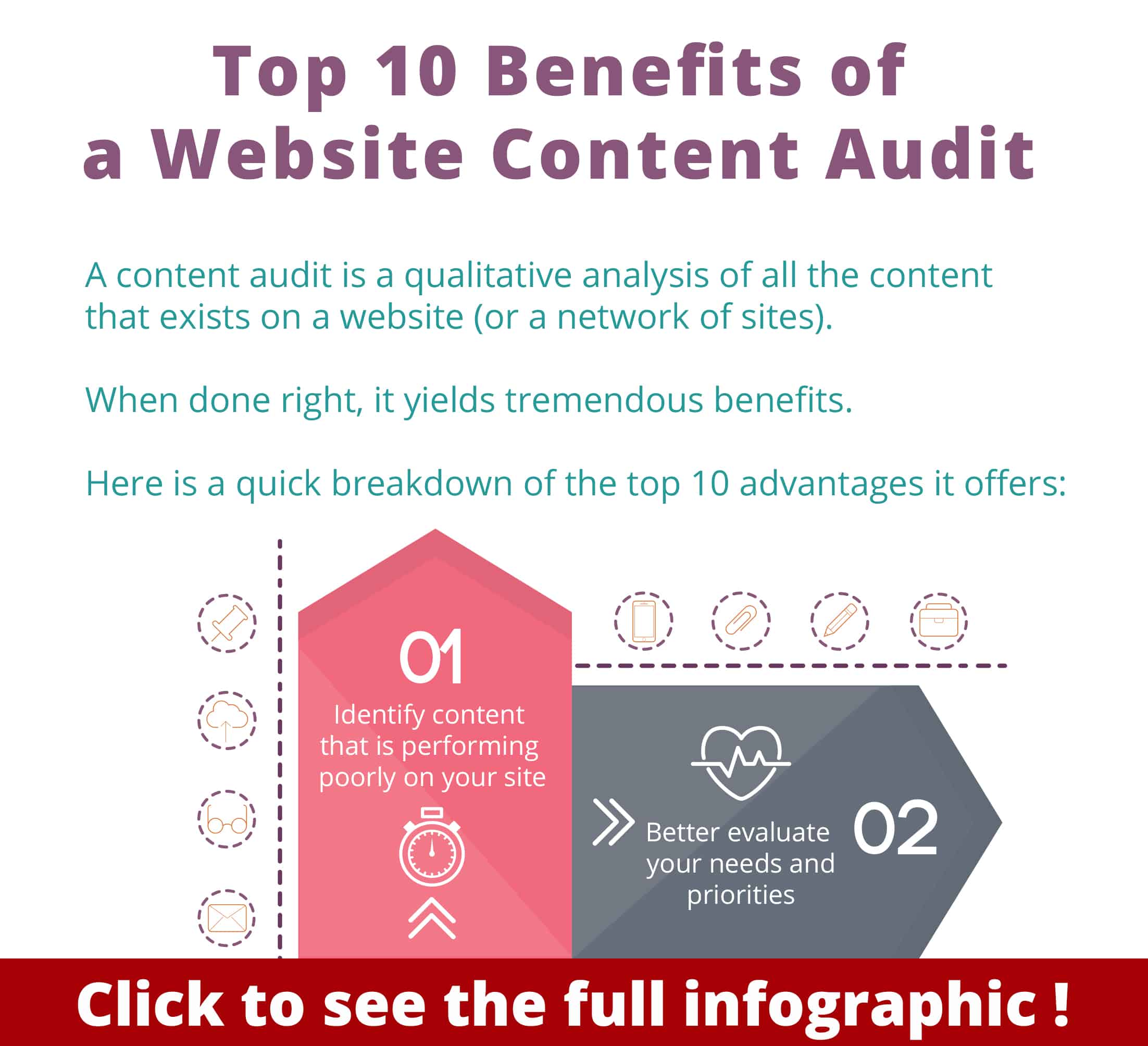 Ultimately, all these benefits result in your site ranking higher on Google and providing a better user experience. 
[sqcta text="How to Conduct a Content Audit of Your Site" type="header"  color="blue" size="30px"]
We've recently done a content audit on the Squirrly site and it helped us come up with key strategies that we've already started to implement.
Our main goal was to increase our domain authority and therefore have higher search engine rankings.
But as you've seen above, there are many other reasons to run a content audit.
However, when you set off to complete your first audit, it may all seem overwhelming and just like a huge pain in the… budget.
We'll show you how we did it and share what we've learned along the way. 
[sqcta text="Step 1: Gather Up Your Troops and Plan" type="bullet"  color="blue" cnt="1″]
If you have a big site like ours, you may consider mobilizing several people on your team.
You can definitely do this on your own, but if you do that, you will find it's necessary to prioritize your work.
What we've learned is that for big sites, it's best to start with the top-performing pages in your site and work your way through them.
You'll want to focus your energy and time on those first because they are the ones bringing good traffic and that have the best chance to attract and retain audiences.
In case you don't have a lot of content, start with the oldest content on your site and finish with the newest.
Another important aspect is your audience.
Keep your audience in mind throughout this process as it will help you steer things in the right direction and maintain focus.
[sqcta text="Step 2: Begin with Content Inventory" type="bullet"  color="blue" cnt="2″]
This is a quantitative collection of pages in your site.
Since we released our site, we've published a lot of helpful articles and lessons, we ran many campaigns, shared important events and more. And that all amounted to an impressive volume of content.
We had tons of content in our site's archives – A LOT. Which meant we had loads of correlated data (page views, traffic, social shares, and so on).
To get to all that data, you could use the combined power of several tools like:
ContentLook
Screaming Frog
Google Analytics
URL Profiler
But what we found is that this is a time-consuming, tedious, and expensive process.
Not the best option for busy marketers who put a lot of emphasis on efficiency.
So we just used a single tool, ContentLook, the tool that brings all the pages on your site together into one simple view so that you can find, analyze and overcome marketing threats.
ContentLook's "Export" feature makes it easy to automatically compile and export all the data you need to conduct a content audit into a single spreadsheet.
It's a feature that webmasters, agencies, consultants can all use to free up their time and streamline their workflow.
This way, you avoid having your data scattered across multiple spreadsheets and documents. As a result, you avoid wasting precious time trying to make some sense of all that chaos.
You have all your information in one place and get a clear X-ray of your content.
You'll get a precise overview of all the main content structures inside your site. The healthy bones supporting your content strategy – as well as the excess holding it back.
Once you gather all that information using ContentLook, your exported inventory sheet will look like this:
Spreadsheet Template
https://docs.google.com/spreadsheets/d/1jzctoey1aPgO3dQ85TlRgvCKCOz7BxpfFsIH5IJo-Hc/edit#gid=0
[sqcta text="Step 3. Filter Data" type="bullet"  color="blue" cnt="3″]
The data that you see in ContentLook is extremely detailed.
If you find there's more information than you need for your particular project, simply remove the columns that contain information you don't currently need.
Using the Advanced Filters system in ContentLook, you can select which metrics you want to see. Only keep the metrics that are relevant to your current goals.
[sqcta text="Step 4. Parse and Analyze Data Like a Ninja" type="bullet"  color="blue" cnt="4″]
As you know by now, the main goal of running a content audit is to help you make informed, smart decisions meant to amplify the performance of your content.
And for that, you need to look at data. Piece by piece, column by column, work your way through every bit of your content and fill in the empty columns. Most visited pages should be first.
Here are some tips that you may want to keep in mind to make the process easier!
---
URL
Make sure it:
represents your content
it's in text and not in numbers
there are no stop words
it's separated by hyphens
Note: If you decide to make changes with your URLs but the page is already live, put a 301 redirect in place.
---
Page Title
Make sure the title:
Is benefit-oriented and interesting to your audience
Is under 70 characters
Contains a keyword
Is relevant
Use color coding in your spreadsheet to flag out page titles that don't meet the standards.
---
Target Keyword 
Make sure your keywords support your goals and are relevant to your audience's interests. Keep an eye for keyword stuffing that makes it seem like your content was solely written for bots.
---
Links
Are there any dead links that need to be removed or corrected?
We're talking about pages that send visitors to 404 pages (pages that can't be reached, or no longer exist).
In order to show you are a reliable source of information, you need to correct those pages and start sending links to resources that visitors can actually access.
---
Images
Articles enhanced by relevant images generally get more social shares. Use one image every 300 words.
---
Content Quality
The content should:
Provide real value to your audience
Offer up-to-date information
Be free of any grammatical or spelling errors
---
Readability
Check the formatting. Readable content is typically characterized by:
Bullet lists,
Headlines,
Clear paragraphs with short sentences.
You can use a tool like this to calculate the readability of a page.
---
Social Shares
This shows you how many shares your page has on each platform.
---
Content Type
Blog articles, news story, FAQ page, video, infographic, and so on.
---
Meta Tags
These only appear in a page's code and are important for SEO.
---
Meta description
So what are the characteristics of a good meta-description?
It should be unique; no duplicates.
It should accurately depict the content on that page. Click-bait meta descriptions get penalized by Google.
It should have a call-t0-action.
---
Title length
If you can, keep your title tags between 10 and 75 characters or less, including spaces. In search engine results, Google, Bing, and Yahoo tend to cut off titles with more than 75 characters.
---
Word Count 
Long-form content tends to rank higher on Google and is seen as being more authoritative.
---
SEO Score
---
Page Authority
Keep the Page Authority (PA) above 40 with quality links to your page.
Pro Tip: Go to ContentLook/Insights/Authority, click on Find Help Here to get more info on how to increase your PA.
---
Has Social Interaction
This shows you whether visitors on your page shared it on social media or not.
---
Notes
Important comments you want to keep in mind.
[sqcta text="Step 5: Set the Course of Action" type="bullet"  color="blue" cnt="5″]
After carefully analyzing the data and metrics, it's time to identify the method you will apply to make the changes you want.
We used a simple and straightforward system to label pages. We've basically divided them into three main categories:
Keep-as-Is. Flag pages that are performing well this way. Pages with good traffic and many social shares that rank well stand to have a good once-over.
Remove. If a piece of content is no longer consistent with your strategy and/or targeted audience, maybe it needs to be pruned from your site.
Note: Never remove a page that has links to it. Redirect it to another page if you've decided you no longer want it on your site.
Improve or consolidate. Consolidating an old article that was just sitting in your archives can easily lead to a killer piece of content that actually drives traffic.
We've used the next column, named Actions Needed, to really go into detail and customize strategies.
[sqcta text="Step 6: Establish the Individual Actions Needed" type="bullet"  color="blue" cnt="6″]
This is where you break it down into specific actions.
To make things as clear as possible, I want to give you some examples of actions you can take inside each category:
Keep-as-Is:
Start a re-promotion campaign where you include that page to further leverage its success.
If a page is strong, you want to set an action that involves linking to it more often.
Maybe you want to turn the content on that page into a video and podcast to make the most out of it.
Start promoting articles that have no social interactions.
Remove
For instance, we had a bunch of old landing pages from a previous campaign that we erased from our site because they were no longer relevant to our current strategy.
A next action in the case of a page in the Remove category could be to give the site admin the task to remove a page from the site. The important aspect here is to establish a clear approach when pruning pages from your site.
Improve/Consolidate
Text needs to be updated with new statistics or information to be made more current.
Rewrite to improve content value.
Remove dead links.
Shorten long page titles.
Better images and formatting to make it as shareable as possible (great for old pages that are performing well).
Content needs to be updated or optimized for a different keyword.
These are just a few examples, of course.
A content audit lets you see your content in a different light and spark a whole lot of new ideas.
A great way to turn your ideas into results you can easily measure and keep track of is to create new campaigns.
For instance, we've started a Re-Publish campaign for articles with good traffic and good social shares.
We added new images, updated information, and gave the content a new feel. BOOM!
BOOM! Content that seems brand-new for a fraction of the resources we would have needed to create new posts.
As you've seen in Lesson 2, creating campaigns inside ContentLook is super easy to do!
What Else Can You Do with the Results?
Discover the best days to publish. Posts published on whichever day of the week got you the most traffic
Compare lengthy posts to shorter ones to see which got you the most shares.
Determine which keywords got you the most traffic and refine your strategy accordingly.
Create graphs based on your findings and establish new best practices that you can implement in your organization.
[sqcta text="Step 7: Assign People in Your Team to Implement Actions" type="bullet"  color="blue" cnt="7″]
Once you decided on a strategy and came up with a set of actions needed, it's time to make the actual changes on the site you are conducting an audit on.
ContentLook was designed to help teams improve their workflow, so you can easily match the people in your team with the actions needed.
In ContentLook, every team member has an assigned role, so you'll have no trouble finding the best man (or woman) for the job – even if you're working with big teams.
Copy-paste the task from action needed column into ContentLook, then assign the people in your team who have the required skills to successfully complete it.
[sqcta text="Step 8: Go Get Some Coffee – You've Earned it!" type="bullet"  color="blue" cnt="8″]
Thanks for sticking around until the end of this lesson. You're now well on your way towards building a better site with better content.
I know the word audit is not exactly a friendly term. But I hope you're starting to warm up to it and see it for what it really is: an opportunity to reach your content's full potential and rank higher on Google.
You can do this! Good luck, and I'll see you for our final lesson. Lesson 9!