You've done the legwork and found the perfect backlink opportunities you want to go after.
You've carefully crafted a personalized, polite email with your pitch for a link and eagerly sent it off to a relevant contact.
So you have high hopes that you might just get that backlink you want.
And then …
You receive a reply, and it's a resounding NO. Or worse, you don't hear back at all.
Whether you're a newbie in the world of inbound link building or you're feeling worn out from the lack of responses to your outreach emails, I want to help out.
That's why I've taken the top reasons why publishers turn down your content and transformed them into a comprehensive 19-point checklist.
Here it is: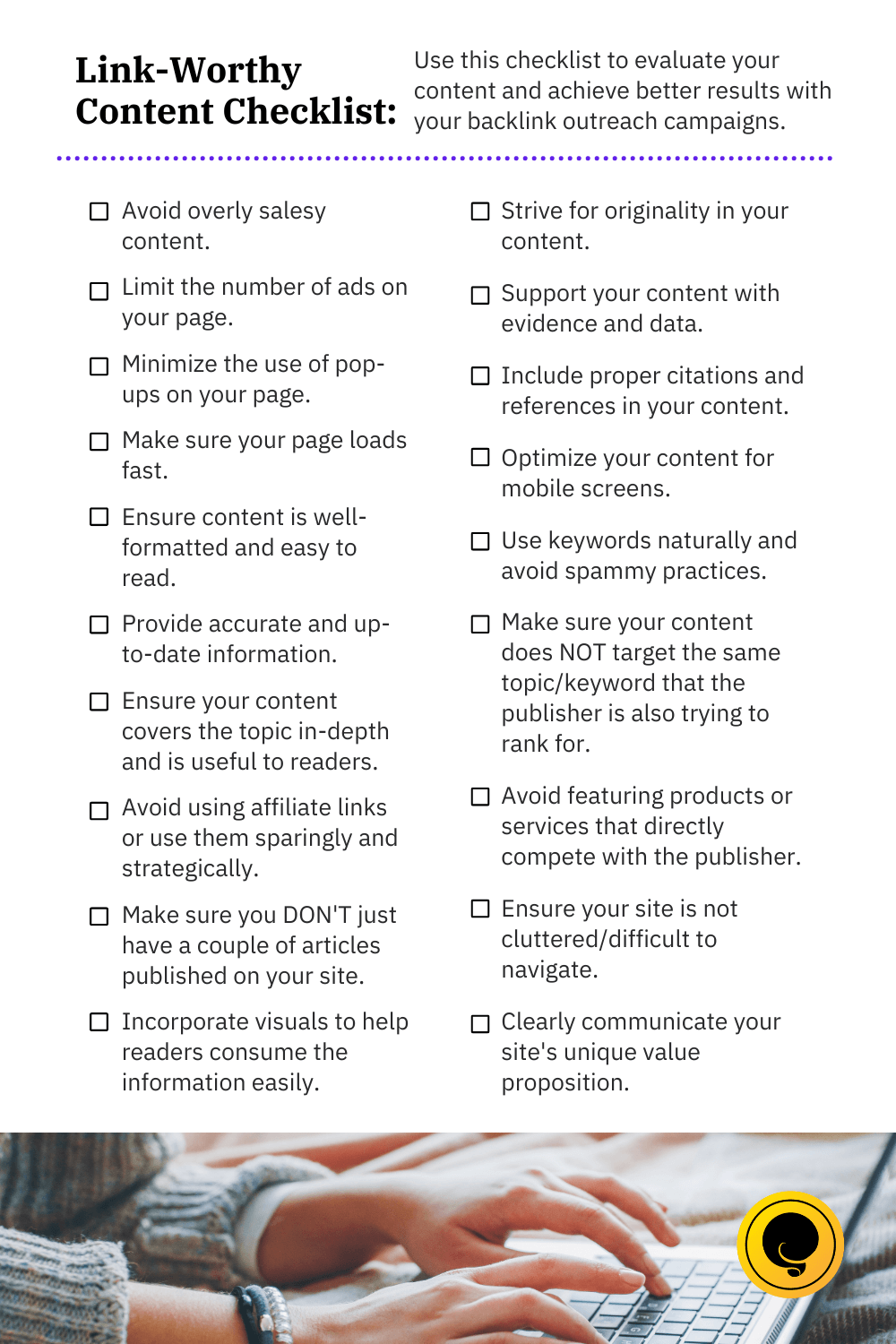 By using this checklist, you can ensure that your content is truly deserving of those valuable links.
Take a moment to run your content through this checklist and take action to address any areas where improvements are needed.
This way, you'll significantly increase your chances of receiving a positive response when sending out those crucial link-building outreach emails.
✅ Link-Worthy Content Checklist:
Use this checklist to evaluate your content and achieve better results with your backlink outreach campaigns.
☐ Avoid overly salesy content.
☐ Limit the number of ads on your page.
☐ Minimize the use of pop-ups on your page.
☐ Make sure your page loads fast.
☐ Ensure content is well-formatted and easy to read.
☐ Provide accurate and up-to-date information.
☐ Ensure your content covers the topic in-depth and is useful to readers.
☐ Strive for originality in your content.
☐ Support your content with evidence and data.
☐ Include proper citations and references in your content.
☐ Optimize your content for mobile screens.
☐ Use keywords naturally and avoid spammy practices.
☐ Make sure your content does NOT target the same topic/keyword that the publisher is also trying to rank for.
☐ Avoid featuring products or services that directly compete with the publisher.
☐ Avoid using affiliate links or use them sparingly and strategically.
☐ Make sure you DON'T just have a couple of articles published on your site.
☐ Incorporate visuals to help readers consume the information easily.
☐ Ensure your site is not cluttered/difficult to navigate.
☐ Clearly communicate your site's unique value proposition.
Does Your Content Pass the 'Link-Worthy' Test? 
Remember, having backlinks from authority websites will improve your own site's authority and help you rank higher in search engine results pages.
But you need to be armed and ready when you approach other website owners for those precious backlinks.
That's where this list comes into play.
Keep it within arm's reach and ensure that your content checks every box before you reach out to those website owners and ask them to link back to your site.