It's official! Half of this year is already behind us.
As we're entering the second chapter of 2023, we wanted to take some time and bring together, in ONE GIANT LIST, all the improvements we've made to our SaaS and WordPress SEO Plugin, Squirrly SEO.
As you will see from this huge list, both the Cloud App (which you use to optimize websites NOT built on WordPress) AND the WordPress Plugin have received many updates and fixes in the past few months.
We will do a Developers Update video soon, but until then feel free to explore the list below and see all the exciting changes we've made to Squirrly SEO in the past eight months.
Starting with: November 2022.
📅 MONTH: November 2022
Fixed – Correct the frontend buffer to work with other plugins better
Fixed – Update the RoleManager.php to load only on plugin activation to allow the possibility to change the capabilities in user roles
Fixed – Fixed the 404 Redirect when no default URL is given
Update – Added compatibility with WP 6.1
No more local searching for inner links, to avoid using the client's server during calls
Better API calls from and to the website, with improved cloud services
Fixed – Update the Google News to take the last 2 days from each post type included in the feed as requested
Fixed – Ranking to not show duplicate URLs
Fixed – Sitemap to not include relative redirected URLs that are not valid
Fixed – UnitPriceSpecification in JsonLD for WooCommerce products
Fixed – Correct the frontend buffer to work with other plugins better
Fixed – Focus Pages > SEO image to check only the filename and not the image path
Fixed – Don't show tasks in Assistant for inactive features
Fixed – Increase security and remove unused functions from older versions of Squirrly SEO
Fixed – Show the correct notification text when requesting a new SEO Audit after an hour
Fixed – Broken help URL https://howto12.squirrly.co/wordpress-seo/
Fixed – Wrong number of params when calling loadMedia function
Update – Inner links counting in Focus Pages – new methods
Update – Frontend SLA script for Bricks Builder
Update – SLA to check the reusable divs in the posts/pages
Update – Added new hook "sq_post_videos" when receiving the videos for social media snippet
Update – Added new hook "sq_post_images" when receiving the images for social media snippet
Update – Added the Semrush Ranking score in SEO Audit
Update – Added the option to send any post type from Automation to Google News sitemap
Update – Updated the design of Sitemap, so that Publisher, Title, and Date of article modification will appear, as it does in Google News (info-wise)
Fix – Make sure the keywords from Briefcase are shown correctly in research, history, and suggested page
Fix – Don't load SEO Snippet on frontend when AMP is detected to avoid compatibility errors with the AMP plugin
Fix – load SEO METAs late on AMP pages for compatibility with AMP plugins
Update – SEO Audits page to show the number of pages present in the audit
Update – Style for the Sitemap News using sitemapnews.xsl
Update – SLA compatibility with WPBakery Page Builder
Update – SLA compatibility with Zion Builder
📅 MONTH: January 2023
Official Release of Squirrly SEO: Peaks
Update – Updates to our Crawlers
Update – Briefcase search for unlabeled keywords
📅 MONTH: February 2023
Updates to the main Overview UI, to understand the Private SEO Consultant Better
Update – Added the IndexNow feature
add a 'nofollow' link attribute on a link-by-link basis
Updates made to – META tags for Open Graph
Fixed – Small compatibility bugs
Update – Change the plugin toolbar & notification bar to load the view correctly.
Update – The URL token to be assigned on connection to Cloud.
Update – The CSS and JS loading time to work well with builders
Update – Add the Video option in Squirrly Automation for Products
Update – Add the County field for UK and US in Rich Snippets
Fixed – Improve the cached pages when crawled by Squirrly SEO crawlers
Fixed – Ranking link in Briefcase
Fixed – Multilanguage WPML sitemap to avoid duplicate language URLs
Fixed – Audit compare tasks popups to show the exact data from each audit
Fixed – Removed Google Fonts and replace them with the local Noto Sans fonts
Fixed – Squirrly logo to appear more clearly in the settings and SLA
Fixed – URL search in Add New Audit Page and Add New Focus Page
Fixed – Search timeout in Add New Audit Page and Add New Focus Page
Fixed – Keyword Research timeout improve
Fixed – Live Assistant more images loading issue
Fixed – Briefcase Keywords encoded non-breaking space
Fixed – Loading the homepage search in Bulk SEO
Fixed – UI in Keyword Research
Update – Compatibility with PHP 8.1,8.2
Fixed – Sanitization to allow chars like [ & ] in the title and description
Fixed – Load the Archive Sitemap based on Automation settings
Fixed – Bulk SEO to show all Posts and Pages
Update – Add Google Indexing API (if GSC is connected) in IndexNow and submit the URL to Bing, Google, and IndexNow
📅 MONTH: March 2023
Fixed – Better custom post-type detection in frontend
Fixed – Initiate the Title and Description in Frontend for all builders
Fixed – Remove duplicates from Sitemap Categories
Fixed – Search page to prevent PHP error when the post is not detected
Fixed – Snippet redirect for deleted posts
Fixed – Sitemap to not show the error on News sitemap
Update – SLA for Thrive Architect
Update – Google News link with the updated Google News location
Update – Connect GSC and GA buttons in Focus Pages to go to the Connect Tools page and check the connections
Update – Focus Pages to show the correct notification with the nofollow outbound links
Update – Add the option to add No Follow and Sponsored to any link in the Elementor editor
Update – Add the option to add No Follow and Sponsored to any link in the Classic and Block Gutenberg Editor
Update – Add disconnect option in Squirrly SEO plugin for logged accounts
Fixed – Detecting the custom post types when there is a multiple post type case
Fixed – Post update on Cloud when the post is saved on WordPress
Fixed – SLA Frontend to better detect the Title and Description changes in builders
Fixed – Sanitization to exclude shortcodes from Title and Description when the chars [ & ] are present
Update – add sitemap_index.xml in sitemap to match the other SEO plugins' sitemaps
Update – API Call parameters when multiple URLs are sent with Indexnow
More technical improvements to different services of Squirrly SEO and to the way we store and display changes
Many updates to the systems which allow us to provide Keyword Research
Many updates and re-iterations for the systems that power: SERP Checker by Squirrly, Focus Pages, and the Audits
Changes to Briefcase, to make keywords load faster when users have big collections with many labels
Filter Option in Briefcase to only show keywords that haven't been labeled yet
📅 MONTH: April 2023
Update – Fixed SEO import error from Yoast plugin
Update – Add in SEO Live Assistant: New keyword, not researched in Briefcase, can now be added manually
Update – Fixed UI style
Update – Focus Page notification when a page does not exist
Update – Add the AI Assistant info in Squirrly > Overview
Fixed – Update the plugin language based on WordPress user language
Fixed – Remove the space in Squirrly Sitemap and increased compatibility with other plugins and themes
Fixed – Briefcase keywords encoding in SLA for better identification
Update – Frontend buffer loading for compatibility with other SEO plugins
Update – Add the filter in Briefcase to show the keywords without labels
Update – Increased plugin security & compatibility with PHP 8.2
Update – Improve the daily SERP Checker service
Squirrly Compatibility with Beaver Builder
📅 MONTH: May 2023
Squirrly SEO automatically checks at Save Post action if there is a Video inside the content. If there is, then it will automatically add the Video Schema for it, as an extra to what already exists.
Update – Automatically Adding Video Schema to All Previous Pages in a Site Which Had Videos Inside the Content of the Page.
You will need to re-install the current version of Squirrly SEO, using the option we provide inside (/wp-admin/admin.php?page=sq_seosettings&tab=backup#tab=rollback).
After that, from SEO Automations you can set for the PAGES post type to also include Video Schemas.
This will help you automate the placement of the video schemas, even on older pages.
If the page has video -> then schema for video will be added. Otherwise -> the code for video schema won't be added, to avoid errors in GSC.
So you can fully automate the placement for your video schemas. The video schema will be added to the schema already made to the page (in case there is a video present on the page).
Update – New Crawling Servers
Update – Cleaning Data sent to Ranking Vision to account for periods where Crawlers haven't worked properly and haven't generated complete info
Update – Re-writes for the Crawler Servers
📅 MONTH: June 2023
Update – Shows You the Number of Hits and the Last Access Date – for Redirects
Update – You can Disable / Pause any Redirect for the Time Being
Update – Options to Make Your WP Media Library Get a New Tab Where You Can Search for Copyright-Free Images from Pixabay
Update – Squirrly Free Images – In Your WP Media Library
Update – All Features Section of Squirrly SEO – Toggle 404 Monitor OFF / ON
Update – All Features Section of Squirrly SEO – Toggle Redirect Manager OFF / ON
Update – Redirect Manager – Added Option to See a List with ALL Types of Redirects filtered
Update – Redirects Manager -> Settings Section
Update -Redirects Manager -> Import Section
Update – Redirects Manager -> Logs Section
Update – Redirects Manager -> Rules Section
Update -Redirects – LOG Redirects – Toggle OFF / ON: LOG HTTP Header
Update -Select the number of days you want to keep the log for.
Update – Can Select Between 5x Types of Redirect Types
Update – Redirect Changed Paths: Multiple Types, and can do multiple selects at once.
Update – Toggle OFF / ON: Redirect Broken URLs (use to prevent 404 pages)
Update – Toggle OFF / ON: Keep a Log with all the Redirects
Update – Toggle OFF / ON: 404 Monitor Log
Toggle OFF / ON: Default Ignore Slash
Update – Toggle OFF / ON: Default Ignore Case
Update – Option to Set Default Redirection Type
Update – Explanations in UI for the 3x Types for Redirect URL Matching, so it's easy for users to know what to choose
Update – 3x Types of Default URL Matching for Redirects
Update – Toggle ON / OFF: Track Redirect Hits
Update – Toggle ON / OFF: Use Redirect Cache
Update – Import Redirects From: WordPress Core (slug changes)
Update – Import Redirects From: Yoast SEO
Update – Import Redirects From: SEO Press
Update – Import Redirects From: SEO Framework
Update – Import Redirects From: Squirrly SEO
Update – Import Redirects From: Quick Redirects
Update – Import Redirects From: Rank Math
Update – Import Redirects From: Redirection WP Plugin
Update – Import Redirects From: All In One SEO
Update – Import Redirects From: Eps 301 Redirects
Update – SEO Beginner | versus | SEO Expert Mode in the Redirects Manager
Update – Feature to Export the Redirects
Update – Bulk Actions for the Redirects Manager
Update – Search function for finding important redirects you need to verify
Update – Posts Redirects -> to manager
Update – Slug Changes Redirects -> to manager
Update – Custom Redirects
Update – 3 Types of Filters for 3 Types of Redirect Rules
Update – Manager and Panel For ALL Redirect Rules
Fixed – Country ranking check issue for countries with Google prefix "com." & "co."
Fixed – Show notifications in Squirrly SEO when limits are reached
Fixed – z-index style of Media Library for Frontend editor
Update – Added more countries and languages on the Google Ranking section
Update – JSON-LD schema autodetects video schema on post/page
Update – Loading CSS and JS function to load js dependencies in the frontend
Update – New Snippet layout using hooks for each section
Update – Compatibility with WP 6.2.1
Fixed – UI small bugs
Fixed – Crawler server to load the website faster
Fixed – Show Rich Snippets Profile info on Dublin Core and OG when it's selected as global showing in settings
Fixed – Prevent showing the white space at the beginning of the sitemap
Fixed – Add language slug on home URL for TranslatePress plugin
Fixed – Frontend SLA for Thrive plugin javascript warning
Fixed – Feedback & Cloud Disconnect option on uninstall
Fixed – Sitemap to not include data: image from post contents
Fixed – Sitemap to load the archive on post type when the category archive is not added in the sitemap
Update – Search post query in Squirrly SEO Focus Pages, Bulk SEO, and SEO Audits to work with the Theme Incubator
Update – Frontend SLA to work better with Media Library and detect the Title in Elementor when a text is changed in H1
Update – Compatibility with Polylang & TranslatePress plugins
Export redirects in CSV
Update – Add SLA in Beaver Builder frontend
Update – 301 redirect dashboard
Update – Redirect Manager
Update -Option to import Redirects from Rank Math
Update – ·404 monitor
Update – Redirect options
Update – Foundation and Big Revelation in SEO – created for new users as a Course. It helps with getting all the first steps right. it makes it incredibly easy to learn what to focus on to start seeing results.
Update – Support Brizy Page Builder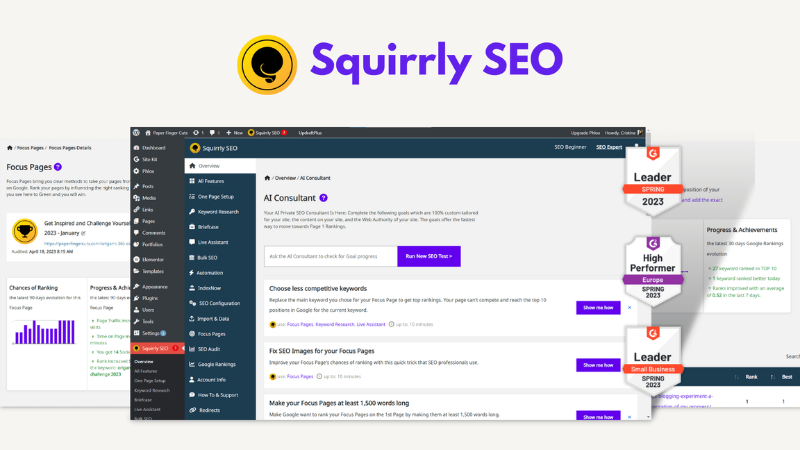 Want to be the 1st to Know about the Latest Updates?
Stay tuned for the upcoming Developers Update video, where we'll take you behind the scenes and give you an even deeper understanding of all the amazing progress we've made this year.
You won't want to miss it!
But while we're getting that video ready for you, we hope this list has already given you a glimpse of the incredible dedication our team has poured into making Squirrly SEO the best it can possibly be.
And there's still plenty more to come!
With half a year left, we have a bunch of exciting updates lined up for you.
So, I want to remind you of the main resources we've created to make it easy for you to stay in the loop, share your valuable feedback, and actively participate in shaping the future of Squirrly SEO:
Keep track of the exciting new features and enhancements we're currently working on by checking out our roadmap.
It's the perfect place to stay updated and see what's in the pipeline. You can also vote for existing ideas, join discussions with fellow users, AND even contribute your own suggestions.
Visit our blog to delve deeper into the new features we release and gain access to valuable tips and additional resources that will empower you to achieve greater success with SEO.
Plus, you can also check out the #SQROAD hashtag on Twitter to stay up-to-date with all the latest events, announcements, and updates related to our products.
We're thrilled to have you on this journey with us, and we can't wait to unveil more exciting news in the coming months.
🚀 Keep Ranking!