In 2020, optimizing your content for humans will be even more important then it is now.
Why? – traffic data that Google collects about pages and how users interact with pages had an incredible impact of how that page will perform on search engines.
In Education Cloud 2020 (you can take this class for free: It's called SEO for Humans), we present many methods for how you can optimize content for both humans and search engines. It's a complete game changer.
Otherwise, if you don't want to sign up for that incredible program, you can browse this section of our blog and learn more.
Here you can see the impact of applying some of these ideas.
It's great to see you in class today for the second lesson of this training program.
Nowadays, there is a lot of talk about optimizing things for search engines, and it's useful to take care of that aspect, but the risk of doing such is that you'll miss the whole point: it's humans that you want reading your articles.
Here's how it works. Good SEO will make your page go from "Never Found" to Found on the First Page of Google.
But that's just a small part of it, because you need:
you need the listing (ranked / displayed on the first page of Google) to capture the attention of the audience. To captivate the people who see ten different (more than ten really, if you put ads, youtube videos, rich snippets, slide shares, etc.) listings; to make them want to click yours.
you need people to actually click on your listing
then you need to keep them on YOUR page and make them click more pages from your site. Some of the best hacks on how to get this done can be found here, in our exclusive and private community for SEOs.
If you can't get these 3 main points right, then Google will drop your page from the TOP 10 and try offering more value to its users through other pages written by your competitors.
Optimizing for Humans is the thing that will get you through these major 3 points. The topic itself needs to be fascinating and with the right twist, you can make everything awesome.
The ones who are supposed to be bringing you in some nice moola, moola (just an awful slang for money) are People. Humans, like you and me. And we don't care about seeing a robots.txt file in your site.
We care about seeing that you actually speak our own language and make a persuasive case to prove a point, or give us food for thought. You won't get to this by using the settings from Squirrly SEO and generating a sitemap, because we won't crawl it like some search engine bots.
You know that SEO is amazingly important (and trust me, it is, no matter what nay-sayers will tell you), but in the end all that we ever do regarding optimizing our sites and the content from our sites for search engines, we only do in order to get more Humans to read our stuff and engage with our content.
My first and most important objective is to get you into the right mindset regarding all of these internet marketing activities.
The purpose of the first training we created (you can access it by joining the Education Cloud) was to get you into the right mindset regarding how to plan out your SEO content. The training covers some pretty important aspects of how to optimize for search engines.
Once you know how to get search engines to help you bring in Humans, it's important to make sure that when the Humans come, they will love your site a lot and just keep coming back.
What we'll do next is start focusing on the Humans part.
The biggest problem that content writers face when trying to market their content (e.g. Actually getting the written stuff to be read by others) is that readers miss the whole point because the writer doesn't really speak their language. He doesn't use the words that the audience expects him to use.
This can make them feel like what they found on the internet through search engines, just isn't right for them.
There's just no click between what the writer wrote, and what they kinda hoped they would find.
Seriously: remember when your Math's teacher used to talk very academically about weird symbols and numbers and stuff and you were like "okay, so when will this class finally be over?". You couldn't really click a button in the browser and be done with that Math class, you had to stay for 45 more minutes, but your reader sure can (and he also will).
In the first training program, we talked about Research, but we've focused on the SEO stuff related to keyword research. As you already know, it's not enough, because you also have to research your topic.
We'll start with "Researching Your Topic" in this second lesson of our program. In the following ones, we'll go deeper into how we include Human Optimization techniques into writing the content and then into measuring the success of the content we write.
Because we've put a lot of energy into building this second free training program for you, every part of it is methodical and takes you by the hand in a step-by-step learning process.
First step: Researching Your Topic
Chapter 1: Identifying Your Profitable Topic
Remember: in order to gain an audience by means of search engines and people who recommend your articles on social networks, you need to include certain terms in your titles that will grab the audience's attention because it's a topic they are genuinely interested in.
This is done via a keyword, or a key phrase (basically a search phrase that contains more than one keyword). We're not doing SEO again, don't worry. Just follow through.
We'll use "keyword" to refer to both "keyword" and "key phrase". Otherwise, it's exhausting to read (trust me, I know from reading a lot on this subject).
Think of the keyword as a topic for what you're planning to write.
Here's why: You're optimizing for Humans, so you have to make sure that the topic you plan to discuss in your article is something that Humans are genuinely interested in, and that they're already discussing about that topic in a certain way and trying to find more articles about said topic.
To sum this up:
1) Find the topic, or to be more accurate: the name of the topic, in such way that Humans will easily identify with it and get the feeling that it's what they were interested in all along.
2) Make sure they discuss your topic because that shows that it's amazingly important to them.
3) Make sure that the topic is so great that Humans already search for articles regarding it. A lot.
These are the 3 important aspects of identifying a topic that's worth writing about in order to have it bring in moola moola (that awful slang for $$ again) for your IT services business, muffins business, etc. Some people call this: profitable topic identification.
Awesome! We talked about moola moola, now let's see how you can find your profitable topic, by using Squirrly, and also by NOT using Squirrly.
Identifying your profitable topic by using Squirrly.
If you are a Squirrly SEO user, I hope you updated your Squirrly plugin to the latest version.
It's important that you update it to make sure it works right (we spend all our days doing R&D and improving it, to better serve your needs as a content writer and as a marketer).
Okay, now here's what you need to do:
a) make sure Squirrly is activated and updated on your WordPress site.
b) go to your Squirrly Dashboard.
c) click on Research on the blue bar you see there.
d) input some of your topic ideas, where it says: Enter a keyword that matches your business. We're using the same thing, but with the Optimizing for Humans mindset. You'll see that it's a lot different, as we focus on more important things than before.
e) click on Next, and then add the Google domain you want to rank on. This is how you start doing research and analysis using Squirrly's keyword research tool (the algorithm is really complex, I'll write about it another time).
f) you'll receive a list of your topic ideas and also a few other suggestions made by our Squirrly SEO software.
g) Look at the information associated with your topics. At this point you care only about two bits of information: Discussion and Search.
Ignore Trend and Competition for now, as they are valuable only for SEO.
Discussion: shows you how many people discuss that topic that you want to write about on Twitter, Facebook, and Forums. You'll see in the next Lesson that doing this manually will take you a lot of time. But it's still worth it.
As I said before, for a topic to be profitable, people need to actively talk about it, so make sure that people discuss about your topics.
Now,  look at Search.
This shows you the exact number of people who search for your topic in the exact way that you wrote your topic.
Example: if people search (exactly) for "cheap cat food" more than they search for "organic cat food", it will be more profitable for you, in the long run, to write about "cheap cat food", because more people want that. That's why Search is so important.
If you'd do this research using Broad Search, you'd get a lot of noise that messes up your profitable topic identification.
PRO TIP
You can also use a tool like Squirrly SPY to spy on your competitors and get new topic ideas. Squirrly SPY will give you a list of keywords that your competitor uses to rank on Google. (see more features here)
By seeing the keywords your competitor uses, you can get inspired on hot topics you haven't yet covered in your content – but you should. You're basically getting access to a treasure trove of high ROI keywords that are already working out for businesses in your niche.
Once you have that list of keywords, you can follow the steps provided in this lesson to analyze them and find new profitable topics that are worth writing about.
End of Lesson 2: Quick Recap
The suggestions helped you identify the possible names for tackling the more general topic, or just the right name of the topic. Humans will love to see that you use what they had in mind (makes them feel more okay with the content they're going to read).
The Discussion data that we pull in using our Social Intelligence features shows you how popular the topic is and how much people talk about it across different networks.
The Search data shows you how many people actively search for articles on the topic that you plan to write about.
The one that's most discussed and has the most exact searches is your winning, profitable, moola moola bringing topic.
Great!
You've just learned the first important step in Optimizing Content for Humans. In the next lesson, I'll show you how to do this without using Squirrly SEO, and we'll include some cool work files for you to help you out.
See you in our next class.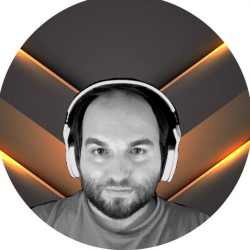 Latest posts by Florin Muresan
(see all)